Nigerian author wins Caine Prize with 'darkly humorous' prose
July 5, 2012 -- Updated 1438 GMT (2238 HKT)
STORY HIGHLIGHTS
Nigeria's Rotimi Babatunde has won the 2012 Caine Prize for African Writing
Babatunde's story was chosen from 122 entries from 14 African countries
The £10,000 ($15,700) Caine prize is awarded in memory of former Booker prize chairman Sir Michael Caine
London, England (CNN) -- Nigeria's Rotimi Babatunde has won the 2012 Caine Prize for African Writing for his short story Bombay's Republic.
His story follows a Nigeria soldier fighting in Burma campaign of World War II and returning home as a veteran with a strong sense of new opportunities.
More: Young writers start new chapter in Nigeria's literary history
Speaking at the celebratory dinner in Oxford on Monday evening, Bernardine Evaristo, the chair of the judges, described Babatunde's work as "ambitious, darkly humorous and in soaring, scorching prose exposes the exploitative nature of the colonial project and the psychology of Independence."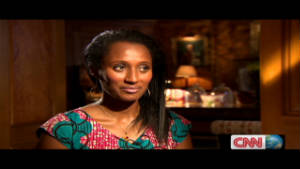 An upbringing of discovery
Rotimi Babatunde's fiction and poems have been published in Africa, Europe and America. He is a winner of the Meridian Tragic Love Story Competition and was awarded the Cyprian Ekwensi Prize for Short Stories by the Abuja Writers Forum.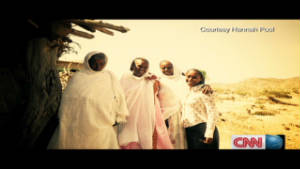 Discovering an unknown family
Read the Caine Prize winning story here
His plays have been staged and presented by institutions which include Halcyon Theatre, Chicago; the Swedish National Touring Theatre; the Royal Court Theatre in London.
He is currently taking part in a collaboratively produced piece at the Royal Court and the Young Vic as part of World Stages for a World City.
More: Voices from afar: Zimbabwe's writers connected to their country
Babatunde's story was chosen from 122 entries from 14 African countries. Evaristo has described the entries as "truly diverse fiction from a truly diverse continent." He said the prize shortlist reflected "the range of African fiction beyond the more stereotypical narratives."
Other shortlisted works included a tale of a homosexual man in Malawi or a story describing the tension between Senegalese siblings over migration and family responsibility."
More: NoViolet Bulawayo, the 2011 Caine Prize winner
The £10,000 ($15,700) Caine prize is awarded in memory of former Booker prize chairman Sir Michael Caine, to promote African writing in English and celebrate its diversity, largely unknown of by a wider international audience.
Established in 2000, the prize became an indicator of the next up and coming African authors, as shortlisted authors often enjoy a boost in their popularity and number of readers.

Part of complete coverage on
African Voices
March 4, 2014 -- Updated 1346 GMT (2146 HKT)

As a child, Biyi Bandele immersed himself in a world of literature. Today he's taken that passion and turned it into a career as a celebrated writer, playwright and now director.
February 26, 2014 -- Updated 1126 GMT (1926 HKT)

Music video and film director Sanaa Hamri shares her story of how she made it from the streets of Tangier to the big film studios in the United States.
February 18, 2014 -- Updated 1449 GMT (2249 HKT)

IBM chief scientist Uyi Stewart is tackling Africa's so-called "brain drain" head on urging African diaspora to return and work on the continent.
February 17, 2014 -- Updated 1016 GMT (1816 HKT)

Kenyan actress Lupita Nyong'o has become a new critics' darling after her breakout role in last year's hit movie "12 Years A Slave."
February 7, 2014 -- Updated 1421 GMT (2221 HKT)

Principal Fannie Sebolela has turned a dilapidated school in South Africa into an institution that is now the pride of the region.
February 7, 2014 -- Updated 1045 GMT (1845 HKT)

A group of young students have taken stereotypes about the continent -- and destroyed them one by one.
January 27, 2014 -- Updated 1449 GMT (2249 HKT)

Beatrice Hamza Bassey is the first African partner at one of the most prestigious law firms in the U.S.
January 17, 2014 -- Updated 0941 GMT (1741 HKT)

Omotola Jalade-Ekeinde is known as the Queen of Nollywood, Nigeria's booming movie industry.
January 10, 2014 -- Updated 1251 GMT (2051 HKT)

'Bicycle Portraits' celebrates the intimate relationship between South Africans and the bikes they depend on.
November 22, 2013 -- Updated 1112 GMT (1912 HKT)

Tanzania has just one children's heart surgeon - and he must contend with crowded hospitals and power cuts during operations.
October 25, 2013 -- Updated 0851 GMT (1651 HKT)

Who are Africa's most exciting new photographers? Here are eight of the best.

Each week African Voices brings you inspiring and compelling profiles of Africans across the continent and around the world.
Today's five most popular stories