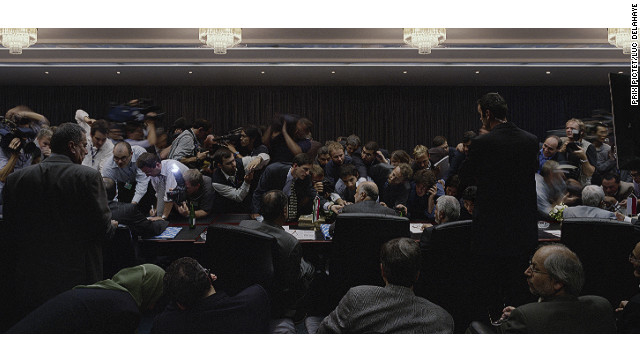 Luc Delahaye has won the fourth
Prix Pictet
award for a series of photos shot from 2008 to 2011. This image, titled "132nd Ordinary Meeting of the Conference," was taken at OPEC headquarters in Vienna, Austria. Eleven other photographers had been shortlisted for the Prix Pictet -- an award in photography and sustainability -- by entering a series matching this year's theme of "Power."
Deepwater Horizon
rig in the Gulf of Mexico.
The series "Spill" by Spanish photographer Daniel Beltrá documents the world's largest marine oil spill following the 2010 explosion of BP's
Gas masks cover the floor of a school lobby in the abandoned city of Prypiat, Ukraine, in an image from Rena Effendi's series "Still Life in the Zone." Residents had to leave Prypiat following the 1986 Chernobyl nuclear disaster and could not return to live.
TVs are stacked on a street in "Le Reflet," part of Mohamed Bourouissa's series "Périphérique," which explores the issues of the French suburbs where the photographer grew up.
Carl De Keyzer's series "Moments Before the Flood" looks at how Europe is handling the threat of the rise in sea levels due to climate change. This image is titled "England."
"Camp Six, Emergency Response Force Equipment" is part of "Guantanamo: If the Light Goes Out," a series in which British photographer Edmund Clark focuses on objects of power and control at the U.S. military detention facility at Guantanamo Bay, Cuba.
Vietnamese-born An-My Lê's photographs in the "29 Palms" series show U.S. troops preparing for deployment, enacting scenarios in a virtual Middle East in the California desert. This photo is called "Debriefing."
A priest holds his head at the Commission on Ecology and Religion in Japan as part of Joel Sternfeld's series "When it Changed." On Prix Pictet's website, Sternfeld says he tried to capture "the sense of anxiety and urgency" as the danger of climate change became more apparent. He says the title of his series also reflects the hope that global warming can be curtailed.
A statue of British explorer Henry Morton Stanley overlooked the capital of the Democratic Republic of Congo in colonial times but was removed in the 1970s and dumped in a lot in Kinshasa. South African photographer Guy Tillim documented those in power in the African nation as part of his series "Congo Democratic."
In the series "Fukushima: The Irresistible Power of Nature," Philippe Chancel examines the damage of the Japanese nuclear plant meltdown in the aftermath of the 2011 tsunami.
This photo from Columbia County, Oregon, is part Robert Adams' series "Turning Back," which explores the problems of deforestation of the American Northwest.
With '"Arab Domains," Jacqueline Hassink focuses on Arab women business leaders, aiming for a different reality from stereotypical images of Arab women often seen in Western media. The executives allowed Hassink to photograph their office boardroom tables and home dining room tables.
Luc Delahaye
Daniel Beltrá
Rena Effendi
Mohamed Bourouissa
Carl De Keyzer
Edmund Clark
An-My Lê
Joel Sternfeld
Guy Tillim
Philippe Chancel
Robert Adams
Jacqueline Hassink