Cooling off in the dog days of summer
Join the conversation
CNN iReport
July 5, 2012 -- Updated 1649 GMT (0049 HKT)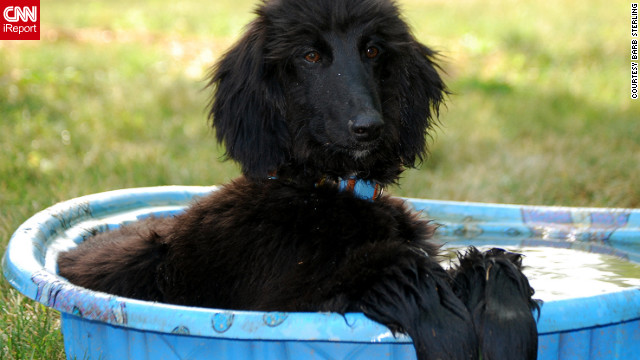 It's 100 degrees outside (or worse). How's a fur-covered pup to cope? CNN iReporters from around the United States have been sharing photos of their best friends cooling off, and let's face it: They're too cute not to post.
Here,
Prim the Afghan hound
manages to look elegant while relaxing in a baby pool in Gahanna, Ohio.
up to her shoulders
in her family's above-ground backyard pool in Barberton, Ohio.
Beautiful standard poodle Gracie has water
too hot even to swim
in Constant Lake in Ontario, Canada.
Dexter, a Cavalier King Charles spaniel, decides it's
naps on a float
in his family's pool in Tulsa, Oklahoma.
Four-month-old German shepherd Zhik
Sierra's family says they
can't keep her out
of their Loxahatchee, Florida, pool. Here, the sopping wet yellow lab takes a rest on a float.
captains a boat raft
off the shores of Destin, Florida.
Flossy, a 5-year-old Maltese,
enjoys his baby pool
in Fort Wayne, Indiana.
Year-old black lab Jackson
taking a dip
in a fountain in Rome. And Istvan Szemes of Hungary
shared a video
of his German shepherd gleefully splashing around in a baby pool.
Is it unbearably hot where you are?
Show us
how you -- and your pets -- are staying cool.
It's not just American dogs that need to cool off. Sandro Capannolo spotted this pup
Dog days of summer
Dog days of summer
Dog days of summer
Dog days of summer
Dog days of summer
Dog days of summer
Dog days of summer
Dog days of summer