STORY HIGHLIGHTS
Andy Murray becomes first British man to reach Wimbledon final for 74 years
Murray beats Jo-Wilfried Tsonga of France in four sets in their semifinal
Murray to play six-time champion Roger Federer in Sunday's title match
Federer was a 6-3 3-6 6-4 6-3 winner over defending champion Novak Djokovic
(CNN) -- Home hope Andy Murray will play six-time champion Roger Federer in the Wimbledon final as both made tennis history Friday.
Murray became the first British man to reach the final in 74 years after seeing off Jo-Wilfried Tsonga of France 6-3, 6-4, 3-6, 7-5 in the second semifinal.
Bunny Austin was the last home player to achieve the feat in 1938.
Earlier Friday, Federer beat top seed and defending champion Novak Djokovic in four sets to reach a record eighth final.
If Federer claims the title Sunday he will equal the record of seven for the Open Era, held by American great Pete Sampras and extend his grand slam tally to 17.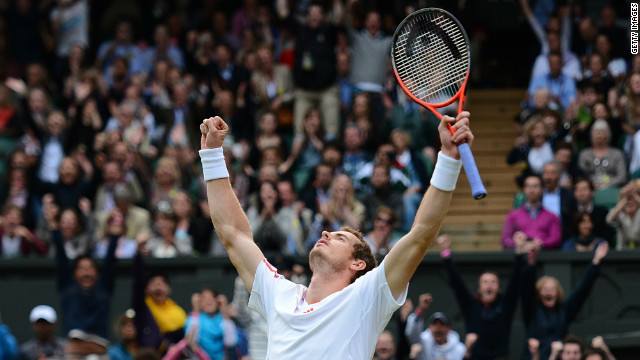 Expectation weighs on Andy Murray at Wimbledon every year, with the British crowd eager to see one of the nation's male tennis players win the singles title for the first time since 1936.
Murray has assumed the position once held by Tim Henman as Britain's premier tennis hope. Henman reached the Wimbledon semifinals on four occasions between 1998 and 2002.
It has become a Wimbledon tradition for fans to gather on a large grassy bank outside of Centre Court to watch games on a large screen. The area was once known as "Henman Hill" and has since been rechristened "Murray Mound".
The last British winner of the men's singles title was the great Fred Perry, who won Wimbledon in three consecutive years between 1934, 1935 and 1936.
British tennis fans aren't the only supporters who have had to wait for glory. The Boston Red Sox won baseball's World Series five times between 1903 and 1918. But after selling Babe Ruth in 1919-1920 offseason, the Red Sox did not win the World Series again until 2004, when they beat the St.Louis Cardinals.
Ferrari are one of Formula One's most celebrated teams. But, by year 2000, it had been 21 years since the legendary Italian manufacturer produced a drivers' champion. Step forward Michael Schumacher, who claimed the title for Ferrari in 2000 and in each of the following four seasons.
New Zealand have been the most dominant team in rugby union for a number of years, but the World Cup title had proved out of their grasp since 1987. The All Blacks addressed that last year, winning the Webb Ellis trophy at their own World Cup.
Manchester City had been branded "noisy neighors" by Alex Ferguson, the manager of local rivals Manchester United. But after an Abu Dhabi-funded takeover in 2008, City embarked on a huge spending spree which resulted in an English Premier League title triumph last season. It was City's first league title win since 1968.
One team still waiting to achieve their goal is Brazil, who need an Olympic gold medal to complete a clean sweep of fooballing honors. Brazil won bronze at Beijing 2008, after a 3-0 semifinal defeat to archrivals Argentina.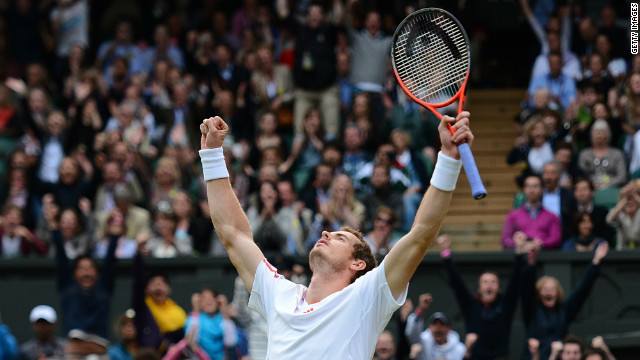 Sport's longest waits
Victory for fourth seed Murray would give Britain its first male grand slam winner since the legendary Fred Perry in 1936.
He had to battle for nearly three hours on Centre Court before ending the brave challenge of fifth seed Tsonga, who mounted a sterling recovery after trailing by two sets.
But the 25-year-old Murray finally worked two match points as he led 6-5 in the fourth set and dramatically took his chance.
A forehand winner was initially called out, but Murray challenged the decision and was proved to be right, sealing his victory.
There's a bit of relief, excitement. It's tough to explain, it was such a close match
Andy Murray
An emotional Murray hugged Tsonga before moving into the middle of the court to give his trademark "fingers-in-the-air" gesture, the tearful Scot looking to the sky.
"There's a bit of relief, excitement. It's tough to explain, it was such a close match," Murray told BBC Sport.
"Both of us had chances, I was up a break, he came back, then he had break points at 4-4 in the fourth and I managed to hang tough enough," he added.
Federer had rolled back the years to dispatch world number one Djokovic 6-3, 3-6, 6-4, 6-3 in just two hours 19 minutes.
"Obviously I'm ecstatic, it was a great match and I was able to play some fantastic tennis," Federer told BBC Sport after his victory.
The 30-year-old Federer had never lost a semifinal at Wimbledon and maintained that streak with a peerless performance against the Serbian, who has dominated the men's game since the start of last year.
Obviously I'm ecstatic, it was a great match and I was able to play some fantastic tennis
Roger Federer
After the opening two sets were shared, the third set proved pivotal with both men having chances to break their opponent's service.
At 4-5 down, Djokovic allowed Federer a set point which he took after a thrilling exchange to take a two sets to one lead.
"The first two sets went really quickly and the third was key to the match.
"I was able to step it up and get a bit lucky maybe," Federer added.
A single break in the fourth set was enough to leave the third seed to serve for his place in the final and he completed victory on his first match point.
Federer has not won a grand slam title for two and a half years since his 2010 Australian Open success where he beat Murray in the final.
If he beats the Scot again Sunday he will also return to the top spot in the world rankings.