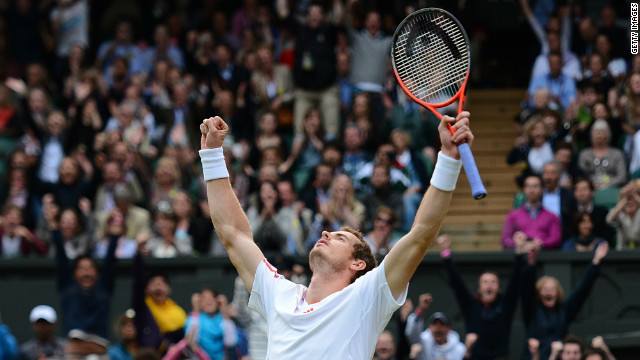 Expectation weighs on Andy Murray at Wimbledon every year, with the British crowd eager to see one of the nation's male tennis players win the singles title for the first time since 1936.
Murray has assumed the position once held by Tim Henman as Britain's premier tennis hope. Henman reached the Wimbledon semifinals on four occasions between 1998 and 2002.
It has become a Wimbledon tradition for fans to gather on a large grassy bank outside of Centre Court to watch games on a large screen. The area was once known as "Henman Hill" and has since been rechristened "Murray Mound".
The last British winner of the men's singles title was the great Fred Perry, who won Wimbledon in three consecutive years between 1934, 1935 and 1936.
British tennis fans aren't the only supporters who have had to wait for glory. The Boston Red Sox won baseball's World Series five times between 1903 and 1918. But after selling Babe Ruth in 1919-1920 offseason, the Red Sox did not win the World Series again until 2004, when they beat the St.Louis Cardinals.
Ferrari are one of Formula One's most celebrated teams. But, by year 2000, it had been 21 years since the legendary Italian manufacturer produced a drivers' champion. Step forward Michael Schumacher, who claimed the title for Ferrari in 2000 and in each of the following four seasons.
New Zealand have been the most dominant team in rugby union for a number of years, but the World Cup title had proved out of their grasp since 1987. The All Blacks addressed that last year, winning the Webb Ellis trophy at their own World Cup.
Manchester City had been branded "noisy neighors" by Alex Ferguson, the manager of local rivals Manchester United. But after an Abu Dhabi-funded takeover in 2008, City embarked on a huge spending spree which resulted in an English Premier League title triumph last season. It was City's first league title win since 1968.
One team still waiting to achieve their goal is Brazil, who need an Olympic gold medal to complete a clean sweep of fooballing honors. Brazil won bronze at Beijing 2008, after a 3-0 semifinal defeat to archrivals Argentina.
Britain expects
Henman's heir
Strong support
Peerless Perry
The 'Curse of the Bambino'
Schumacher delivers
Waiting for Webb Ellis
Triumph of the noisy neighbors
Golden ambitions
STORY HIGHLIGHTS
Andy Murray bidding to become first British man to win grand slam since 1936
Roger Federer can claim record equaling seventh Wimbledon title
Murray has 8-7 career edge over the Swiss star
Federer won their last grand slam final clash in Australia in 2010
(CNN) -- Andy Murray and Roger Federer are both carrying the weight of expectation and history into Sunday's men's singles final at Wimbledon.
Murray snapped a 74-year streak when he became the first British man to reach the final at the All England Club and will want to end a 76-year long wait for the tennis success starved nation by actually winning a men's grand slam title.
The legendary Fred Perry claimed both Wimbledon and the U.S. Open titles in 1936, but since then nothing, despite the brave efforts of Andy Murray's predecessor as British number one, Tiger Henman.
Virginia Wade was the last British winner of a grand slam at Wimbledon in 1977, the year of the Silver Jubilee of Queen Elizabeth II.
Maybe that will be an omen because 2012 marks the Diamond Jubilee of the British monarch, who made a rare visit to SW19 to see Wade win all those years ago.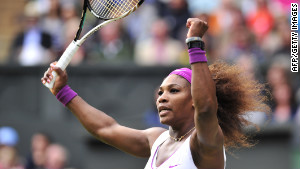 Serena Williams wins 2012 Wimbledon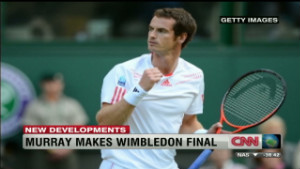 Murray makes Wimbledon final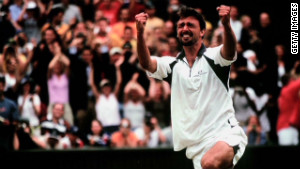 Goran Ivanisevic: Wimbledon good and bad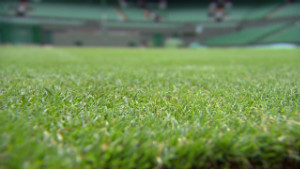 Keeping Wimbledon's grass green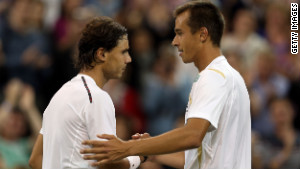 Navratilova talks Nadal's shock defeat
Wishful thinking
But that sort of historic wishful thinking is unlikely to make much impression on Federer and even Murray admits he needs to play the "perfect match" to beat the Swiss maestro.
"He's one of the greatest ever players. He's been doing it consistently over a number of years. He's very, very tough to beat here," Murray told gathered reporters after his four-set semifinal win over Jo-Wilfried Tsonga of France.
"It's a great challenge, one where I'm probably not expected to win, but one that, if I play well, I'm capable of winning. The pressure that I would be feeling if it was against somebody else I guess it would be different.
"But there will be less on me on Sunday because of who he is."
Murray's clever attempt to deflect pressure and focus it on Federer underestimates the expectations of a sports mad country, who have filled just about every seat for every day of every event at the 2012 London Olympics later this month.
Britain is likely to come to a standstill Sunday afternoon as television sets are tuned into the live broadcast and in his home town of Dunblane in Scotland special celebrations are planned.
Formidable opponent
Murray is right though. Federer is a formidable opponent and can set a string of records if he beats the number four seed and home hope.
It will be a record equaling seventh Wimbledon title in the Open Era, drawing level with Pete Sampras, who coincidentally had the same coach, Paul Annacone, as Federer.
It's a great challenge, one where I'm probably not expected to win, but one that, if I play well, I'm capable of winning.
Andy Murray
He will extend his own record to 17 grand slam titles and victory will also take him back to the top of the world rankings, also beating another Sampras record for successive weeks at the top of the men's game.
For a 30-year-old, considered to be a waning force, it would be a remarkable performance, made possible by his four-set dismissal of the previously dominant Novak Djokovic to reach a record eighth Wimbledon final.
"There's a lot on the line for me. I'm not denying that. I have a lot of pressure, as well. I'm looking forward to that. That's what I work hard for," he said.
"I've worked extremely hard since I lost that match point against Novak last year at the U.S. Open.
"My run has been extremely good. Now I have a chance at world No. 1, and at the title again all at once.
"So it's a big match for me."
Missed chance
Federer missed that chance against Djokovic in the semifinal of the U.S. Open last year, losing a five-set thriller and it looked as if it might be his last with the likes of Rafael Nadal, who made a surprising early exit at Wimbledon, and Murray making it even more difficult to land a grand slam.
There's a lot on the line for me. I'm not denying that. I have a lot of pressure, as well. I'm looking forward to tha
Roger Federer
He would be the first man since Andre Agassi at the Australian Open in 2003 to win one of the top four tournaments in tennis past the age of 30 and only Australian legend Rod Laver and American Arthur Ashe have achieved that feat at Wimbledon.
Murray also holds an 8-7 career record over Federer, but the last time the pair met in a grand slam final, at the Australian Open in 2010, he was given a tennis lesson by the man from Basel.
But with inspiration and valuable advice from a new coach, eight-time grand slam winner Ivan Lendl, the 25-year Murray may just be ready to bring some much needed cheer to a country in the grip of austerity and in the middle of one of its wettest summers on record.