STORY HIGHLIGHTS
The presumptive president-elect speaks to CNN's Fareed Zakaria
Enrique Peña Nieto weighs in on reform, illegal immigration
The new president will be sworn in December 1
(CNN) -- Mexico's Enrique Peña Nieto called for a "new debate" on the drug war and said the United States must play an important role in that discussion.
The presumptive president-elect spoke this week to Fareed Zakaria, host of CNN's "Fareed Zakaria GPS." His comments will air Sunday.
"Yes, I do believe we should open up a new debate regarding how to wage war on drug trafficking. Personally, I'm not in favor of legalizing drugs. I'm not persuaded by that as an argument. However, let's open up a new debate, a review, in which the U.S. plays a fundamental role in conducting this review," said Peña Nieto.
More than 47,500 people have died in drug-related violence since Felipe Calderon, Mexico's current president, made combating cartels a top priority when he took office in 2006.
Peña Nieto has pledged to focus more on reducing violence and less on catching cartel leaders and blocking drugs from reaching the United States.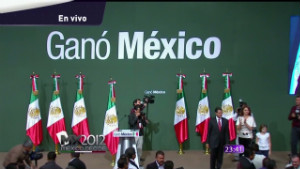 Mexican officials investigating election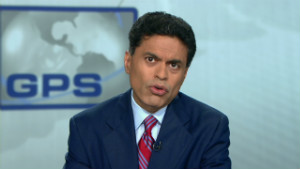 Peña Nieto on Arizona's SB 1070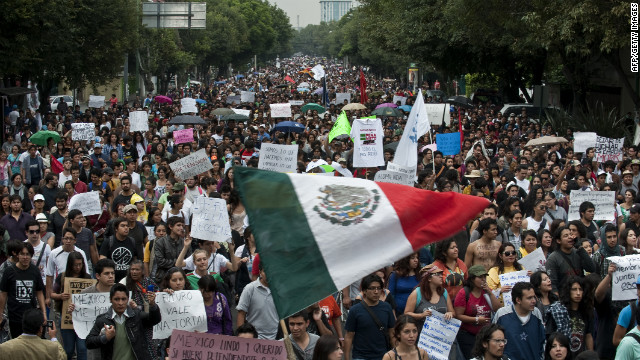 Thousands of protesters take to the streets in Mexico City on Monday, a day after the presidential election results were announced. Supporters of the opposition candidate were rallying against Enrique Peña Nieto, who declared victory late Sunday.
Peña Nieto, representing the Institutional Revolutionary Party (PRI), speaks during a press conference Monday in Mexico City. He said it was time for his country to leave behind the political rancor of the campaign season.
Members of the "I Am 132" movement protest on Monday. A video that was uploaded to YouTube helped launch the nationwide student movement, adding fuel to the political frenzy.
Projected as the runner-up in Sunday's vote, Andres Manuel Lopez Obrado, right, speaks in Mexico City on Monday. He said he was awaiting the official election results and prepared to contest them before judicial authorities if they didn't turn out in his favor.
A youth activist rallies in Mexico City on Monday. About a third of Mexico's 79.4 million registered voters are between the ages of 18 and 29.
Peña Nieto celebrates with his family after projections declared him the apparent victor in Mexico's presidential election on Sunday, July 1.
Peña Nieto's supporters cheer during the victory speech in Mexico City on Sunday. The results would mean a return to power for a party that ruled Mexico for more than 70 years.
Peña Nieto greets supporters in Mexico City after polls closed and results stacked in his favor early Monday, July 2.
Peña Nieto, whose political party was ousted by the conservative National Action Party in 2000, addresses supporters Sunday.
Andres Manuel Lopez Obrador, Peña Nieto's challenger from the Democratic Revolution Party, says he is unwilling to concede in Mexico City on Sunday.
Supporters of Lopez Obrador listen on the streets of Mexico City during his news conference Sunday.
"The last word has yet to be said," Lopez Obrador, a former Mexico City mayor, said Sunday.
Supporters of the Mexican university student movement "I Am 132" protest in front of police outside the national TV network Televisa during a rally against the PRI and Peña Nieto in Mexico City on Saturday.
Protesters supporting the "I Am 132" movement rally outside Televisa headquarters in Mexico City on Saturday.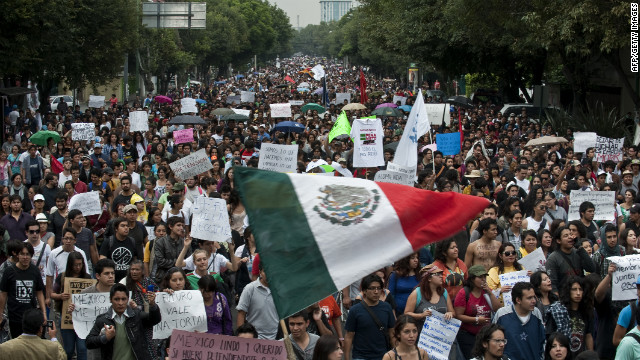 Photos: Tensions follow Mexico election
"What we seek now in our new strategy is to adjust what's been done up until now. It's not a radical change. It's to broaden the coverage and above all, the emphasis I aspire to of reducing the violence in our country," he told Zakaria.
"I'm persuaded that if we achieve the specialization in the work carried out by the various branches of the federal police and the inspector general's office, waging war on impunity will allow us to combat crime," he said.
The presumptive president-elect also weighed in on Arizona's immigration law, which allows police to check a person's immigration status while enforcing other laws if "reasonable suspicion" exists that the person is in the United States illegally.
The controversial provision was recently upheld by the U.S. Supreme Court. It struck down other parts of the law.
"Clearly, it seems to me that these are discriminatory laws that don't recognize the contribution and the value of millions of immigrants, particularly from my country, who make enormous contributions to the United States' economic development. It's clear to me that Mexico must facilitate conditions for greater economic development through structural reforms, energy reforms, treasury reform, labor reform, in order to generate jobs and greater opportunities in my country, so that immigration is a decision and not a necessity for Mexicans," he said.
An official tally of returns Friday confirmed Peña Nieto of the Institutional Revolutionary Party, or PRI, as the winner of Mexico's presidential election.
Final tally confirms PRI victory in Mexico
But until the country's electoral tribunal ratifies the results -- and challenges are virtually assured -- he remains the presumptive president-elect.
Peña Nieto's closest rival, Andres Manuel Lopez Obrador, has vowed to challenge the results, accusing the PRI of vote-buying, and said that he would take his complaints through the legal system.
The federal electoral tribunal, known as TRIFE, will begin to accept complaints Monday of voting irregularities.
The tribunal will have until September 6 to complete its investigation and ratify -- or reverse -- the official election results. The new president will be sworn in December 1.