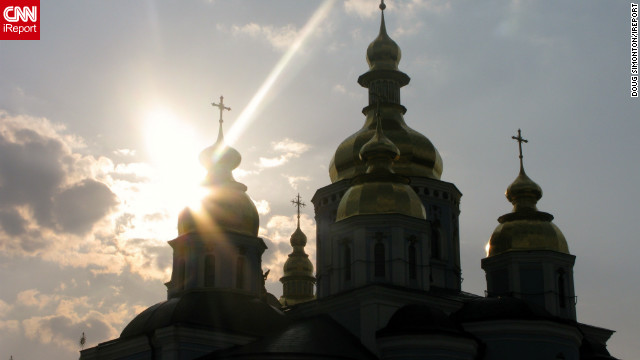 Doug Simonton of Tulsa, Oklahoma captured this image of the sun high above Saint Sophia Cathedral on a trip to Kiev in April 2010. The buildings first foundations were laid in the 11th century and it was the first Ukrainian site to be given UNESCO World Heritage status.
This image of a group of men fishing on a crumbling pier was captured by Craig Smith in the southern harbor city of Odessa. "I wanted to capture .... the coastline as well as the friendly people who we met on the streets," he says.
iReporter Craig Smith took this picture of the spectacular Swallow's Nest castle near Yalta in Southern Ukraine. Smith spent several days in the country as part of a Black Sea cruise in 2010 and says "Ukraine is an interesting country, rich in history and worth a visit."
Jill Thornton captured this image of mist rolling across the Dnieper River at dawn whilst on a trip to Kiev in September 2009. "I really enjoyed all the trees and nature," she says of her most abiding Ukrainian memories. "I was surprised to find how green it was, for some reason."
"My trip to the Ukraine was one of the most memorable experiences I've ever had," says Jill Thornton of Kailua-Kona, Hawaii. This image captures a selection of local paintings for sale at a Saturday street market in the capital city, Kiev. "There was so much to look at, and so many things to buy for an affordable price," she says.
These signs at the Chernobyl Musuem in Kiev act as a haunting reminder of "just some of the towns and villages wiped off the map by the Chernobyl nuclear disaster in 1986," says Doug Simonton. Chernobyl would also have destroyed Kiev "if the prevailing winds on 26 April 1986 had been blowing south vs. north," he adds.
Western Ukraine is home to a number of charming wooden churches, like this one captured by Polat Kizildag on a trip to Lviv in mid 2011. The city's diversity of architecture, green spaces and historic sites ensures "it deserves its motto: Heart of Europe, soul of Ukraine," he adds.
Olexiy Zhivora took this photo on a snowy Kiev morning earlier this year. The image captures two children playing atop the frozen Dnieper River. "Kiev is one of the most beautiful cities in the Eastern Europe but in the winter there is some special feeling about it," he says. "The city itself becomes a true white palace."
Polat Kizildag took this image of downtown Lviv whilst on a short visit from his native Turkey. "It is remarkable how different Lviv is from the other cities in Ukraine. The spirit of history seems (to be) still wandering along the narrow streets," he says.
The Holodomor monument in central Kiev offers up a lasting memory to the millions of Ukrainians killed by famine during the 1930's. The country has suffered its fair share of tragedy in the last century, says Doug Simonton, including being engulfed by two world wars and the Chernobyl nuclear disaster.
Kiev's historic cathedral
Casting off in Odessa
The Swallow's Nest
Morning mist over the Dnieper
Old town street art
Remembering Chernobyl
Charming churches
Winter wonderland
Lviv's historical streets
Memorial to times past