Hong Kong tycoons among five charged with corruption
July 13, 2012 -- Updated 1115 GMT (1915 HKT)
STORY HIGHLIGHTS
Thomas and Raymond Kwok among five people charged with a total of eight offenses
The billionaire brothers own Sun Hung Kai Properties, Asia's biggest property developer
The investigation in Hong Kong focused on land purchases in the city
Hong Kong (CNN) -- Two billionaire brothers who control Asia's biggest property development company have been charged with corruption, anti-bribery officials in Hong Kong said Friday.
Sun Hung Kai Properties (SHKP) co-chairmen Thomas and Raymond Kwok were among five people charged with a total of eight offenses, including conspiracy to offer advantages to a public servant and misconduct in public office, the Independent Commission Against Corruption (ICAC) said in a statement.
Hong Kong's former chief secretary Rafael Hui, banker Francis Kwan and Thomas Chan -- responsible for land acquisitions for SHKP -- were the other men charged after one of the biggest anti-graft probes in the banking hub's history.
Hui, the city's former No.2, faces charges related to misconduct in public office, including the acceptance of rent-free apartments and unsecured loans.
All five men were granted bail after a hearing on Friday afternoon, with the court case adjourned until October 12. Hui and Kwan were instructed to surrender their passports.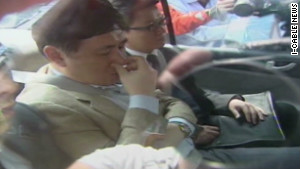 Tycoon arrests rock Hong Kong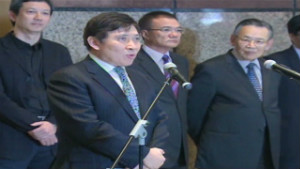 Hong Kong tycoons profess innocence
The ICAC revealed the offenses took place between 2000 and 2009 as investigators probed land sales overseen by Hui involving SHKP.
The case has caused a media frenzy in the city, where real estate is a local obsession. Sun Hung Kai, which helped to build some of the tallest buildings in the city's celebrated skyline, contributed to the Kwok brothers' estimated $18.3 billion fortune.
The brothers, who were arrested in March, have protested their innocence.
"I can say that personally I have done nothing wrong. And I can vouch for Mr. Thomas Kwok that he has done nothing wrong either," Raymond Kwok said at a news conference on April 3, referring to his brother.
"I hope this investigation will clear my name," he said.
Hong Kong, a special administrative region of China, is considered to be one of the world's least corrupt territories. According to Transparency International's 2011 Corruptions Perceptions Index, Hong Kong is the 12th least corrupt territory in the world -- with the United States, by comparison, ranked 24th.
CNN's Andrew Henstock and Tim Schwarz contributed to this report.

Part of complete coverage on

Check out CNN's latest news, commentary, photos, and videos on our China special section.
May 23, 2013 -- Updated 0221 GMT (1021 HKT)

A quarter century after his death, American pop artist Andy Warhol has popped up in China again after his first and only trip to the country in 1982.
May 16, 2013 -- Updated 0225 GMT (1025 HKT)

This month, "On China" host Kristie Lu Stout speaks to guests about China's contemporary art scene.

Proving you don't have to be in France for great artisanal cheese, Liu Yang is teaching the Chinese to appreciate dairy.

You can now visit the city visa-free for up to 72 hours. Here's how to cram the best of Beijing into three days.
May 16, 2013 -- Updated 0107 GMT (0907 HKT)

Who is the world's third biggest smartphone maker? BlackBerry? Guess again. HTC? Nope. It's China's Huawei.
May 8, 2013 -- Updated 1224 GMT (2024 HKT)

CNNGo heads to the capital of China's Sichuan province where numbing peppers rule.
May 9, 2013 -- Updated 0016 GMT (0816 HKT)

The poisoning of Zhu Ling, a college sophomore in Beijing almost two decades ago, has ignited an emotional debate in China.
May 7, 2013 -- Updated 2253 GMT (0653 HKT)

80-year-old Chinese war veteran Duan Keke fought for North Korea in the Korean War. He believes China will prevent war with North Korea.

Share with us your photos and videos of life in China-- the everyday China. The best content could be featured online or on air.

Today's five most popular stories