A photographer's unique view of Kazakhstan
July 13, 2012 -- Updated 1829 GMT (0229 HKT)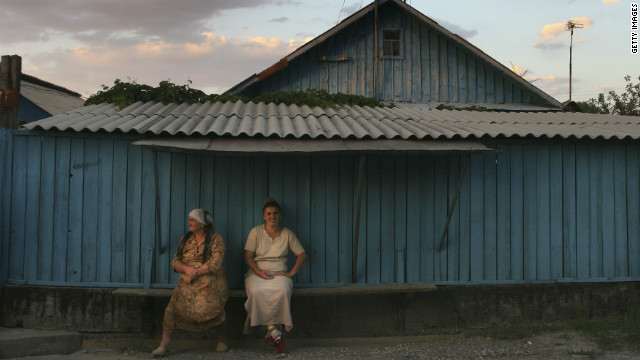 While reminders of former Soviet Union remain in Kazakhstan, the country's vast natural resources have ensured a influx of wealth. Uriel Sinai explores this juxtaposition in his photographs.
Kazak men lie down in a ray of sunlight to dry off in the Turkish section of the Arsan baths in Almaty -- a place where tradition meets the new demand for luxury.
A worker monitors production at Saiman Corporation, part of the TSC Group and a leading company in Kazakhstan and Central Asia in the production of electro-technical products. Since it gained independence in 1991, Kazakhstan has attracted around $11bn in foreign direct investment each year.
Islamic worshippers perform their Friday prayers in the Great Mosque in Almaty. Sinai, who has been also photographed the Israeli-Palestinian conflict says the Islam in Kazakhstan is a "different kind of Islam" than the one he experienced elsewhere.
"It's not as fanatic," he says. "And I am not referring only to Islam, but other religions as well. In Kazakhstan, it seems more open."
"You can see people going to the bars and drinking alcohol and then going to the mosque on Friday," says Sinai.
Under the Stalinist rule, Muslims were oppressed and mosques closed. That changed with the independence. "Suddenly, you could go back and practice Islam," Sinai says. "It's something wonderful."
Postitutes prepare for the evening ahead in Almaty. Sinai says he tried to capture the culture of Kazakhstan as a whole. "Something that struck me was the way they treat women," he says. "You go to a restaurant, a family restaurant, there are children around and everything. And then you get the menu with pictures of naked women in it."
"You look into a newspaper and you will see pictures of naked women on page three," Sinai says. "You go to a coalmine and the director has a picture of a naked woman on the wall behind him. It's part of the culture, not something anyone can change right now. "
A herdsman in central Kazakhstan watches his cows from horseback. Iran-born Sinai says the vast rural areas of central Kazakhstan reminded him of his motherland, a place he can not visit, as he is Israeli citizen.
A patron eats under a painting of Yuri Gagarin, the first man in space, in a restaurant decorated with Soviet and communist symbols. Kazakhstan had the world's first spaceport.
Another side of life in Kazakhstan
Turkish baths
Factory worker
Almaty mosque
Private prayers
Bar scene
Increased freedom
A different side of life
A struggle for equality
Horses and herdsmen
Kazakhstan's final frotier: Space
STORY HIGHLIGHTS
Uriel Sinai won the World Press Photo for his coverage of Israeli resettlement from the Gaza Strip
In 2006, he traveled to post-soviet republics to document the change in the region
His photos explores the post-soviet revival of Islam in Kazakh culture
Editor's note: Each month Eye On takes you to a different country, highlighting the interesting places and innovative people transforming their country.
(CNN) -- Uriel Sinai's affection for Kazakhstan started as a straightforward reporting assignment.
The World Press Photo award-winning photographer went to Kazakhstan and other central Asian republics in 2006 to capture how they had changed since the collapse of the Soviet Union.
"It was quite amazing, I didn't expect to see what I saw there," he says.
Visually, it was the blend of the new and the old that attracted him to Kazakhstan. "Seeing the mixture of things that are very much Soviet-like and then the current Kazakhstan, with its wealth and money," he says. "That really struck me."
Being an Iran-born Israeli national, Sinai's chances of ever visiting his real birthplace are slim. Having no memories of Iran (he left as a baby), he looks for hints of his birthplace elsewhere.
"I am always trying to feel the place. Everywhere I go, I am trying to feel this place that I am not able to go to."
Kazakhstan and its vast steppes, rural areas, mosques and arid climate reminded him of Iran more than anything. "I think it is as close as I can get to somewhere close to where I came from," he says.
He says he felt the connection while driving for hours through the rural countryside. 'You can really feel it in Kazakhstan," he says. "You can feel Iran in the air."
CNN's Eye On series often carries sponsorship originating from the countries we profile. However CNN retains full editorial control over all of its reports.

Today's five most popular stories
Part of complete coverage on
Eye on Kazakhstan
July 26, 2012 -- Updated 0308 GMT (1108 HKT)

From the steppes to horse meat, take a look at your best shots from the country.
July 13, 2012 -- Updated 1830 GMT (0230 HKT)

There is something mirage-like about Kazakhstan's capital as it rises out of the vast empty central Asian steppe.
July 25, 2012 -- Updated 0046 GMT (0846 HKT)

Replete in felt peak caps and with embroidered coats, the eagle hunters of Kazakhstan are an arresting sight.
July 17, 2012 -- Updated 1037 GMT (1837 HKT)

It won't be an Olympic event, but Kokpar, which involves two teams and a dead goat, is compulsive viewing.
July 13, 2012 -- Updated 1726 GMT (0126 HKT)

From modern architectural marvels to yurts, Kazakhstan is a cultural curiosity.
July 17, 2012 -- Updated 1733 GMT (0133 HKT)

Kazakhstan is paying for its best and brightest citizens to study abroad, as long as they return.
July 13, 2012 -- Updated 1723 GMT (0123 HKT)

From a president witout term limits to traditional cuisine, take our quiz to discover the real Kazakhstan.
October 17, 2012 -- Updated 1409 GMT (2209 HKT)

Kazakhstan's wide open spaces are great for raising cattle, as the country looks to beef up its livestock exports.
July 13, 2012 -- Updated 1829 GMT (0229 HKT)

A news photographer discovered more than he ever thought he would on a routine assignment in Kazakhstan.

From oil reserves to uranimum mines learn the stats that matter when it comes to Kazakhstan.