Sports photography master class: Tips for stellar shots
Join the conversation
CNN iReport
July 31, 2012 -- Updated 1852 GMT (0252 HKT)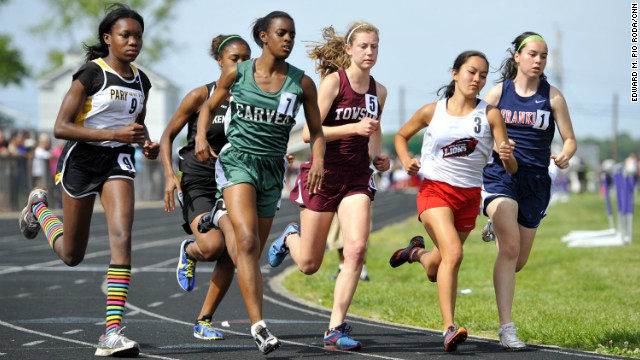 Use a fast shutter speed to stop action and a large aperture to create a shallow depth of field. If you prefer to use an automatic mode, use the "sports" program. Your camera will automatically select a fast shutter speed and large f-stop.
On the other hand, you can use a slow shutter speed and "pan" with your subject to convey motion. This image was shot at 1/60th second.
The narrow depth of field created by the wide-open aperture used to make this picture draws your attention to the girl's face and sets her against a soft, out-of-focus background. Try to anticipate dramatic moments in order to convey the intensity of the event.
A short or wide lens can be used capture an establishing shot to set the scene.
Try to find a clean background. This will focus the viewer's attention on your subject. Also, concentrate on your timing so you can capture exact moments, such as the ball leaving the pitcher's fingertips.
Another composition technique used to direct the viewer's attention is called the "rule of thirds." Positioning your subject off to one side of the frame can make your pictures more interesting.
When shooting sports like baseball, be prepared for action to occur in certain areas, such as home plate, and pre-set your focus and exposure.
Try to stay prepared as much as possible. Sometimes, nice moments happen during breaks in the action. I found this composition during a pitcher change.
At the end of any game, be on the lookout for celebration pictures.
Tips for shooting sports
Tips for shooting sports
Tips for shooting sports
Tips for shooting sports
Tips for shooting sports
Tips for shooting sports
Tips for shooting sports
Tips for shooting sports
Tips for shooting sports
STORY HIGHLIGHTS
In honor of the London Olympics, CNN helps you up your sports photography game
Check out the tips above, then submit your best sports photos to CNN iReport
The best images will be featured on CNN.com!
(CNN) -- Sports photographers from all over will descend on London for the 2012 Olympics to capture some of the world's best athletes in the heat of competition. You may not be headed to the games, but that doesn't mean you can't join in the fun! Welcome to the CNN iReport sports photography master class.
Check out the tips above from sports photography expert Edward M. Pio Roda. Then grab your camera, attend a local sporting event and submit your best shots to iReport by August 15. The best images, as selected by Pio Roda and other CNN photographers, will be featured in a photo gallery for CNN.com.
Looking for a few more photography pointers? Check these out:
CNN photojournalists illustrate their best composition tips and more in this beautiful photo essay.
Check out famed images from Olympics past and read about what makes them great.
The dos and don'ts of photo editing
Take the hundreds of photos you just shot and edit them down into a cohesive and compelling story. Plus, learn what kinds of photo modifications are and aren't OK in photojournalism.