STORY HIGHLIGHTS
In the dark, people couldn't even see the fumes they were breathing in, a witness says
A witness describes seeing people with bullet holes in their backs
"Mass chaos" followed the attack, another witness says
A police officer was seen carrying a little girl who wasn't moving
(CNN) -- It was a dark theater, playing a movie that includes gunshots, in the middle of the night. So when a gunman burst through an exit door, threw a gas can into the crowd and began shooting, many inside the Aurora, Colorado, theater didn't realize what was happening.
Emma Goos saw a man come through the exit door at the front of the theater, wearing a gas mask and body armor and wielding a gun.
"I thought it was a joke at first," she said.
Dozens shot in Colorado theater
Jennifer Seeger, who was in Theater 9 at the Century Aurora 16 multiplex, said the shooter lit a gas can and threw it into the crowd, then he shot the ceiling to scare everyone.
"They just started scattering, and mass chaos just happened," she told CNN affiliate KCNC-TV in Denver.
"I was terrified, so I just dove into the aisle. And at that point he started shooting people behind me." Burning bullet fragments ended up on her forehead, she said. "I just told myself: 'I need to get out of here. I need to get out of here.'"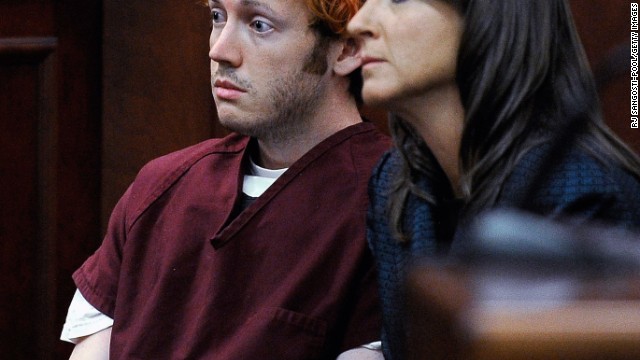 The public gets its first glimpse of James Holmes, 24, the suspect in the Colorado theater shooting during his initial court appearance Monday, July 23. With his hair dyed reddish-orange, Holmes, here with public defender Tamara Brady, showed little emotion. He is accused of opening fire in a movie theater Friday, July 20, in Aurora, Colorado, killing 12 people and wounding 58 others. More photos: Mourning the victims of the Colorado theater massacre
Police release the official photo from Holmes' booking after the shooting.
Holmes often had a blank stare during his court appearance Monday, appearing to be in a daze.
Victims and their relatives and journalists watch the proceedings Monday.
Flags fly at half-staff Monday at the Arapahoe County Courthouse in Centennial, Colorado, where the movie theater shooting suspect had his first court appearance. The prosecutor held a press conference outside the courthouse.
Arapahoe County District Attorney Carol Chambers talks to reporters Monday before heading into the courthouse. Chambers said the decision on whether to pursue the death penalty is a long process that involves input from victims and their families.
Family members of the victims arrive at the courthouse Monday for the suspect's first court appearance.
The Century Aurora 16 multiplex in Aurora becomes a place of horror after a gunman opened fire Friday in a crowded theater. At least 17 people remained hospitalized late Sunday, July 22, in the shooting rampage that shocked the nation.
Holmes is accused of opening fire during a midnight screening of the new Batman movie, "The Dark Knight Rises." Holmes purchased four weapons and more than 6,000 rounds of ammunition in recent months, police say.
Police investigate outside the Century 16 multiplex Saturday, July 21, a day after the mass shooting. Authorities have been tight-lipped about a possible motive in the case.
Agents search the suspect's car outside the theater.
Aurora police escort a sand-filled dump truck containing improvised explosive devices removed from Holmes' booby-trapped apartment Saturday. Authorities have said they believe the suspect rigged his place before leaving for the movie theater.
Police break a window at the suspect's apartment Friday in Aurora.
Law enforcement officers speak with Colorado Gov. John Hickenlooper, center, outside the suspect's apartment Saturday.
Law enforcement officers prepare to disarm the booby-trapped apartment Saturday.
Officials tow cars outside Holmes' apartment Saturday. Police disassembled devices and trip wires set up in the apartment.
Officers prepare to place an explosive device inside the apartment.
Debris flies out a window, right, after law enforcement officers detonate an explosive device inside the apartment Saturday.
People mourn the victims during a vigil behind the theater where a gunman opened fire on moviegoers in Aurora.
A woman grieves during a vigil for victims behind the theater.
A distraught woman receives counseling from Pastor Quincy Shannon, left, in front of Gateway High School in Aurora, where the families of the missing met following the shooting.
Lin Gan of Aurora holds back tears as she speaks to reporters about her experience in the Century 16 theater Friday.
People embrace before a vigil for victims behind the theater where a gunman opened fire on moviegoers.
Investigators work on evidence near the apartment of James Holmes on Friday.
Members of the Aurora Police Department SWAT unit walk near the apartment of James Holmes. Police have Holmes, 24, of North Aurora, in custody.
Television news crews gather in front of the home of Robert and Arlene Holmes, parents of 24-year-old mass shooting suspect James Holmes, in San Diego, California, on Friday.
A popcorn box lies on the ground outside the Century 16 movie theatre.
An NYPD officer keeps watch inside an AMC move theater where the film "The Dark Knight Rises" is playing in Times Square on Friday. NYPD is maintaining security around city movie theaters following the deadly rampage in Aurora, Colorado.
Adariah Legarreta, 4, is comforted by her grandmother Rita Abeyta near the Century 16 Theater in Aurora.
A cyclist and pedestrians pass a theater showing the latest Batman movie in Hollywood, California, on Friday. Warner Brothers said it was "deeply saddened" by Friday's massacre at a Colorado screening of "The Dark Knight Rises."
Obama supporters observe a moment of silence for the victims at a campaign event at Harborside Event Center in Fort Myers, Florida, on Friday.
Jessica Ghawi, an aspiring sportscaster, was one of the victims.
A woman waits for news outside Gateway High School, a few blocks from the scene of the shooting at the Century Aurora 16.
Aurora police chief Daniel J. Oates speaks at a press conference near the Century 16 Theater on Friday.
Agents search the trash container outside the suspect's apartment in Aurora.
A Federal ATF officer carries protective gear onsite at the home of alleged shooting suspect James Holmes.
Obama speaks on the shootings at the event in Fort Myers.
Moviegoers are interviewed at the Century Aurora 16.
Officers gathered at the theater Friday.
Investigators were a common sight at the theater Friday.
Authorities gather at the shooting suspect's apartment building in Aurora. Police broke a second-floor window to look for explosives that the suspect claimed were in the apartment.
Screaming, panicked moviegoers scrambled to escape from the black-clad gunman, who wore a gas mask and randomly shot as he walked up the theater's steps, witnesses said.
University of Colorado Hospital spokeswoman Jacque Montgomery said that all of the wounded had injuries from gunshot wounds, ranging from minor to critical.
Onlookers gather outside the Century Aurora 16 theater.
A woman sits on top of her car near the crime scene.
Police block access to the Town Center mall after the shooting.
Cell phone video taken by someone at the theater showed scores of people screaming and fleeing the building. Some, like this man, had blood on their clothes.
Witnesses told KUSA that the gunman kicked in an emergency exit door and threw a smoke bomb into the darkened theater before opening fire.
What is believed to be the suspect's car is examined after the shooting.
Police Chief Dan Oates said there was no evidence of a second gunman, and FBI spokesman Jason Pack said it did not appear the incident was related to terrorism.
Republican presidential candidate and former Massachusetts Gov. Mitt Romney delivers remarks regarding the shooting in an Aurora, Colorado, movie theater on Friday at a campaign event in Bow, New Hampshire.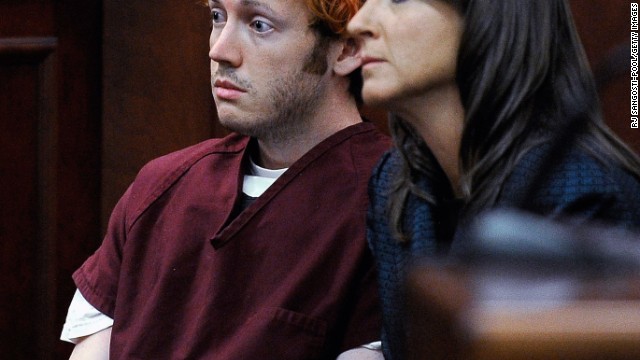 Colorado movie theater massacre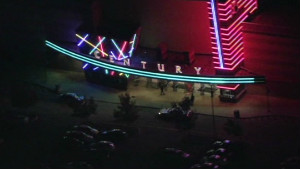 Witnesses recount theater shooting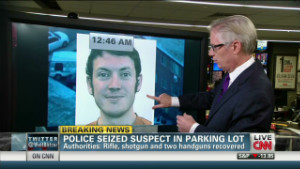 A timeline of the Colorado shooting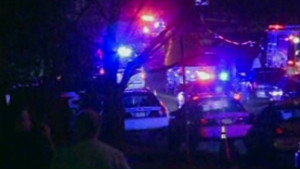 Witness saw little girl who wasn't moving
911 tape: 'I need someone to shut this movie off'
Police Chief Dan Oates said officers were on scene within 90 seconds of the first call and immediately detained suspect James Holmes near his car behind the theater. "The response was very rapid," he said.
The man suspected in the mass shooting had colored his hair red and told police he was "the Joker," according to a federal law enforcement source with detailed knowledge of the investigation.
Adam Witt told CNN that he and his wife had been looking forward to seeing the movie for months.
"The first thing I noticed was a hissing sound coming from the left side of the theater. I noticed people beginning to react in the area. I knew something was wrong," he said in an iReport.
"Then the gunshots began. A sudden flash of light and loud bang from the right side of the screen. Then another, and another. There must have been 20-30 at the least. At first glance they looked like fireworks or something, perhaps a prank."
But he soon realized what was happening.
Aspiring sports reporter feared dead in Colorado shooting
"I hit the floor and hid behind the seats in front of me, pulling my wife down to hide with me. It was the longest minute of my life," Witt said. "The gunshots just kept coming. I knew it could be over any second. I knew my wife could be gone any second. It was absolutely surreal. I felt something hit my left arm, and my first thought was 'at least it's just my arm.'"
When the gunfire subsided people took to the exits en masse, he said. "I took my wife by the hand and we booked it for the back door, trying to breathe through the gas that now permeated the room."
The area was filled with people screaming -- in some cases, for their children, he said.
Bloomberg demands gun action from Obama and Romney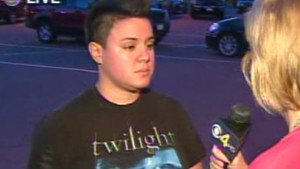 Witness: He pointed gun at my face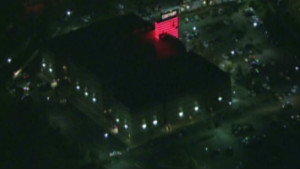 Witness: People bleeding in theater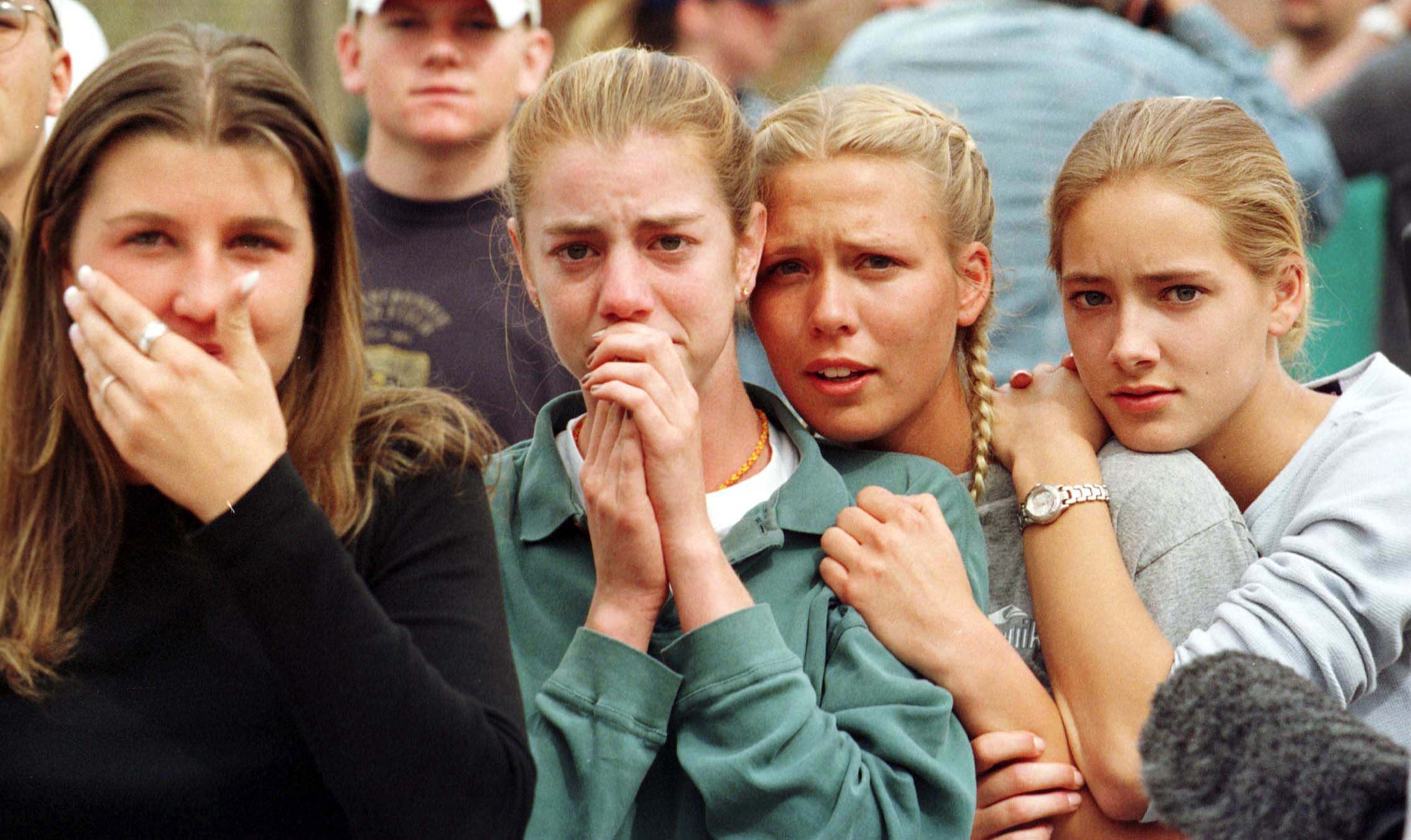 Timeline: Worst U.S. shootings
"The entire ordeal was completely surreal, and entirely horrifying."
An emotional movie patron told CNN that a man sitting next to him was shot. Two people he believes were the victim's teenage daughters tried to wake the man, according to Chris Ramos.
Ramos later saw the girls outside, on the phone.
"They were crying," he said. "Their dad was in there," in the theater.
Darius Harvey said the room was so dark it was difficult to see what was happening. "I couldn't see anything" -- not even the fumes he was breathing in, he said.
Trey Freeman, another witness, said the shooter threw a second gas canister. "He looked so calm when he did it, it was so scary," Freeman said in a YouTube video.
Moviegoer Quentin Caldwell, who was in an adjacent theater, said, "I think we were 15 minutes in, and there was a chase scene where there was gunfire on screen.
"And right then out of nowhere on the right side of us we hear a very distinct 'pop, pop, pop, pop.'"
Caldwell saw wounded people, including one young couple who was holding a bleeding woman by her face and guiding her down the stairs, Caldwell said.
"I looked to my right and another gentleman is holding his stomach and running down the stairs trying to get out of there," he said.
Even after he left the theater, some people stayed behind not understanding what happened and thinking the movie might continue, Caldwell said. "I looked at them like, 'This is real. There's something wrong. We need to leave now.'"
Witnesses described the man as dressed in black and wearing a gas mask and bulletproof vest.
When the gunman began shooting, "I thought there was no way I was going to get out of there without getting shot," Freeman said.
In the rush to leave, some people were stepped on or pushed, Derek Poag told CNN.
Outside the theater, it was chaotic, with wounded people everywhere, Caldwell said. He saw one girl in a pink hoodie, her left side peppered with wounds.
Cell phone video taken outside the doors of the theater complex showed panicked moviegoers calling out for help or searching for friends.
Few hints of alleged shooter's past
One man can be seen walking out with assistance, the back of his shirt covered in blood. A woman examines her body, as if checking for wounds.
Donovan Tate said he saw a man crawling, a girl spitting up blood, and people with bullet holes in their backs. "There was this one guy who was stripped down to his boxers, it looked like he had been shot," perhaps in the back, Tate said. "It was crazy."
Alex Milano was in the next theater over that was also showing the Batman film.
He also said there was a shooting scene happening on screen when the sound of real bullets was heard nearby.
Timeline: Worst U.S. mass shootings since WWII
"Loud bangs came from the right of the theater. Smoke took over the entire theater, and it was really thick and no one could really see anything," he said.
Confused at first, Milano realized the severity of the incident when he saw "objects" starting to come through the wall, presumably bullets.
"I saw holes in the wall," he said.
Some people in his theater started moaning in pain, and alarms at the building started sounding.
Outside, Milano spoke with a woman who was inside Theater 9. What she heard "sounded like madness to me," he said.
One scene stuck in his head -- a police officer carrying a little girl in his arms. The girl wasn't moving.
On iReport, share your images or tributes to the victims.