Rupert Murdoch steps down from boards
July 21, 2012 -- Updated 2233 GMT (0633 HKT)
STORY HIGHLIGHTS
Rupert Murdoch steps down as director from a string of company boards
A spokesman calls it "nothing more than a corporate house-cleaning exercise"
News Corp. is expected to be divided in coming months
(CNN) -- Rupert Murdoch has stepped down from a string of company boards of directors just one month after his embattled News Corporation announced plans to separate publishing interests from its lucrative television and film operations.
The Australian-born media mogul made the move last week, according to a spokesman for News International, a British arm of News Corp.
While Murdoch is expected to remain chairman of both companies, he will be CEO of only the television and film side, further distancing himself from the print business that first brought him fame and fortune.
It's not clear who will be CEO of the publishing company, which would be less than one-third the size of its counterpart.
The News International spokesman on Saturday played down Murdoch's boards resignation, calling it "nothing more than a corporate house-cleaning exercise prior to the company split."
Murdoch grilled on power, influence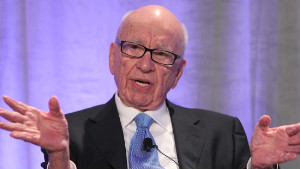 Murdoch: Romney should drop old friends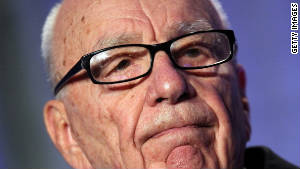 Rupert Murdoch in a buying mood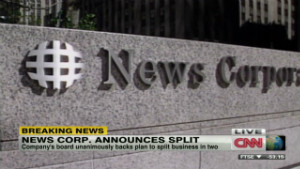 News Corp. to become two companies
News Corp., a Murdoch-controlled media conglomerate, is expected to be divided in the next 12 months. The split comes after some of its U.K.-based newspapers were thrust to the center of a recent phone-hacking scandal.
His British operations have remained under intense scrutiny after revelations of widespread phone hacking, which included celebrities and public officials, by people working for his newspapers.
Gordon Brown lashes out at Rupert Murdoch, son and tabloid
The controversy prompted News Corp. to shut down its venerable British tabloid, News of the World, last year, and preceded a decision to withdraw a multi-billion-dollar bid to take over British Sky Broadcasting.
The coming split would separate operations like 20th Century Fox film studio, Fox broadcast network and Fox News Channel from the firm's newspapers holdings such as Britain's The Sun, the London Times and the London Sunday Times.
News Corp.'s American media holdings include The Wall Street Journal, the New York Post and Barron's. Its book publishing assets include such companies as HarperCollins.
Rupert Murdoch put pressure on Tony Blair, ex-prime minister says
CNN's Richard Quest contributed to this report.

Today's five most popular stories
Part of complete coverage on
July 3, 2014 -- Updated 1532 GMT (2332 HKT)

Britain's phone-hacking scandal has seen former tabloid editor Andy Coulson move from the newsroom into the full glare of its spotlight.
June 24, 2014 -- Updated 1442 GMT (2242 HKT)

Rebekah Brooks was once feted as one of the rising stars of the British media.
June 24, 2014 -- Updated 1419 GMT (2219 HKT)

An old-fashioned press baron with ink running through his veins, a hefty checkbook, and a hunger for the next big story.
June 24, 2014 -- Updated 1420 GMT (2220 HKT)

How did phone hacking grow into a scandal that threatened Rupert Murdoch's hold on his global media business? Track all the major events.
June 24, 2014 -- Updated 1417 GMT (2217 HKT)

The phone hacking trial revealed much about the inner workings of Rupert Murdoch's sex-and-scandal tabloids.
November 29, 2012 -- Updated 1234 GMT (2034 HKT)

Revelations that murdered UK schoolgirl Milly Dowler 's phone was hacked sparked outrage. But who was the girl at the center of the scandal?
November 28, 2012 -- Updated 1821 GMT (0221 HKT)

Media expert Brian Cathcart says Fleet St. has grabbed its megaphone and started bellowing out its usual message: leave us alone.
November 29, 2012 -- Updated 1133 GMT (1933 HKT)

James Murdoch was widely regarded as heir-apparent to his father global media empire. All that changed when the hacking scandal broke.
November 30, 2012 -- Updated 1130 GMT (1930 HKT)

Could the phone-hacking scandal prove to be a blessing in disguise for Murdoch? He claimed to have been "humbled" by the scandal.

The Leveson inquiry is a British government-backed inquiry into illegal eavesdropping and bribery by journalists. Read the final report by Lord Leveson.

Phone-hacking scandal revealed the dark side of tabloid journalism. Should it lead to a stricter press regulation? Share your views with CNN.