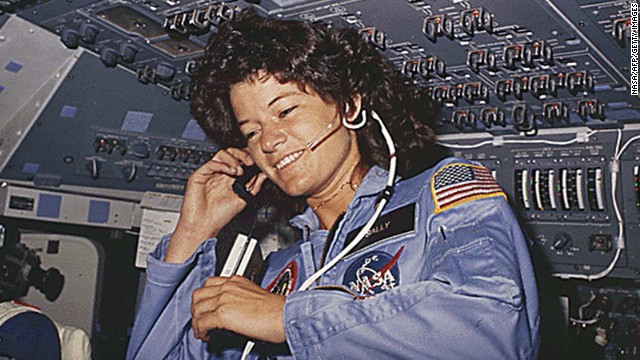 Sally Ride, America's first female astronaut, died Monday, July 23, after having pancreatic cancer for 17 months. She was 61. Here, Ride is seen talking with ground control during her six-day space mission on board the Challenger in 1983.
Sally Ride with the other members of NASA's first class of female astronauts in August 1979. From left to right: Shannon W. Lucid, Margaret Rhea Seddon, Kathryn D. Sullivan, Judith A. Resnik, Anna L. Fisher, and Ride.
Ride, left, and Anna Fisher work on a mission sequence test as part of their 1978 astronaut class at Kennedy Space Center.
Ride appears in an offical NASA portrait in January 1983.
Ride appears, front left, in the STS-7 Challenger Crew photo in January 1983. Front row, left to right: Ride, Cmdr. Bob Crippen, Pilot Frederick Hauck. Back row, left to right: John Fabian, Norm Thagard.
A technician helps Ride strap herself into the shuttle mission simulator in Houston on May 23, 1983, less than a month before her launch.
Ride at the Johnson Space Center in Houston in June 1983
Ride prepares to take off in a T-38 jet as she leaves Houston for NASA's Kennedy Space Center on June 15, 1983, three days before the shuttle launch.
Ride takes her seat aboard the Challenger on June 19, 1983, the day she became the first American woman in space.
Ride and the other crew members of STS-7 achieve liftoff aboard the Challenger on June 18, 1983.
Ride floats alongside Challenger's middeck airlock hatch durring Challenger's six-day mission in June 1983.
Ride takes a photograph during her Earth orbit on the Challenger.
Ride inspects a tool kit during Earth orbit aboard the Challenger.
Ride gives her condolences to the families of the space shuttle Columbia crew while speaking to the media at the San Diego Aerospace Museum on February 7, 2003.
California Gov. Arnold Schwarzenegger applauds Ride after inducting her into the California Hall of Fame on December 6, 2006, in Sacramento, California.
Photos: Sally Ride through the years
Photos: Sally Ride through the years
Photos: Sally Ride through the years
Photos: Sally Ride through the years
Photos: Sally Ride through the years
Photos: Sally Ride through the years
Photos: Sally Ride through the years
Photos: Sally Ride through the years
Photos: Sally Ride through the years
Photos: Sally Ride through the years
Photos: Sally Ride through the years
Photos: Sally Ride through the years
Photos: Sally Ride through the years
Photos: Sally Ride through the years
Photos: Sally Ride through the years