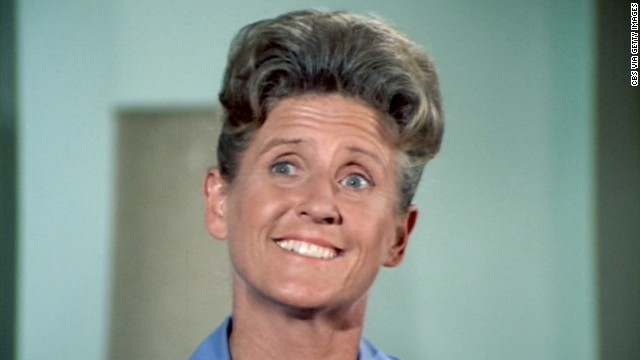 Everyone's favorite housekeeper, Alice Nelson, was played by Ann B. Davis on the sitcom. Davis died on Sunday, June 1, after suffering a subdural hematoma the day before. She never regained consciousness. Davis retired from show business in the late '70s, but popped up here and there. Davis appeared in commercials and several stage productions, and in the 1995 "Brady Bunch" movie, she played a truck driver, convincing a runaway Jan (Jennifer Elise Cox) to return home.
Henderson said
"She'd probably feel the same way I do. A little nervous, a little excited. ... I think she would be out there like I am, dating younger men."
Can you believe Florence Henderson is 80? It's true; the iconic TV mom celebrated the milestone on February 14. When asked how she thinks Carol Brady would feel about turning 80,
tell-all book
, "Here's the Story: Surviving Marcia Brady and Finding My True Voice."
Maureen McCormick, now 57, played Marcia Brady for the five years "The Brady Bunch" was on the air. She has since released a country album, appeared on the fifth season of VH1's "Celebrity Fit Club" and written a
a lingering crush
on his former TV mom -- he gave her an intense kiss on the lips during the "
The Talk's" "Brady Bunch" reunion.
Off-camera, he's a father of two and also an author with the memoir, "Growing Up Brady: I Was a Teenage Greg." You can keep up with Williams on his blog,
The Greg Brady Project.
Barry Williams, 59, went on to appear in TV shows like "Three's Company," "General Hospital" and "According to Jim" since playing Greg Brady in the '70s. Williams still has those curls, as well as
he said
. "Matter of fact, they hated it."
Since playing Peter Brady, Christopher Knight, 56, has had cameos on several TV shows and movies, including the 2009 comedy "Spring Breakdown." Knight has also dabbled in reality TV, starring on VH1's "My Fair Brady" alongside ex-wife Adrianne Curry. In 2013, he revealed to Oprah Winfrey that he struggled with his relationship with his parents as an adolescent. "My family is nothing like 'The Brady Bunch,'"
Olsen has debunked the rumors of a romance
between her on-screen older sisters, Eve Plumb and Maureen McCormick, but she confirmed last year that there's still a rift between the two actresses.
At 52, Susan Olsen no longer wears her hair of gold in curls, but she'll always be Cindy Brady to fans. Since "The Brady Bunch," Olsen has worked as a graphic designer, a radio talk show host and an actress on series like "The Young and the Restless."
moved on to making concrete countertops
. Lookinland says he's been sober since his drunk driving
incident in 1997
.
Mike Lookinland, 53, played Bobby Brady on the sitcom. He later took a seat on the other side of the camera, working on The WB's "Everwood" and the "Halloween" franchise, and then after 20 years in film
After playing Mike Brady on "The Brady Bunch," Robert Reed appeared in several TV movies and series, such as "Medical Center," "The Boy in the Plastic Bubble" and "Rich Man, Poor Man." Reed died in 1992 at 59.
'The Brady Bunch': Where are they now?
'The Brady Bunch': Where are they now?
'The Brady Bunch': Where are they now?
'The Brady Bunch': Where are they now?
'The Brady Bunch': Where are they now?
'The Brady Bunch': Where are they now?
'The Brady Bunch': Where are they now?
'The Brady Bunch': Where are they now?
'The Brady Bunch': Where are they now?