The artist who turned Usain Bolt from track legend to street hero
August 3, 2012 -- Updated 1844 GMT (0244 HKT)
STORY HIGHLIGHTS
James Cochran, known as "Jimmy C," painted an outdoor portrait of athlete Usain Bolt
Cochran has a background in graffiti art and academic arts training
He is based in east London's Shoreditch, which is a hub for the city's street artists
Cochran painted the mural in the hope it would last beyond the Olympic Games
London (CNN) -- More than three meters above east London's Sclater Street is a mural of sprinter Usain Bolt, captured in explosive color by artist James Cochran.
The street artwork, more than four meters high and six meters wide, is a dramatic sight, designed by Cochran to celebrate London's Olympic Games.
Cochran, known as "Jimmy C," has a style which combines his background in graffiti art and academic training in figurative realism.
The UK-born artist is based in London's Shoreditch, having spent much of his life in Australia. After his mother died in a car crash when Cochran was 12, his family life deteriorated.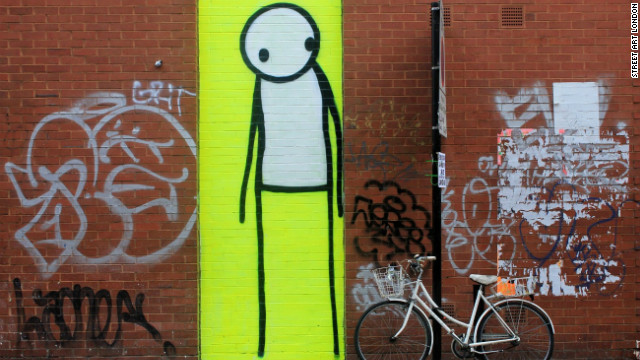 East London is one of the best places to see street art in the world, and If there's one artist who sums up East London street art right now, it is Stik, according to Richard Howard-Griffin.
Hackney Wick is a run-down area on the fringes of the Olympic Park. Many of its old warehouse and factory buildings are now used as studio space by artists, and the area has a vibrant and colorful street art scene. This mural is a collaboration between artists Sweet Toof and Paul Insect in Stour Road.
There are a number of epic Burning Candy Crew murals along the canal paths around Hackney Wick. This one features four of BC Crew -- Cyclops, Gold Peg, Mighty Mo and Sweet Toof. Olympic Authorities have closed the paths for the duration of the Olympics, so seeing them will be a challenge.
A glittering street sculpture from Cityzen Kane on the derelict Lord Napier pub in Hackney Wick. Many local street artists and graffiti writers had put work up here over the years but it was whitewashed ahead of the Olympics.
Although Hackney Wick borders the Olympic park, many residents and artists say they are skeptical about the long-term benefits to the area.
Hackney Wick rooftops. Sweet Toof and Paul insect can be seen in the foreground. Sweet Toof and Cylops in the distance. Paul Insect is most famous for his 2007 exhibition "Bullion," which was snapped up by Damien Hirst before it opened.
Ben Slow is a portrait artist whose work can be found on many East London streets, including this one on Stour Road, Hackney Wick.
French street artist C215 has degrees in history and art. His multi-layered stencils have graced walls, doors and bins from London to New York, Morocco to Barcelona. This portrait of his daughter survives on Roach Road in Hackney Wick.
This collaborative piece between Stik, Milo Tchais and Prozak in Hackney Wick is now covered up by a hospitality tent.
Areas of Shoreditch, Brick Lane, Hackney Road, Broadway Market and Dalston feature work from artists from all over the world - including a few Olympics-inspired pieces. Here is a work by Ronzo.
These murals, called "The Walls Have Ears," were painted by Bread Collective, working with the community of Hackney Wick. The names in the murals were taken from the area's industrial past.
A collaboration between Burning Candy Crew artists Cept, Tek33, Mighty Mo, Gold Peg, Sweet Toof and Cyclops directly opposite the Olympic stadium in Hackney Wick. Parts of the work have since been removed as the buildings are converted into cafes and bars.
RUN is considered one of the best street artists in London. He started out in Italy painting trains, lorries and walls before becoming immersed in the street art scene. Now working with brushes in a fine art style, he mainly paints hands and faces with intricate details. RUN has painted many pieces in Hackney Wick, some of which remain today.
Sweet Toof's trademark teeth can be seen snarling from rooftops across Hackney Wick. Recently he has been collaborating with Paul Insect.
The former factories and warehouses In Hackney Wick, now popular with artists, are also being eyed by property developers.
The area around Shoreditch and Brick Lane has become popular with street artists from around the world. Here is David Walker putting up a piece just off Brick Lane.
A work by street artist ROA in Chance Street, Shoreditch.
Phlegm is described by Richard Howard-Griffin as "one of the most exciting artists on the global street art scene at present, let alone London." Not all of his works in Hackney Wick survive.
Mobstr works with stencilled letters. This piece in Hackney Wick, now removed, featured a sentence that curved around a wall reading: "Don't you hate in when people just go on and on and on and on ..."
Coca-Cola commissioned an agency to paint an Olympics-inspired mural over the original work by Sweet Toof, NEMO, Sickboy and Mighty Mo seen in this image. Shortly after it was finished, the mural was defaced.
Howard-Griffin describes a "super-charged wave of gentrification that has crashed around Hackney Wick in anticipation of an Olympic property boom."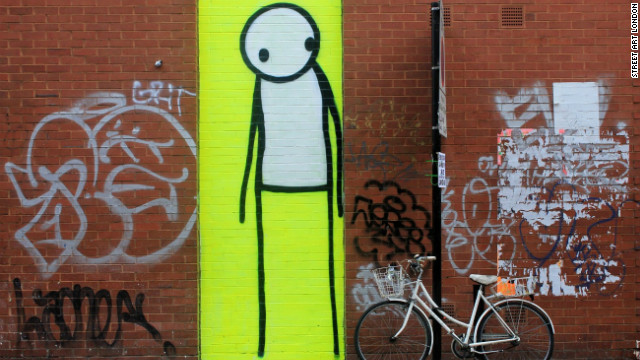 Gallery: East London's street art
At 16, he spent three months on the streets where he began painting with aerosol cans. Cochran later completed a visual arts degree at the University of South Australia, before going on to complete a masters degree.
The Olympics miss: Why street art should be embraced not snubbed
His art often depicts the homeless, as he seeks to capture "a more raw essence of the human subject."
Cochran's style has evolved from what he calls "aerosol pointillism," with its impressionist overtones, to "atomic pointillism, in which the subject appears to atomize.
Why gritty East End is London's gold standard
Cochran also explores the relationship between individuals and the urban landscape, which has led to paintings of buildings sprouting from heads -- one of which can be seen in this Sam Taylor-Wood directed REM video.
Cochran's canvases sell for thousands of pounds. But he continues to paint on the streets, and his work can be found in cities including Paris, Berlin and New York. "When you paint on the street there is a lot more rawness to it," Cochran says. "Anything can happen."
East London, where the city's Olympic Games are based, is a hub for street art. "That's the great thing about Shoreditch and Hackney," says Cochran. "[The art] is part of the look of the street."