Report: Iran 'successfully' fires missile capable of hitting targets 185 miles away
August 5, 2012 -- Updated 1048 GMT (1848 HKT)
STORY HIGHLIGHTS
Iran's defense minister says the latest Fateh-110 missile launch is a success
The "fourth generation" of the missile can travel 300 kilometers, state media reports
A recent U.S. government report warned of Iran's improving missile program
(CNN) -- Iran has "successfully" test fired its newest version of the Fateh-110 missile, state media reported Saturday, touting the accomplishment despite international concerns about Tehran's growing military capabilities.
Footage from state-run Press TV showed a missile on a rocket launcher in a desert area being fired into the air, before seemingly falling somewhere over the horizon. Defense Minister Brig. Gen. Ahmad Vahidi said that the test launch of the missile -- a "fourth generation" of the Fateh-110 -- was a success, according to the official Islamic Republic News Agency.
"Iran is among few ... countries capable of producing such missiles," the minister said in the IRNA report.
The latest Fateh-110 version -- which was tested two years after Iran successfully tested the previous model -- is capable of traveling 300 kilometers (185 miles) and "can target spots without any diversion," IRNA reported. The defense ministry plans to have all home-made missiles with "this new capability," said Vahidi.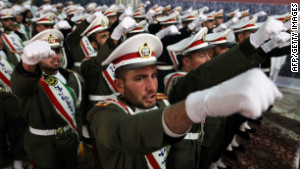 Iran improves its ballistic missiles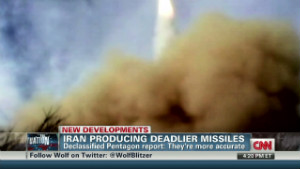 Iran missile improvements
Iran's developing missile program has been a hot topic in Washington and elsewhere in recent months, with a new Pentagon report last month finding that Tehran may test a missile that could reach the U.S. mainland within three years.
"Iran has boosted the lethality and effectiveness of existing systems with accuracy improvements and new submunition payloads," which allow missiles to drop explosives over a wider area thus causing more destruction, according to the Pentagon report.
The report, which was signed by U.S. Defense Secretary Leon Panetta and sent to senators and U.S. representatives on defense committees, said Iran is continuing to develop other missiles that can hit Israel and Eastern Europe, including an extended-range Shabab-3 and a medium-range ballistic missile called the Ashura that can fly more than 1,200 miles.
Iran is still capable of testing a long-range intercontinental ballistic missile by 2015 "without sufficient foreign assistance," the report added.
The United States and NATO have begun to field an anti-ballistic missile shield in the southern and eastern parts of Europe to protect from such a threat. But John Pike, a weapons analyst with the GlobalSecurity.org research group, said the missile shield is not yet fully operational.
Washington has led international efforts aimed at stymieing Tehran's nuclear program, as well as its ballistic missile proliferation activities. But despite widespread sanctions, Iranian officials have been publicly defiant and regularly highlight developments in both arenas.

Today's five most popular stories
Part of complete coverage on
Iran: Mounting tensions
April 13, 2012 -- Updated 1303 GMT (2103 HKT)

Two months ago, Emad Ghavidel turned on the television in Tehran and saw graphic footage of an injured Syrian child crying out in pain.
March 9, 2012 -- Updated 1438 GMT (2238 HKT)

Iran's biggest customers are responding to increasing pressure to cut imports from Tehran.
March 8, 2012 -- Updated 2244 GMT (0644 HKT)

Faced with mounting pressure from world powers over its controversial nuclear program, Iran's ambassador to the IAEA says this country "is ready to re-engage with (the) IAEA."
March 6, 2012 -- Updated 2152 GMT (0552 HKT)

Republican presidential hopefuls and U.S. President Barack Obama trade barbs over Iran.
March 9, 2012 -- Updated 1456 GMT (2256 HKT)

Why is the international community suspicious of Iran's nuclear program? CNN's Hala Gorani reports.
March 9, 2012 -- Updated 2205 GMT (0605 HKT)

President Barack Obama's rebuke of Republicans who are "beating the drums of war" for military action against Iran should also be directed at Israel, Asher Kaufman says.
March 8, 2012 -- Updated 1751 GMT (0151 HKT)

Opinion: The only way war with Iran may be avoided is if the country believes an attack from the West is a real possibility, Frida Ghitis says.
March 19, 2012 -- Updated 1330 GMT (2130 HKT)

Iran's controversial nuclear program began more than 50 years ago with aid from the West.
March 8, 2012 -- Updated 1639 GMT (0039 HKT)

Recent remarks by U.S. President Barack Obama that he is not thinking of military action against Iran are positive, according to Iran's supreme leader, Iran's state-run Press TV reported.
March 5, 2012 -- Updated 2231 GMT (0631 HKT)

CNN's Matthew Chance reports U.N. inspectors have "credible information" that Iran may be developing a nuclear device.
March 6, 2012 -- Updated 1931 GMT (0331 HKT)

LZ Granderson looks at the effect of Mahmoud Ahmadinejad and his nuclear weapons "game."
March 9, 2012 -- Updated 1622 GMT (0022 HKT)

A threatened Israeli attack on Iran's nuclear program carries enormous risks for the Jewish state, including international isolation, retaliation at home and abroad, and steep economic costs.
March 6, 2012 -- Updated 2036 GMT (0436 HKT)

Erin Burnett breaks down the mixed messages between Israel and the U.S. on Iran.
March 6, 2012 -- Updated 1834 GMT (0234 HKT)

Israeli President Shimon Peres discusses his concerns about Iran.