STORY HIGHLIGHTS
Azumah Nelson is a Ghanaian boxing legend, known as "The Professor"
He was inducted in the International Boxing Hall of Fame in 2004
Today he is working to create the next generation of Ghanaian boxers
Editor's note: Every week Inside Africa takes its viewers on a journey across Africa, exploring the true diversity and depth of different cultures, countries and regions. Follow presenter Errol Barnett on Twitter: @ErrolCNN.
Accra, Ghana (CNN) -- In his fighting days during the 1980s and 1990s, Ghanaian boxing legend Azumah Nelson's thudding jabs and powerful overhands earned him the moniker "The Professor," named for the lessons he'd teach opponents inside the ring.
A former three-time world champion, Nelson is often described as the best boxer to come out of the African continent.
His daring feats inside the four corners of the ring made him a national hero in the West African country, while in 2004 "The Professor" became the first African to be inducted into the International Boxing Hall of Fame.
Today, Nelson's nickname has taken on new meaning as the former champion now spends his time teaching the secrets of boxing to a new generation of athletes.
Watch: Training the next champions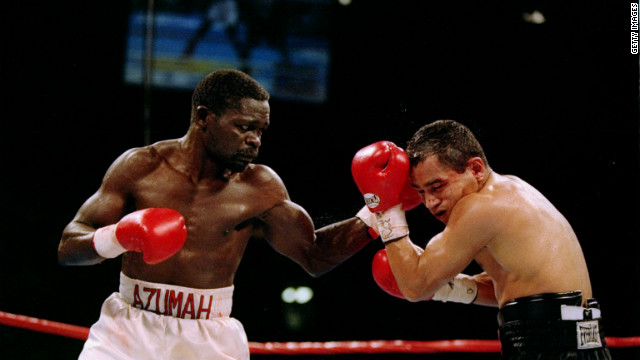 Azumah Nelson (left) is a Ghanaian boxing legend, often described as the best fighter to come out of the African continent.
He became known as "The Professor," for the lessons he'd teach his opponents in the ring.
Nelson won three world championsip titles during his illustrious career.
Nelson celebrates his win after a bout against Jeff Fenech on 28 June 1991.
Nelson knocks Mexico's Gabriel Ruelas down in the second round of their WBC Super Featherweight title bout in Indio, California, on 01 December 1995.
Nelson celebrates after retaining his Super Featherweight title by beating James Leija in Las Vegas, Nevada, in 1996.
Today the boxing legend is working with young athletes, hoping to create a new generation of Ghanaian boxers.
One of Ghana's most popular sports, boxing is helping some young athletes to escape poverty.
Nelson remains a national hero in Ghana where he is known as the 'king of the ring.'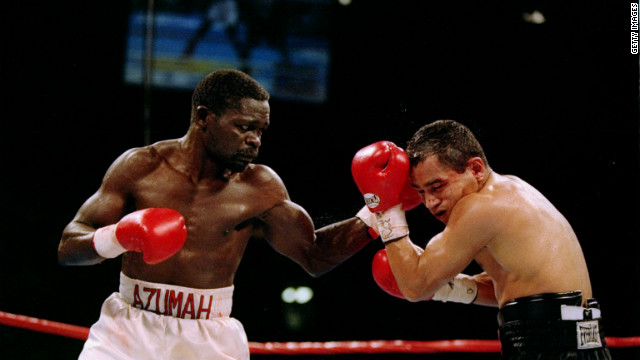 Boxing legend Azumah Nelson's career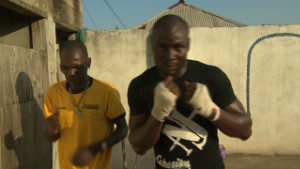 Punching out of poverty
"The Professor" has established the Azumah Nelson Foundation, a not-for-profit organization working to help Ghana's deprived youth realize their potential through education and sport.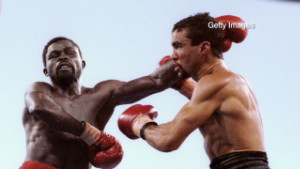 Preserving Ghana's boxing legacy
"We opened the foundation to help the needy children," says Nelson. "We look at you, see your talent and put you there -- the school is there the most important [thing]."
Read: Jordan's female boxers fight hijab ban
Born in 1958, Nelson made his professional debut in 1979. He quickly became a household name in Ghana and went on to win the British Commonwealth's Featherweight title.
See also: Muhammad Ali returns to Olympic stage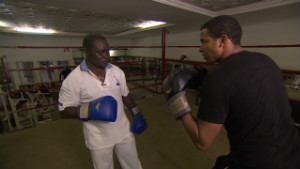 Can boxing 'professor' train next champ?
But despite his early success, Nelson was still unknown outside his country -- that changed, however, in June 1982 when he was given the chance to fight world Featherweight champion Salvador Sanchez at New York's Madison Square Garden.
Read also: From war child to U.S. Olympics star
Although Nelson lost the fight in the 15th round, his impressive performance against a formidable opponent such as Sanchez established him as a top talent in the international boxing scene.
He made history in 1984 when he beat Wilfredo Gomez to be crowned the World Boxing Council Featherweight champion. Four years later he cemented his reputation as boxing royalty when he won the world Super Featherweight/Junior Lightweight title.
Read also: Why Klitschko sold Olympic medal for $1m
Nelson's illustrious career went on for years until he decided to hang up his gloves with a record of 39 wins, 5 losses and 2 draws, with 28 knockout victories.
Nowadays, Nelson is trying to preserve the legacy of boxing in Ghana, working with young talent to help create the country's next crop of champions. He says the sport can help children escape poverty and hardship.
"I'm a servant -- God brought me to serve the people, especially the needy children," he says. "I want to see everybody smile."
Do you agree that Nelson is the greatest African boxer? Who is the ultimate African boxing champ? Tell us what you think in the comments box below