Could this be the scariest hotel swimming pool ever?
August 9, 2012 -- Updated 2202 GMT (0602 HKT)
STORY HIGHLIGHTS
Holiday Inn pool in Shanghai stretches over street, 24 stories up
Portion of pool has glass bottom and is suspended in mid-air
The pool was designed by Singaporean firm Chan Sau Yan Associates
(CNN) -- Holiday Inn Shanghai Pudong Kangqiao's swimming pool has an exceptional view, as the image above shows.
Part of the indoor pool, which perches atop the 24-story hotel, protrudes from the main building and is suspended mid-air. Its bottom is constructed with toughened glass.
This gives guests a delirious sense of swimming in the sky -- they can see the street clearly down below while passers-by on Xiuyan Lu can see the swimmers way up above.
"I felt as if I was flying in the sky -- I could also enjoy the beautiful scenery of Pudong from here ... it's so cool and wonderful," a swimmer told CCTV.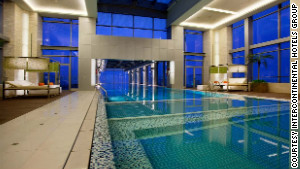 Most of the pool at Holiday Inn Shanghai Pudong Kangqiao is indoors, without the overhang.
"We wanted to provide our guests a unique swimming experience, and let them feel they're vacationing even in a bustling city," said a spokesperson from InterContinental Hotels Group, parent company of Holiday Inn.
While not splashing in the water, guests can enjoy Pudong urban views stretching as far as the Lujiazui skyline at the poolside lounge.
CNNGo: World's 50 best beaches
First of its kind in China
Exactly 30 meters long (about 98 feet), six meters wide (20 feet) and 1.5 meters deep (5 feet), the swimming pool is the first of its kind in China. It was designed by Singaporean firm Chan Sau Yan Associates, which helmed the interior design of the four-star hotel.
The Holiday Inn Shanghai branch said it gathered input from various architects and even aerospace experts while constructing this sky-high glass-bottomed water container to ensure its safety.
CNNGo: World's most spectacular swimming pools
The hotel did not reveal the pool's construction cost.
The 390-room, four-star hotel -- which opened in May 2011, is located in the booming suburb of Kangqiao, which is some 22 kilometers southeast from Shanghai downtown and 30 kilometers west of Shanghai Pudong International Airport.
According to the staff working at the hotel's gym, the swimming pool is open to hotel guests and a limited number of health club members.
Annual membership for the gym starts from about $2,400 per person.
Holiday Inn Shanghai Pudong Kangqiao, 1088 Xiuyan Lu, near Henghe Zhong Lu, Shanghai. +86 21 3829 1888, nightly rate: from $125, www.holidayinn.com
Do you know any cooler hotel swimming pools? Tell us about them in the comments section below.
CNNGo: 20 of the world's most iconic skyscrapers
© 2011 Cable News Network Turner Broadcasting System, Inc. All Rights Reserved

Today's five most popular stories
Part of complete coverage on
CNN recommends
April 23, 2014 -- Updated 1723 GMT (0123 HKT)

Fireworks are fantastic and human endeavor has its place, but sometimes Mother Nature outshines any performance we can produce.
February 22, 2014 -- Updated 1909 GMT (0309 HKT)

They're almost unbelievable. Impossible blues, electric greens, depths as clear as glass -- all bathed in blinding sunshine.
December 18, 2014 -- Updated 1511 GMT (2311 HKT)

Check out the photos CNN.com readers have shared and submit your own.
January 17, 2014 -- Updated 2225 GMT (0625 HKT)

Earth never stops surprising us. Every corner of the planet offers some sort of natural peculiarity.
July 23, 2014 -- Updated 1458 GMT (2258 HKT)

Not many cities evoke as many instant associations as Las Vegas.

For 24 hours, we made the world's busiest airport our destination and found a world unto its own. Join us on our journey. What you see will surprise you.
August 13, 2013 -- Updated 1934 GMT (0334 HKT)

Beaches along the coasts of the United States call to shoreline explorers year-round.