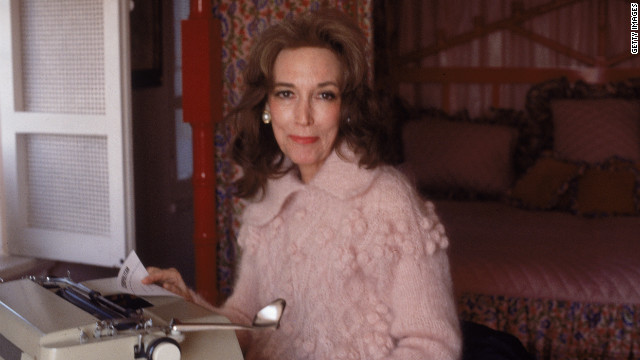 Helen Gurley Brown in her New York apartment in 1979. The former editor-in-chief of Cosmopolitan magazine and author of "Sex and the Single Girl" died on Monday, August 13. She was 90.
Gurley Brown helped turn Cosmopolitan into one of the most popular women's magazines in the world. She started in 1965 and was editor for more than three decades.
Gurley Brown in her office at Cosmopolitan in the 1960s.
Staffers present Gurley Brown with a gold record at a champagne party celebrating Cosmopolitan's millionth copy in October 1965.
Cosmopolitan's "bachelor of the month" calendar hunks carry editor Gurley Brown into the Motown Cafe in 1996. From left: Dan Herndon, Shawn Maratea, Thom O'Brien, Kirk Williams, Vinny Lamantia and David Goldman. Gurley Brown left the magazine in 1997 to become editor-in-chief of its 64 international editions.
In 2000, Gurley Brown attends a book signing to promote her book, "I''m Wild Again," at a Barnes & Noble in New York.
Gurley Brown attends the fifth annual Cosmo Fun Fearless Female Awards luncheon in 2001 at the Metropolitan Pavilion in New York.
Broadcast journalist Barbara Walters poses for a portrait with Gurley Brown and her husband, David, as they arrive for the opening night of the 2002 JVC Jazz Festival at Carnegie Hall in New York.
From left, actresses Kim Cattrall and Robin Strasser appear with Gurley Brown in 2003 at the Parkinson's Unity Walk in New York's Central Park.
Gurley Brown speaks on stage with her husband in 2004 at the Nightlife Awards Concert in New York.
Singer Lance Bass poses with Gurley Brown in 2006 at CosmoGirl's Born To Lead Awards in New York.
Gurley Brown attends the 27th annual Evening of Readings pre-gala event at Michael's Restaurant in New York on March 14, 2011.
Gurley Brown through the years
Gurley Brown through the years
Gurley Brown through the years
Gurley Brown through the years
Gurley Brown through the years
Gurley Brown through the years
Gurley Brown through the years
Gurley Brown through the years
Gurley Brown through the years
Gurley Brown through the years
Gurley Brown through the years
Gurley Brown through the years