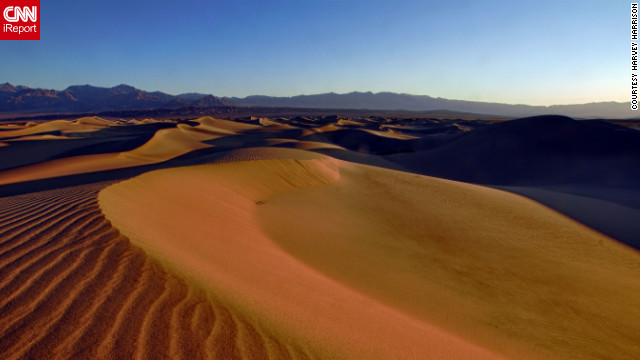 "I remember thinking at the time that this was like something from a movie set of a fictional distant planet," says
Harvey Harrison
, who shot this photo in California's Death Valley National Park.
Alex Ros
thinks of southeastern Morocco between Tata and Tafraoute as one of Earth's hidden nooks: "As if the planet was a large living room, with furniture and areas that people regularly use, but far off in one of its corners, behind a large couch and side table with old coffee table books on it, underneath a rug that hasn't been moved for years, is a tiny pathway you had no idea was there."
Brent Larson
. He stepped outside as it was snowing in Charlotte, North Carolina, "and was amazed by the sharp, cold silence, like life had just hit the reset button. I was trying to capture that feeling, but captured a surreal scene instead."
"A heavy snow after midnight turned our backyard into deep space, with trees," writes
Jutka T. Emoke Barabas
says the pristine beauty of the Arctic archipelago of Svalbard, in Norway, "captures my heart and soul every time I visit."
Sarah Reese
snapped this shot of a stack of rocks while lying down in the salty dirt of the Etosha Pan, a flat saline desert in the middle of Namibia's Etosha National Park. "There are no other rocks near this small stack. It was really odd to see them in this otherwise empty space," she says. The rocks are a cairn, or a stack of stones used as a marker.
Kristi DeCourcy
says the colors in the cinder cones of the Haleakala volcano remind her of images from Mars. She stood on the Kalahaku Overlook at Haleakala National Park in Maui to capture this image.
Tim Benson
of Mars, "with the red coloring of the stone and the vast isolation and absence of life. Very moving, very serene, it felt as though we had departed the world."
The view of Chile's Atacama Desert at sunset reminded
Stacey Schwartz
. "It made me think I had landed on Mars."
"Just returned from Iceland where the terrain can be lush and green with hundreds of waterfalls or barren and desolate with steam and smoke coming out of the ground," writes
John Vogel
was on a minibus traveling between the city of Arequipa and Colca Canyon in Peru when he saw this odd landscape. "Looking at the photo now, it almost looks like two photos combined into one photo. That's how great I find the contrast between the dark rocky foreground and the bright blue sky with the snow-capped volcano."
Carol Locey
was walking along the desolate beach a few years ago on Seabrook Island when she came to a rippling, muddy part of the beach that reminded her of what she imagined the surface of the moon would look like.
Kevin Kasmai
captured this shot while traveling south from Cape Town toward the Cape of Good Hope. "The images of the clouds rushing down Table Mountain on a windy day in Cape Town and the views overlooking the Cape of Good Hope towards the southern ocean were unlike any I had seen before," he says.
Doug Simonton
has captured various photographs of Iceland's unique landscape over the past two years. "It's hard not to see the ground boiling up steam and not think you're on another planet," he says.
Death Valley, California
Morocco
North Carolina
Svalbard Islands, Norway
Svalbard Islands, Norway
Namibia
Maui, Hawaii
Atacama Desert, Chile
Iceland
Peru
Seabrook Island, South Carolina
Cape Town, South Africa
Iceland
Iceland