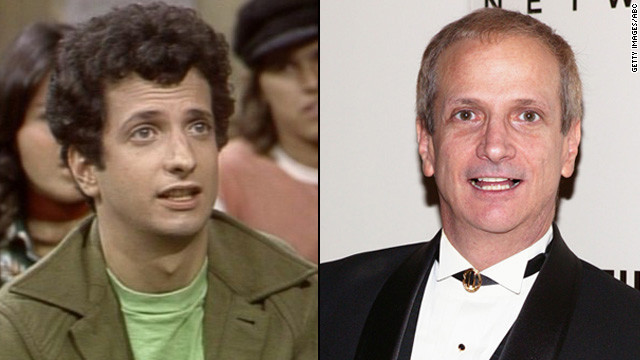 "Welcome Back, Kotter" fans are mourning the loss of Ron Palillo, who
died
of a heart attack Tuesday at 63. As Arnold Horshack, one of the "Sweathogs," on the ABC series, Palillo was beloved by viewers for his unique laugh and "Oooh! Oooh!" catchphrase.
John Travolta's role as Vinnie Barbarino preceded many of the actor's shining moments, such as his starring roles in "Saturday Night Fever," "Look Who's Talking" and "Pulp Fiction." Travolta currently plays Dennis in "Savages" and will next appear as Emil Kovac in 2013's "Killing Season."
Since creating and starring in "Welcome Back, Kotter," comedian Gabe Kaplan, 67, had shown up in several projects, including the short-lived NBC sitcom "Lewis & Clark."
Lawrence Hilton-Jacobs, 58, has continued acting since making a name for himself as Freddie "Boom Boom" Washington. He took on the role of Joseph Jackson in the 1992 TV movie "The Jacksons: An American Dream," and has appeared on shows like "Roseanne," "Moesha" and "Gilmore Girls."
After playing Julie Kotter, Marcia Strassman, 64, forayed into family films playing Diane Szalinski in 1989's "Honey, I Shrunk the Kids" and 1992's "Honey I Blew Up the Kid." She's also been on several short-lived series, such as "Booker," "Noah Knows Best" and "Tremors."
Mr. Michael Woodman, the vice principal-turned-principal of Buchanan High, was played by John Sylvester White. He died in September 1988 -- almost 10 years after the show went off the air.
After "Welcome Back, Kotter," Robert Hegyes played Det. Manny Esposito on CBS' "Cagney & Lacey" in the late 1980s. Hegyes
Ron Palillo
John Travolta
Gabe Kaplan
Lawrence Hilton-Jacobs
Marcia Strassman
John Sylvester White
Robert Hegyes