STORY HIGHLIGHTS
Rafael Nadal has shunned the chance to leave his island home of Mallorca
World number three will miss this month's U.S. Open with knee problems
Spaniards admits he has grown to live with his fame despite being shy
His uncle and coach Toni backs Rafa to fight back from his latest setbacks
(CNN) -- There are not many places where Rafael Nadal can escape.
As one of the world's most high-profile athletes, his every move is under scrutiny -- especially now after his withdrawal from the London 2012 Olympics and this month's U.S. Open has created widespread speculation about his future as a force in tennis.
He's one of the most intense men to step foot on a court, and his aggressive, muscular style has contributed to the injuries that have blighted his career in recent years, meaning he has required long periods of recuperation.
So where does the Spaniard go when he wants to get away from it all and recover from his punishing schedule?
An island paradise he calls home.
"What Mallorca gives Rafael is tranquility," the 26-year-old's coach and uncle Toni Nadal told CNN.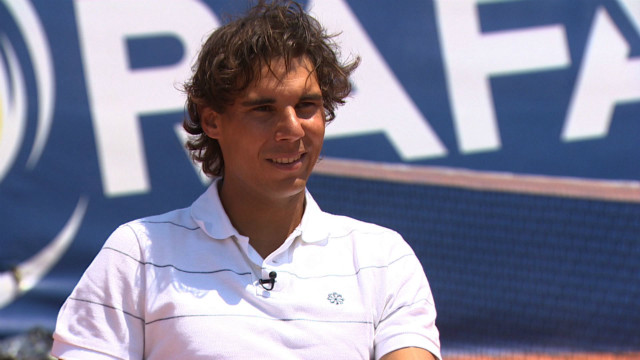 CNN's Open Court show visited Rafael Nadal at his home island of Mallorca, where he was interviewed by Pedro Pinto.
Pinto also talked to Nadal's uncle Toni, who has coached the Spaniard since he was a young boy.
Despite his global appeal, Nadal says he's still trying to lose his shy side in front of the cameras.
Unlike many sports stars, Nadal has stayed close to his roots and not uprooted to more glamorous locales after becoming successful.
The tranquility of Mallorca is just one of the reasons that Rafa has stayed on the island, according to his uncle.
Toni Nadal is confident Rafa will bounce back after missing the Olympics and U.S. Open due to his ongoing knee problems.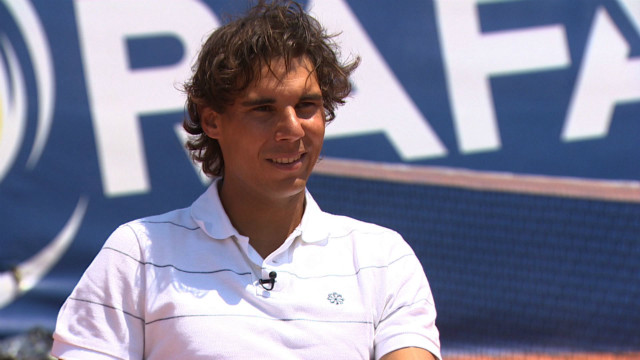 At home with Rafael Nadal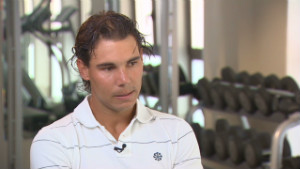 Nadal reveals heartache at Games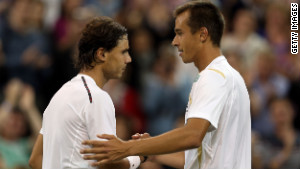 Navratilova talks Nadal's shock defeat
"He feels comfortable here. The Mallorcan character is very familiar, not only our family, but most of the Mallorcan families.
"Apart from being very familiar, we are people who normally love our homeland. We all feel very comfortable here, no? Therefore, for Rafael it's normal. He's got his friends here, his family, his birthplace, he's always had a good grounding."
Tennis rivals fear for injured Nadal's future
While many sports stars move to glamorous tax havens such as Monaco, Nadal chooses to stay close to his roots -- and the beautiful Balearic island has its attractions.
From Claudia Schiffer to Boris Becker and even the King of Spain himself, it has played host to the rich and famous for many years.
Located just off the coast of Spain in the western Mediterranean, about 209 kilometers south of Barcelona and 241 km east of Valencia, Mallorca is the largest of a group of islands including Ibiza, Menorca and Formentera.
With its idyllic mountains, golden beaches and fertile strips of green, it is little wonder that one of tennis' most successful men has remained in his home city rather than move abroad.
"It's true that there are many people that when they've traveled, when they've had some success, it's normal for them to change the place they live," said Toni Nadal, who has coached Rafa since he was a small boy.
"Here in Mallorca it is less normal, because people here feels very attached to our homeland. I think that's the reason why Rafael is still here. First because he loves Mallorca, he loves the sea, he likes being close to the family and his lifelong friends. That's what I think is stopping him from going to other places."
Injury forces Nadal out of U.S. Open
There's also the fact that the 11-time grand slam champion, who won a record seventh French Open title in June, does not actually enjoy all the publicity he receives.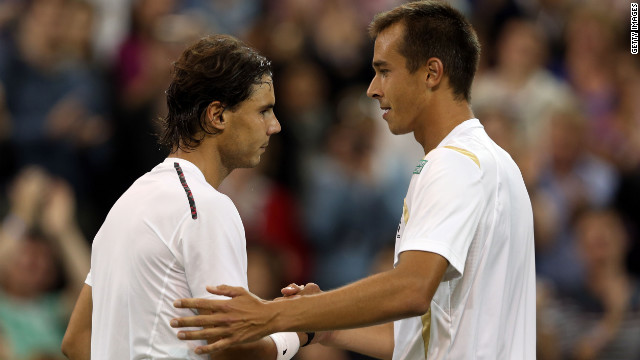 Former world No. 1 Rafael Nadal is by no means a grass-court specialist, but the two-time Wimbledon champion's defeat by 100th-ranked Lukas Rosol has been hailed as one of sport's greatest upsets.
Nadal is the modern-day King of Clay, having won a record seventh French Open title this year to extend his run to 52-1. His only defeat at Roland Garros came as a huge shock, as he was beaten by Sweden's Robin Soderling (pictured) in the fourth round in 2009, opening the door for Roger Federer to win his first Paris major.
So how does Nadal's upset compare to other stunners? Unfancied North Korea stunned football fans in 1966 by knocking Italy out of the World Cup in the group stage. Pak Doo Ik scored the only goal of their game to send the Italians home from the English tournament.
Boris Becker won the Queen's Club championship in the buildup to Wimbledon in 1985, but nobody could have predicted what followed. The unseeded German embarked on a run of wins which culminated in a four-set victory over American Kevin Curren, making the 17-year-old Wimbledon's youngest men's singles champion.
Heavyweight champion Mike Tyson's 1990 bout with Buster Douglas was supposed to be a percursor to a much-heralded fight against Evander Holyfield. But Douglas had not read the script, knocking out the previously undefeated Tyson in the 10th round.
Argentina, captained by the legendary Diego Maradona, entered the 1990 World Cup as champions but the South Americans suffered a shock 1-0 defeat by Cameroon in the tournament's opening match. Francois Oman-Biyik headed the Africans' winner.
Denmark failed to even qualify for Euro '92 in Sweden and only received a place in the tournament when Yugoslavia were disqualified due to the conflict in the Balkans. The Danes made the most of their unexpected opportunity, progressing to the final where they beat Germany 2-0 thanks to goals from John Jensen (pictured) and Kim Vilfort.
Winners do not come much more unlikely than John Daly at the 1995 British Open. A recovering alcoholic, Daly was 66-1 to win at St. Andrews, the Scottish course known as "the home of golf." The American emerged victorious from a four-hole playoff with Italian Costantino Rocca to clinch his second major triumph.
Goran Ivanisevic had been a professional tennis player for 13 years, but, ahead of Wimbledon 2001, he had yet to win a grand slam title. He had slipped to 125 in the world rankings, but was handed a wildcard place for the grass-court grand slam. Ivanisevic played like a man possessed at the All England Club, defeating home favorite Tim Henman in the semis before beating Pat Rafter in an emotional final with his fourth match point.
Ahead of Euro 2004 in Portugal, few thought Greece would get out of their group, let alone have any chance of lifting the Henri Delaunay trophy. After a shock win over the hosts in the opening match, victories over France in the quarterfinals and the much-fancied Czech Republic in the last four set up a rematch with Portugal in the final. Angelos Charisteas' first-half header gave Greece a stunning 1-0 win and their first major tournament win.
By anyone's standards, 100-1 are very long odds. That was how unlikely a victory for Mon Mome was considered at the 2009 Grand National. But the horse, rode by Liam Treadwell, romped home to win the marquee British race by 12 lengths.
In 1980, the Soviet hockey team entered an Olympics filled with tensions between the host United States and the Communist power. Despite fielding a team of mostly college players, the U.S. defeated the Soviets 4-3, the four-time defending Olympic champions and the most dominant national team of that era.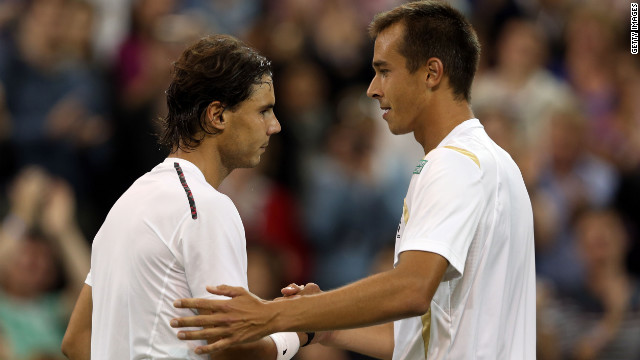 The greatest sporting upsets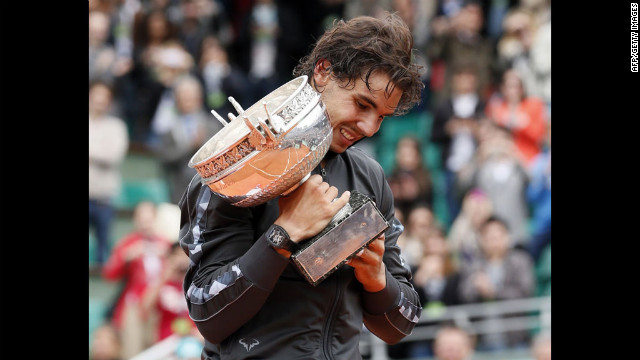 Rafael Nadal of Spain celebrates after beating Novak Djokovic of Serbia to win his seventh French Open title in Paris on Monday, June 11.
Djokovic and Nadal volley during Sunday's match, which was delayed twice because of rain and finished Monday.
Nadal returns to Djokovic, who is ranked No. 1 in the world.
Djokovic was going for the fourth and final entry in his Grand Slam, the first man in 43 years to do so.
Nadal dries his face during the third set of the match.
Djokovic leaves the court for a rain delay during the third set after officials haulted play during a downpour. The match was delayed a second time in the fourth set and finished Monday.
Nadal reaches and slides on the clay to return a ball from Djokovic.
Djokovic reacts in frustration late in the match against Nadal.
Nadal is embraced by friends and family in the stands after his victory.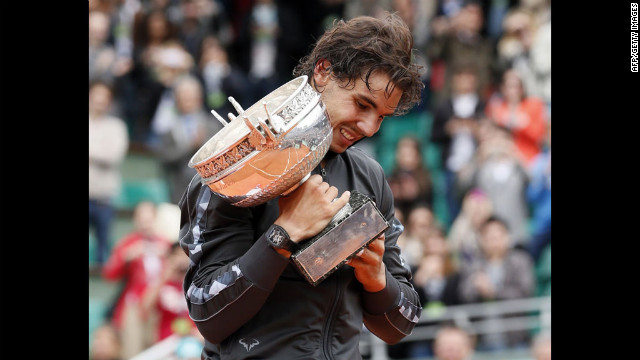 Rafael Nadal wins French Open
"You know, I am shy," Nadal told CNN's Open Court just days after pulling out of the Olympics due to his ongoing knee problems.
"I am a little less shy than I was a few years ago. That is something that is difficult to lose, but it is something that happens very often for me.
"I think I have learned a lot the last couple of years and I am able to relax a little bit more when I am with people. I enjoy it a little bit more than a few years ago, because I have a little bit more experience, and I have been in the same situation for a lot of times."
For some, the whirlwind rise to stardom may have proved difficult to adapt to with constant television coverage, sponsorship deals and attention coming from all directions.
Although he is still adapting to the limelight, Nadal said he has come to terms with his position and the benefits it has brought.
Nadal forced to withdraw from London Olympics
"I am a very lucky guy about what has happened to me. So I cannot pretend to have everything that I have and not have a camera there or not have attention there," he said.
"I really feel comfortable with that. I feel very lucky. Seriously, when I am here at home I really don't have attention on me. I am a really normal guy and that's very important to me."
Nadal remains one of the most down to earth sportsmen in the public eye and his desire to escape attention by staying in Mallorca and remaining with friends and family is somewhat of an anomaly.
Those relationships have helped him to remain focused on his tennis and escape the pitfalls that fame often brings.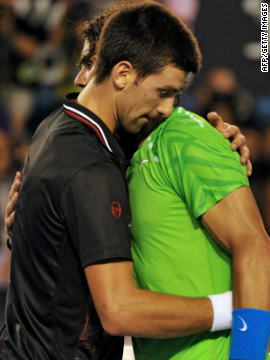 Rivals Novak Djokovic and Rafael Nadal embrace during the final of the Australian Open in Melbourne on January 30 this year. The match was the longest in grand slam history at five hours and 53 minutes. Djokovic won 5-7 6-4 6-2 6-7 7-5.
The tennis stars' first grand slam final battle came at the 2010 U.S. Open. Nadal took the title 6-4 5-7 6-4 6-2.
The pair first met at the 2006 French Open quarterfinals. Nadal won when Djokovic retired with an injury. The Spaniard won the tournament for the second of six times overall.
Djokovic plays up to the cameras after winning his first Wimbledon in 2011, beating Nadal 6-4 6-1 1-6 6-3 in a final lasting two hours, 28 minutes.
The pitch at Real Madrid's Santiago Bernabeu Stadium will be transformed into a tennis court for the Nadal and Djokovic match on July 14. It is hoped more than 80,000 fans will attend, making it the biggest one-off tennis match in history.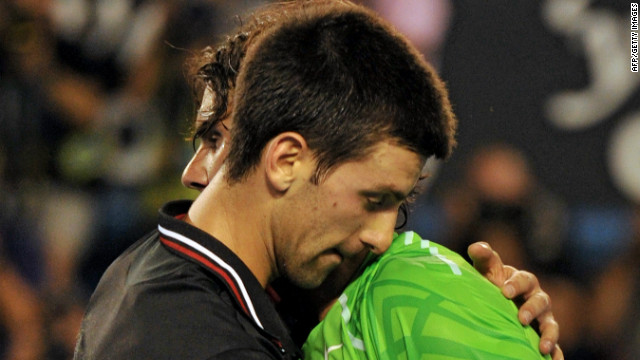 The Nadal and Djokovic rivalry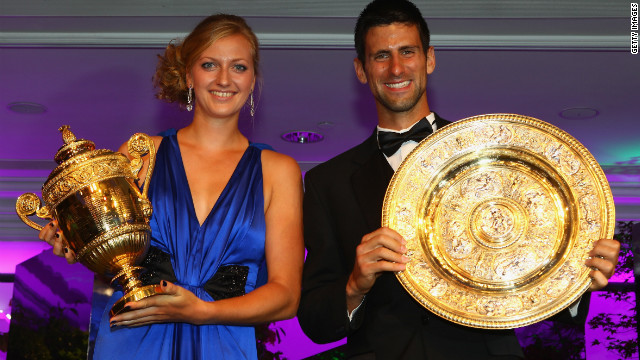 Petra Kvitova of the Czech Republic and Novak Djokovic of Serbia will be hoping to defend their Wimbledon titles in July -- earning a 4.5% increase in prize money if they do. Singles champions will now receive £1.15 millon ($1.85 million).
Rafael Nadal ruined Britain's hopes of a home finalist after defeating Andy Murray in the 2011 semis. Both were part of the "Big Four" who helped secure pay increases. Semifinalists will now take home £287,500 ($463,336) -- up 4.5%.
Jo-Wilifried Tsonga of France delivered one of the biggest upsets of the 2011 tournament, knocking out six-time champion Roger Federer in the quarterfinals. Quarterfinalists will now earn £145,000 ($233,720) -- an increase of 5.5%.
World No. 2 Nadal beat Juan Martin Del Potro of Argentina in the last 16 before losing in the final. Fourth-round losers will this year earn £75,000 ($120,825) -- an increase of 9.1%.
Russian third seed Vera Zvonareva suffered a shock third-round exit in last year's against Bulgaria's Tsvetana Pironkova. A similar achievement this year would earn her £33,875 ($54,630) -- an increase of 13.1%.
Germany's Sabine Lisicki drops to her knees after defeating French Open champ Li Na in the second round of last year's tournament. Under this year's schedule, the Chinese player would have made £23,125 ($37,302) -- a 14.9% rise.
Italy's Francesca Schiavone, a first-round loser in 2010, redeemed herself last year by beating Australia's Jelena Dokic. Those who drop out at the first hurdle this year will take home £14,500 ($23,389) -- the biggest increase of all rounds at 26.1%.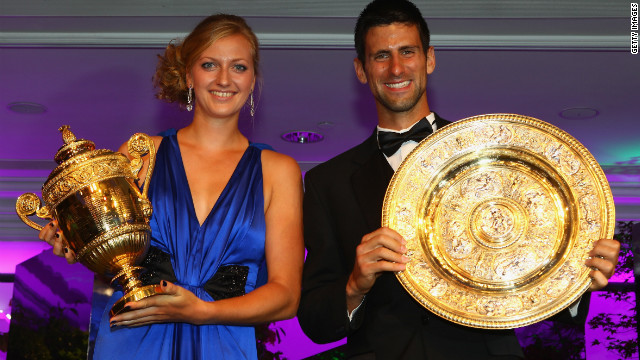 Wimbledon stars' pay increase
"I always like to do the things that I think are right," he said. "I am not trying to be a model, I am trying to be myself and do the right things.
"If what I am doing is a model, or is an example, is the right example, I am very happy, but I don't pretend that."
The 100th-ranked player who defeated Nadal
Since suffering a second-round shock defeat at Wimbledon against the world number 100 Lukas Rosol, Nadal has been suffering with a recurrence of his injuries.
While the world No. 3 will be resting the tendonitis in his left knee, his rivals will be competing for glory at Flushing Meadows.
Having missed much of the 2009 season with a similar injury, this latest setback has been all too familiar.
Nadal's disappointment at missing the Olympics was exacerbated by the fact he had to relinquish his role as the Spanish flagbearer at the opening ceremony.
And while Nadal's presence will be sorely missed in New York, his uncle remains philosophical about his nephew's future.
"I said to him that life had treated him well enough to accept this disappointment," explained Toni.
"I said that he's seen himself in worse situations, worse situations of injury. It's a disappointment, but it's not the end of the world."