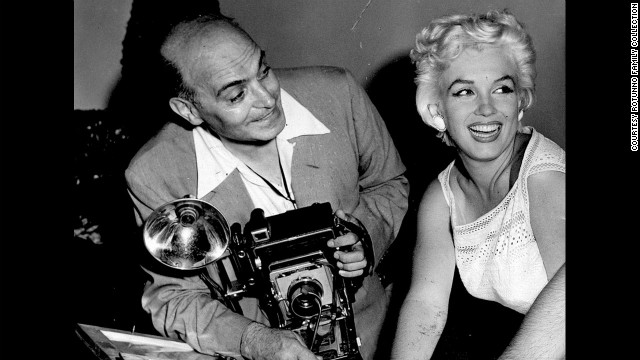 Mike Rotunno was a newspaper photographer who started a business at Midway Airport in 1930s Chicago shooting pictures for travelers who wanted a memento as they passed through. Many celebrities were among them. Here, Rotunno poses with Marilyn Monroe in 1955.
Bob Hope pretends to give Rotunno a "hotfoot" as a stewardess admonishes him in the 1940s.
A well-turned out John Wayne ambles away from a TWA flight at Midway in the '50s.
Sen. John F. Kennedy, Jaqueline Kennedy and Richard Nixon on the tarmac in 1959.
Gary Cooper turns his camera on Rotunno, also taking a picture, late 1930s.
Rock Hudson cuddles with fans at Midway airport.
Gene Autry holds Rotunno's daughter Judy, 1930s.
Jimmy Stewart with Mike's daughters Judy, left, and Mimi.
Dean Martin and Jerry Lewis clowning as Martin and Lewis for Rotunno's camera.
Bud Abbot and Lou Costello arrive at Midway.
Katharine Hepburn, in a jaunty travel ensemble, grins at Rotunno in front of a United flight in 1933.
President Dwight D. Eisenhower steps from a TWA flight in the 1950s.
Comic Red Skelton poses with TWA flight crew and pilot in the 1950s.
Mike Rotunno with his Speed Graphic camera at Midway Airport.
The glamour days of flying
The glamour days of flying
The glamour days of flying
The glamour days of flying
The glamour days of flying
The glamour days of flying
The glamour days of flying
The glamour days of flying
The glamour days of flying
The glamour days of flying
The glamour days of flying
The glamour days of flying
The glamour days of flying
The glamour days of flying
STORY HIGHLIGHTS
Bob Greene: Flying has become a soul-sucking slog with cramped seats, bad food
He says it used to be pretty glamorous; a Chicago photog captured this in '30s-'50s
Mike Rotunno took pictures of celebrities, politicians arriving at Midway Airport
Greene: Stars made flying desirable, high-toned; think of this next time you endure a flight
Editor's note: CNN contributor Bob Greene is a best-selling author whose 25 books include "Late Edition: A Love Story" and "When We Get to Surf City: A Journey Through America in Pursuit of Rock and Roll, Friendship, and Dreams."
(CNN) -- Have you been flying much this summer?
If so, how has the experience been?
Right.
Thought so.
Flying these days -- the jammed-to-the-groaning-point cabins and torture-rack legroom; the fees for everything from checking your bags to being handed a paltry package of food; the endless, we'll-X-ray-you-to-within-an-inch-of-your-dignity security lines; the sweaty guy in the next seat with a tank top on and his shoes off -- you know how it is.
Airline asks passengers for gas money
Flying is too often a dreary, joy-sapping slog. It's difficult even to remember that it was ever any other way.
Which is why, at Midway Airport in Chicago recently, I was intrigued when someone mentioned to me a book about that very airport.
The book had a workmanlike title: "When Hollywood Landed at Chicago's Midway Airport." Because the person who recommended it to me spoke in such glowing terms, I ordered a copy through the mail.
Written by a fellow named Christopher Lynch, who grew up around Midway, it is a thin, paperbound volume that appears to be a labor of love and respect. It tells the story of one Mike Rotunno, a photographer-for-hire in the first boom years of commercial air travel in the United States.
Rotunno -- he died in 1994 -- was a newspaper photographer who decided he might be able to do better as his own boss. In the 1930s, '40s and '50s, flying was a big deal. When a family went on vacation by air, it was a major life event.
Rotunno set up a company called Metro News at Midway -- O'Hare International Airport was many years from being built -- to offer professional photo service to anyone passing through the airport who wanted a memento of the occasion.
But he also began taking photos of Hollywood (and political) stars as they arrived in Chicago. The cross-country flights in those years had to stop to refuel, and Midway was often where they set down.
Lynch's book is filled with Rotunno's old photos.
And ...
Well, take a look at the selection of those photos atop today's column. The next time you're frustrated and downcast about what air travel has become, the memory of the photos may serve as a tonic.
"Traveling by air in those years wasn't like boarding a flying bus, the way it is today," Lynch told me. "People didn't travel in flip-flops. I mean, no offense, Mister, but I don't want to see your toes."
Recovered wreckage fails to solve case of missing pilot
The trains were still king in those years. The airlines wanted to convince people that flying was safe.
"People were afraid to fly," Lynch said. "And it was expensive. The airlines had to make people think it was something they should try."
Enter Mike Rotunno.
His pictures of the stars as they got off the planes made air travel seem to be glamorous, sophisticated, civilized, thrilling. The stars dressed up to fly -- and so did everyone else. Few celebrities had the option of private planes in those days, so the guy passing you in the aisle on a cross-country flight just might be Clark Gable. And everyone alighted from the planes by stairways onto the runways -- there were none of the sealed bridges that today attach to the terminals.
The photos of the stars set the tone for flying. Lynch told me: "People who saw pictures in the papers of stars getting off planes thought, 'Hey, if John Wayne can fly, I can fly. I want to be like John Wayne. ' "
Thus, there is Wayne -- the Duke himself -- looking like the proverbial million bucks, climbing off a TWA flight and striding toward Rotunno's camera.
There is Marilyn Monroe, right there with Mike and his Speed Graphic. Katharine Hepburn, a dream incarnate. Gary Cooper, taking a photo of Rotunno, as Rotunno took a photo of him. Rock Hudson, surrounded by fans. Red Skelton. Gene Autry. Dean Martin and Jerry Lewis. Jimmy Stewart. John F. Kennedy, Jacqueline Kennedy and Richard Nixon -- together, all in a single frame, beneath a United Airlines plane.
It is a lost world -- the airborne world of everyday elegance, as available to the average ticket holder as to Bob Hope or to Abbott and Costello. Mike Rotunno, on a daily basis, captured it all.
It was an arrangement in which everyone won. The airlines, which assisted him in lining up the photos, won because the results helped convince the public to abandon the trains. The Hollywood studios won because they got a little bit of free publicity for their stars. The newspapers won because, by buying photos from Rotunno, they didn't have to send photographers to the airport themselves. And Rotunno won, because he got the money.
Potential FAA cuts would create big hassles for fliers
And he also won because he got the memories. Think of his photos the next time you're shoehorned into a seat next to a fellow who's dripping the sloppy innards of his carry-on submarine sandwich onto your sleeve. Air travel was once a treasured experience, exciting, exotic, something never to be forgotten. You, too, could travel like Elizabeth Taylor.
Who, of course, knew that Mike Rotunno would be waiting for her on the runway at the bottom of the stairs.
She's gone now.
He's gone now.
That era of travel is gone now.
And you?
Your flight is boarding.
Why aren't you smiling?
Follow @CNNOpinion on Twitter
Join us at Facebook/CNNOpinion
Are you a window flier or an aisle seater?
The opinions expressed in this commentary are solely those of Bob Greene.