High-tech clothes that make cocktails, turn see-through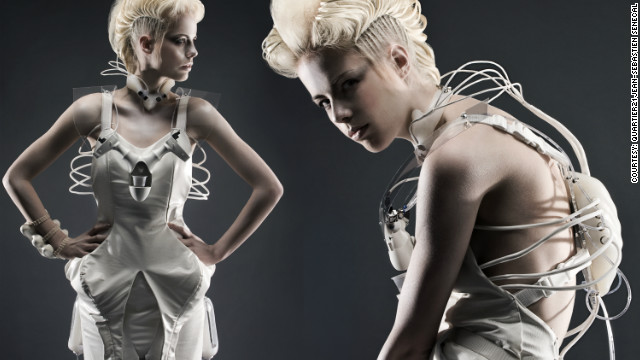 The DareDroid is a biomechanic cocktail-making dress on display at the "Technosensual" exhibition in Vienna. Sensors around the wearer's neck detect when someone approaches and allow the system to dispense a cocktail. If they move into the wearer's personal space, the dress stops dispensing the drink.
The Bubelle dress, designed for electronics firm Philips, conveys the emotional state of the person wearing the garment through miniature projectors located between the layers of the dress. A series of sensors collect data such as heart rate and respiration, which is visualized by altering the intensity, shape and colors of light generated by the projectors.
Intimacy is "a high-tech fashion project exploring the relation between intimacy and technology," according to its creators. The dress is made out of opaque smart foils that become increasingly transparent based on the wearer's heart rate, which varies depending on "close personal interactions."
"Taiknam Hat" is designed to respond to changes in surrounding radio signals. A detection system measures medium-wave radio signals and passes on the information to a microcomputer. The computer then activates motors that move the feathers adorning the hat. "Our intention is to ... contribute to our awareness of the increasing level of electromagnetic radiation in our environment," say its designers.
This wearable musical instrument is made from 35 circuit boards. It incorporates 12 coils, which create sounds when connected through copper plates on the wearer's fingers. The battery-powered dress includes two speakers.
This dress incorporates a battery-operated fog generator that emits smoke when another person comes too close to the wearer, according to its creators, Anouk Wipprecht and Aduen Darriba.
The "Body Speaker" dress includes built in "sound-capturing membranes." Worn against the skin, the membranes capture internal body sounds, according to designer Karina van Heck.
The "Paparazzi Lover" dress incorporates 62 LED lights that illuminate when it detects photographers' flash bulbs.
'DareDroid' by Modern Nomads (MoNo)
'Bubelle' by Royal Philips Electronics
'Intimacy 2.0' by Studio Roosegaarde
Taiknam Hat
'Circuit Dress' by Nicky Assmann
'Smoke Dress'
'Body Speaker' by Karina van Heck
'Paparazzi Lover' by Ricardo O'Nascimento
STORY HIGHLIGHTS
Vienna exhibition showcases fashion incorporating cutting-edge technology
"TECHNOSENSUAL" aims to show how technology can enhance fashion
Smoke-billowing frocks and hats that detect radio waves are among objects on display
(CNN) -- Featuring risque-looking dresses that dispense cocktails and frocks that billow smoke, the clothes on show at the "Technosensual" exhibition could be mistaken for an auction of Lady Gaga's more bizarre outfits.
But it's hoped that the designs on display at Quartier21 in the MuseumsQuartier, Vienna, Austria, will pique the interest of both fashionistas and tech heads.
The Bubelle dress, designed by Lucy McRae for the Dutch electronics firm Philips, reveals the wearer's emotional state using biometric sensors that trigger different light and color displays.
Another dress, "Paparazzi Lover," is perfect for Hollywood starlets -- incorporating 62 LED lights that light up when the dress detects photographers' flash bulbs -- reminding crowds just who the star is, according to its creator Ricardo O'Nascimento.
"(The exhibition) proves that intelligent fashion has long gone beyond being a vision of the future ..." says MuseumsQuartier director Christian Strasser.
Other highlights include "Taiknam Hat," which detects radio waves and responds by activating motors that move feathers adorning the hat, and "Intimacy 2.0" -- a dress that becomes increasingly transparent based on the wearer's heart rate, according to its creators, Studio Roosegaarde.
A series of lectures, performances and workshops have also been organized for the exhibition, which runs until the beginning of September.
Ivana Kottasová contributed to this report.

Today's five most popular stories
July 16, 2014 -- Updated 1235 GMT (2035 HKT)

Scientists are developing "electronic noses" to detect deadly diseases.
July 18, 2014 -- Updated 0938 GMT (1738 HKT)

Images of two mummified baby mammoths provide a window into the lives of creatures that roamed over 40,000 years ago.
July 15, 2014 -- Updated 2225 GMT (0625 HKT)

Scientists have found that we're more genetically similar to our friends than to strangers.
July 30, 2014 -- Updated 0959 GMT (1759 HKT)

From typhoon warnings to exploration and conservation, unmanned vessels are revealing the mysteries of the oceans.
June 30, 2014 -- Updated 1643 GMT (0043 HKT)

Part of the Martian environment is being replicated to help test a future rover.
May 8, 2013 -- Updated 2226 GMT (0626 HKT)

Memory implants could help stroke victims and patients with localized brain injuries.
May 7, 2013 -- Updated 0926 GMT (1726 HKT)

When nuclear scientists in Switzerland dropped some antimatter the world didn't blow up, but there were some tiny explosions.

Edge of Discovery highlights awe-inspiring innovations and ideas that help map all our futures.