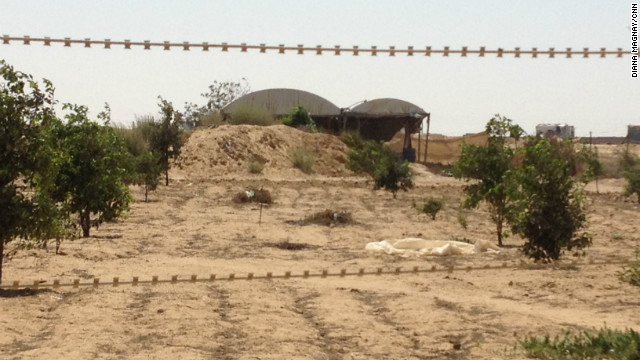 Behind barbed wire are the entrances to the Gaza-Egypt smuggling tunnels - a key trade route for Hamas-controled Gaza.
A Hamas security guard reads the Quran at the entrance to one of the smuggling tunnels.
Rafah market is on the Gaza border with Egypt. Beneath the border are hundreds of tunnels which both sides say they want closed down after an attack on Egyptian military.
Rafah market appears to be buzzing despite efforts from Egypt and Hamas to close the smuggling tunnels that are key to Gaza's economy.
Despite the clampdown it appears Hamas is allowing what it sees as essentials into Gaza via the tunnels.
Vendors in Gaza City have food to sell but some people are reporting shortages because of the clampdown at the smuggling tunnels.
Gaza's tunnel economy
Gaza's tunnel economy
Gaza's tunnel economy
Gaza's tunnel economy
Gaza's tunnel economy
Gaza's tunnel economy
STORY HIGHLIGHTS
Traders see some supplies dwindle after a clampdown at Gaza's smuggling tunnels
The tunnels are a well-known route into Gaza from Egypt avoiding Israeli restrictions
Hamas and Egypt both announced action after an attack on Egyptian military
Hamas taxes tunnel trade and it appears some goods are still getting through
Gaza City (CNN) -- The soft drinks factory in Gaza City is working at half-capacity. For the past seven years production has been intermittent, sometimes stopping altogether -- a hostage to the Israeli-Palestinian conflict, power cuts and the vagaries of being reliant on smuggling tunnels.
Soft drink production requires sugar and plenty of CO2. But as the owner, Mahmoud Yazegi, explains: "Carbonated gas is forbidden to bring in from Israel. So we bring it in from Egypt, through the tunnels."
The stacks of sugar sacks lining the walls are marked Hamburg, Germany. Sometimes they have Egyptian sugar too but those supplies have run out as trade through the tunnels has stalled.
On August 5 militants attacked an Egyptian military base near the Kherem Shalom crossing with Gaza and Israel, killing 16 Egyptian soldiers. Hamas immediately denied any involvement in the attack.
In a gesture to the new Egyptian government, Hamas announced it had closed the honeycomb of tunnels linking Gaza with Egypt, the only route by which militant factions in Gaza and any jihadist elements in Egypt's Sinai might exchange weapons or personnel.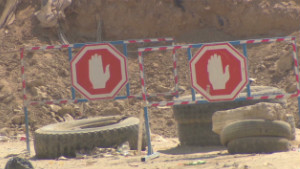 Getting goods to Gaza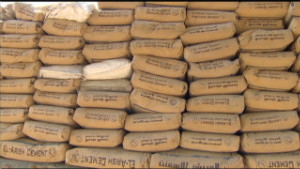 Is tunnel trade stalling Gaza economy?
Hamas has provided journalists with access to the tunnels in the past. But last week, the media weren't welcome. Cameras were not allowed near the mouths of the tunnels, which were all guarded by Hamas security.
A radio colleague had spent the afternoon in Rafah police station after he'd tried snooping around the entrances.
There is still activity in the tunnels. We saw El Arish Egyptian cement loaded onto lorries heading into Gaza City, and people waiting to pass through the other way.
It seems Hamas considers these supplies important. There is a construction boom under way in Gaza and the tunnels are the only trade valve Hamas controls, and cement from Israel is far more expensive than from El Arish.
Egypt has also declared it is in the process of blocking the Gaza tunnels on the Sinai side. But how far each side is prepared to follow through on that is another question.
There are at least 1,500 tunnels which traverse the border. Hamas collects taxes on goods which transit through. Taxes from legal Israeli imports via the Kherem Shalom crossing go to the Palestinian Authority.
That, the Israel Defense Forces says, means it's in Hamas' interests to keep the tunnels open.
Read IMF report on the Palestinian economy
Yazegi, the soft drinks businessman is also Gaza's representative for the Palestinian Chamber of Commerce. He recently went to Egypt to discuss setting up a free trade zone between Egypt and Gaza which would bypass the need for the tunnels.
He said the key decision makers in Egypt were all on board but not the Palestinian Authority in Ramallah.
Yazegi said: "I asked them and they said ""you want Gaza to be a state, so it means you will have two Palestinian states. Wait till we've finished our problems between Palestinian and Palestinian and then we'll issue this area.""
Yazegi believes Hamas, which runs Gaza, and the Palestinian Authority, which runs the West Bank, will not do that without pressure from the Arab world.
But with so much to worry about domestically, Arab states do not seem particularly interested in Palestinian infighting.
Hamas and Egypt's new government are Muslim brothers in name. They now have to work out what that means in practice.