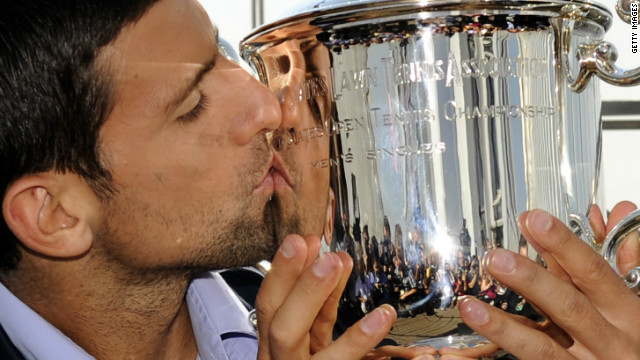 Novak Djokovic will be defending his U.S. Open title in Flushing Meadows as he bids for his second grand slam of the 2012 season.
Former world No. 1 Jim Courier, now captain of the American Davis Cup team, won four grand slam titles but missed out at his home event -- losing the 1991 U.S. Open final to Stefan Edberg.
Courier told CNN that Andy Murray is now one of the "big four" after beating Wimbledon champion Roger Federer in the Olympics final at London 2012, while bronze medalist and 2009 U.S. Open champion Juan Martin Del Potro is an outside threat.
Courier said Wimbledon and Olympic champion Serena Williams is a clear favorite to win her fourth U.S. Open title and first since 2008.
Djokovic to double up?
Courier's credentials
Golden Murray
Dominant Serena
STORY HIGHLIGHTS
U.S. Open next month pivotal in deciding player of year in 2012
Four different winners of men's grand slams and the Olympic singles crown
U.S. Davis Cup captain Jim Courier picks Novak Djokovic to retain men's title
He believes Serena Williams overwhelming favorite for women's crown
(CNN) -- The battle for men's tennis supremacy in 2012 will boil down to the U.S. Open at Flushing Meadows, according to former world number one Jim Courier.
The American Davis Cup captain has watched the world's top players at close quarters this year and believes there is nothing to divide Australian Open champion Novak Djokovic, Wimbledon winner Roger Federer and Olympic gold medalist Andy Murray.
Rafael Nadal would also come into that category, but the French Open champion will miss the New York event with a knee injury which also prevented him taking part at London 2012.
"The winner of the final slam of the season will have added a second major title to their record and can justifiably claim to be No.1," Courier told CNN's Open Court ahead of Monday's opening matches at the two-week hard-court tournament.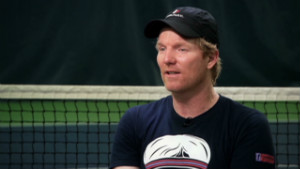 Jim Courier's U.S. Open tips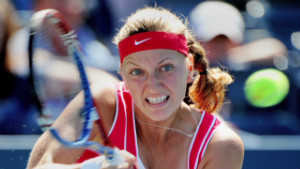 Petra Kvitova looking to win 2nd major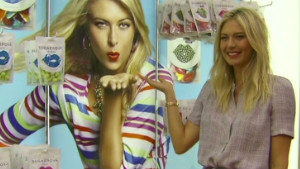 Tennis star launches candy line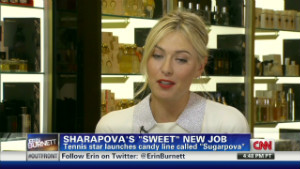 Maria Sharapova, on and off the court
The four-time grand slam champion said Murray's Olympic triumph in the men's singles this month, when where he beat Federer in straight sets in the final, had elevated him to the same status as the other three.
"It used to be three and a half, now it's the big four," Courier said.
"Murray has momentum with him and has been unbelievably consistent."
But when pressed to predict the winner in New York, Courier opted for defending champion Djokovic, believing he can return to the form which saw him totally dominate in 2011 "and on his best surface."
The Serbian started his North American hard court swing by easily retaining his Toronto Masters crown where he beat Richard Gasquet in straight sets in the final.
He can't reclaim the No. 1 ranking from Federer even if he wins the September 8 final, but it would set him up for the end-of-year honors ahead of November's ATP World Tour Finals.
Murray upbeat about U.S. Open despite crashing in Cincinnati
World No. 4 Murray won his opening match in Canada but then withdrew with a knee injury, and suffered a shock early exit in Cincinnati as he failed to defend his title.
With Federer also in superb form, thrashing Djokovic in the Cincinnati final, Courier cannot see outside the top three seeds.
But he nominated 2009 champion Juan Martin Del Potro, who took Olympic bronze at Wimbledon, French world No. 6 Jo-Wilfried Tsonga and John Isner, who has performed heroics in the U.S. march to the semifinals of the Davis Cup, as dangerous outsiders.
"You would not have any of those in your part of the draw," he said.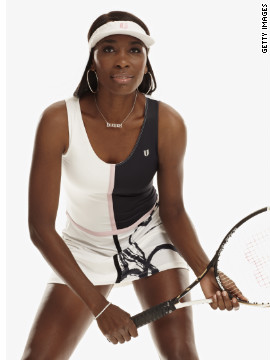 Tennis star Venus Williams has relaunched her clothing label EleVen ahead of the U.S. Open. The 32-year-old took time out of her playing career to graduate from fashion school.
Williams has had a distinctive look since she first burst onto the scene in the mid-1990s. As a teenager she was well known for her braided hair.
As her career continued and her interest in fashion grew, Williams began to experiement with her on-court outfits. At the 2010 Australian Open, the seven-time grand slam champion sported this neon yellow number.
Williams lit up the clay at a WTA event in Madrid in 2010 with this risque red and black dress.
The former world No. 1 caused a stir by wearing flesh colored shorts under a corset dress at Roland Garros in 2010.
The 2010 season proved to be one of Williams' most experimental. But the American proved she can also stand out when observing the strict all-white code at Wimbledon.
At the final grand slam of 2010, Williams opted for a short pink dress with sparkly decoration at her home U.S. Open.
She began 2011 in equally bold style, turning out at the Australian Open in a yellow lattice dress.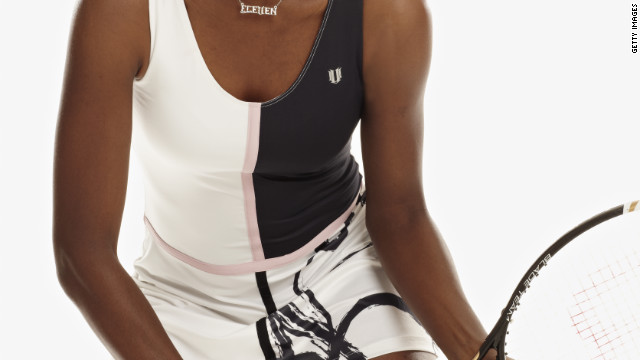 Venus Williams' fashion highs and lows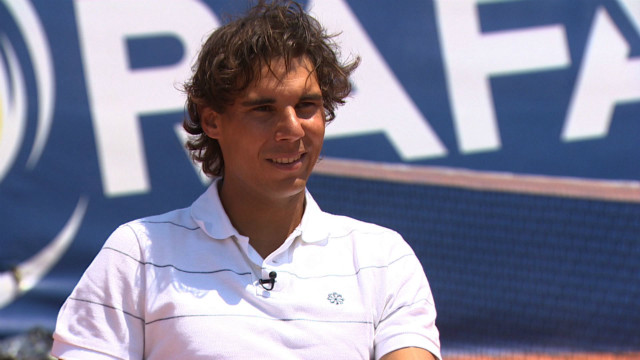 CNN's Open Court show visited Rafael Nadal at his home island of Mallorca, where he was interviewed by Pedro Pinto.
Pinto also talked to Nadal's uncle Toni, who has coached the Spaniard since he was a young boy.
Despite his global appeal, Nadal says he's still trying to lose his shy side in front of the cameras.
Unlike many sports stars, Nadal has stayed close to his roots and not uprooted to more glamorous locales after becoming successful.
The tranquility of Mallorca is just one of the reasons that Rafa has stayed on the island, according to his uncle.
Toni Nadal is confident Rafa will bounce back after missing the Olympics and U.S. Open due to his ongoing knee problems.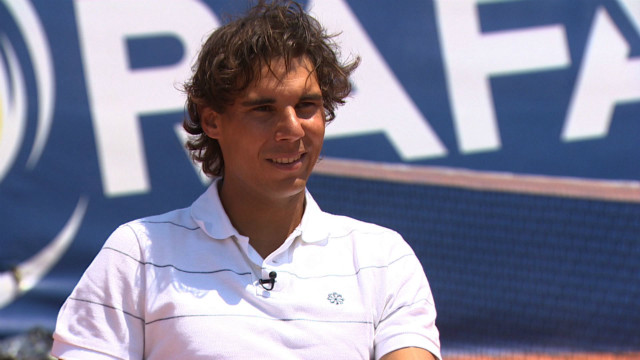 At home with Rafael Nadal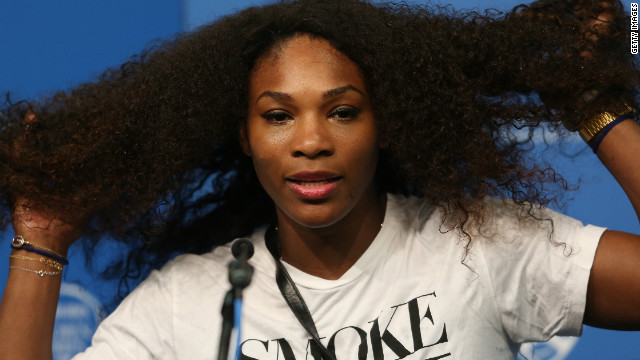 Serena Williams displays her "super crazy" hairstyle before her Cincinnati opener against Elena Daniilidou.
The American had her tresses in control for the start of the second-round match against the Greek qualifier.
But despite using what she called "an '80s scrunchie," Williams' hair soon fought its way free in the windy conditions.
It didn't stop her winning, but the in-form American was frustrated after making 44 unforced errors -- which she said was "unprofessional."
Williams has now won 35 of her last 36 singles matches, having claimed the Olympic women's title for the first time as well as defending her doubles crown with older sister Venus.
Venus also won her opening match in Cincinnati, beating Olympic semifinalist Maria Kirilenko of Russia as she kept her trademark long braids safely tied up.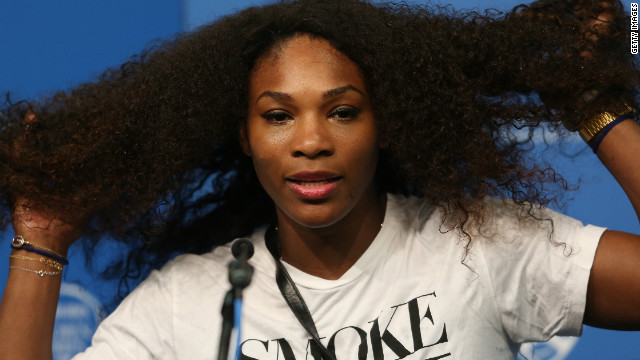 Serena Williams battles 'crazy hair'
For Courier, who won two Australian Opens and two French Open crowns, the choice of women's champion is easier.
"Serena Williams," said the 42-year-old, who lost in the finals of the 1991 U.S Open and Wimbledon two years later.
"She played ridiculously well in the Olympics."
Wimbledon champion Williams will be bidding for her fourth U.S. Open crown and 15th grand slam title, but she surprisingly lost to Australian Samantha Stosur in last year's final when looking similarly invincible. She also slipped up in the WTA event in Cincinnati this month with a quarterfinal loss to Angelique Kerber -- her first defeat since exiting early at the French Open in June.
After the U.S. Open, Courier will take the U.S. team to Gijon to face Davis Cup champions Spain as the Americans bid to reach the final for the first time since 2007. They thrashed Federer's Switzerland team 5-0 in February and beat Tsonga's France 3-2 in April.
"We're not going to beat the Spaniards -- but we weren't going to beat the Swiss or the French either," Courier said.
"You look on paper at our matches this year -- away, on clay, against great teams -- we should be playing a relegation match now rather than the semifinals.
"The Bryan brothers, they've won everything, done everything. Isner's been a real threat to everyone he's played in Davis Cup and Mardy Fish came up big for us in Switzerland with a singles win and doubles win. We've put together a true team effort."
Courier will be taking on some of the finest tennis players in modern history in the 12-city Powershare Champions Series that he helped create.
John McEnroe, Andre Agassi, Jimmy Connors and Michael Chang will be among the big names taking part in a whistlestop tour of the U.S. from mid October to the end of November.