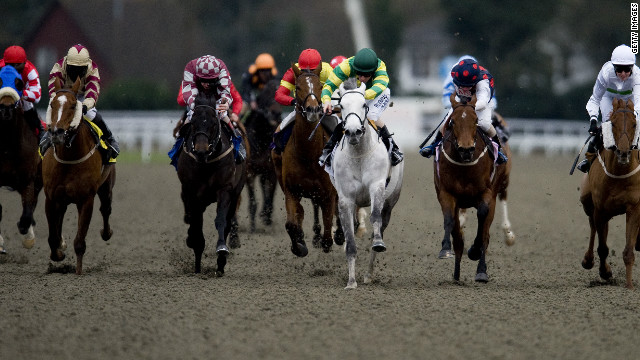 Sakhee Pearl, ridden by Ian Mongan, claims victory in a handicap race at England's Kempton Park racecourse in 2011.
A statue of the legendary national hunt horse Desert Orchid is a feature of Kempton Park, near London, where he achieved many of his greatest triumphs.
Champion American gray Skip Away won nearly $10 million in prize money and scored a runaway victory in the 1997 Breeders' Cup Classic.
Jorge Chavez rode Monarchos to victory in the 2001 Kentucky Derby in the second fastest time in the race's history, with only the legendary Secretariat going faster.
2012 Grand National winner Neptune Collonges has a big fan club after winning the most famous national hunt race in the world.
Medici Time under jockey Eddie Ahern won the annual gray horses handicap race held at the famous Newmarket race course in England in August 2012.
The distinctive Hansen was top juvenile in the United States in 2011 and has a big following among race fans.
Standing out in the crowd
Racing legend
A class of his own
Kentucky king
Enduring popularity
Gray charge
Whiter shade of gray
STORY HIGHLIGHTS
All-gray events proving popular with fans of horse racing
Annual handicap race held on the famous July Course at Newmarket
Unique appeal of grays put down to their rarity
Legendary Native Dancer popularized grays in the United States
(CNN) -- It's a stirring sight, and it happens just once a year -- a full field of thoroughbred gray horses thundering down one of Britain's most famous racecourses in a fiercely-contested handicap event.
"You don't have to be a racing purist to appreciate the spectacle of 19 gray horses charging down the July Course," Newmarket's PR manager Tony Rushmer told CNN.
"There are not many of them, it's their scarcity that gives them cult appeal."
Once described as "diseased" and genetically inferior, gray horses have achieved a special place in hearts of racing fans in recent decades -- winning some of the industry's biggest events.
The Newmarket handicap was first run in 2003 and has grown in popularity with both the professional racing fraternity and the general public.
The 2012 version was won in fine style this month by Medici Time, ridden by Eddie Ahern, and once again attracted interest over and above the moderate standard of the runners.
Tough winners
But the enduring appeal and popularity of grays is well known in racing circles.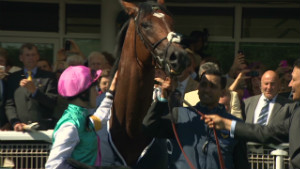 Fabulous Frankel wins again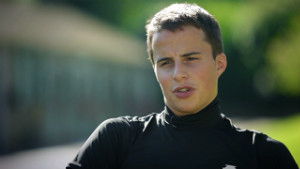 Jockeys: the ultimate athletes
"It's a wonderful spectacle with wonderful-looking horses. And it's very good for racing," says Tony Carroll, a former jockey who trained last year's winner Time Medicean -- which this time finished outside the placings.
So why are gray horses so popular?
Carroll believes it's because they are perceived as good bets for punters. "They're tough horses and many are winners," he told CNN.
Some of the greatest flat performers in the United States have been grays -- going back to early 1950s with the great Native Dancer, who has sired a line of champions.
Brian Zipse, the managing editor of the influential website Horse Racing Nation, said that the legendary colt, who was nicknamed the "Gray Ghost," made his reputation as the sport was being shown widely on television for the first time.
"The fact that here was a gray horse that won so often made him even more famous because he stood out," he told CNN.
Native Dancer was named Horse of the Year twice, and other grays to win the award include Spectacular Bid (1980), Lady's Secret (1986) and Skip Away (1998).
Rated greatest
Zipse has a soft spot for Lady's Secret, a filly sired by the legendary Secretariat, who is rated by many the greatest racehorse of all time.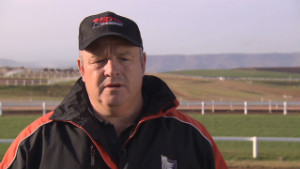 South Africa's master trainer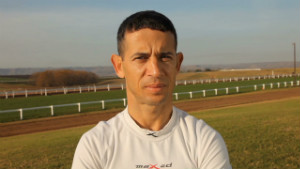 Winning South Africa's premier race
He was taken by his father to watch the Belmont Stakes in New York in 1973 when Secretariat completed the Triple Crown by adding a devastating 31-length victory to his Kentucky Derby and Preakness Stakes successes.
"The stand literally shook that day," Zipse recalled.
Lady's Secret was one of Secretariat's best offspring -- and as a gray filly she had a double affinity with race followers.
"When a top filly races against colts, it's similar to how people feel about a gray racing against more common colors," Zipse said.
This year's gray attraction in the United States has been the striking colt Hansen -- almost white by pigmentation.
He failed to live up to the promise shown as the top juvenile in 2011 and was out of the placings at the Kentucky Derby, but has a "big fan base" according to Zipse.
A desert bloom
On the other side of the Atlantic, the gray Desert Orchid -- "Dessie" to his fans -- was one of the most popular horses in the history of the sport.
Racing over the national hunt jumps, Desert Orchid won the Cheltenham Gold Cup in 1988 and the King George VI Chase at Kempton Park four times. There is an eye-catching statue in his honor at that track in west London.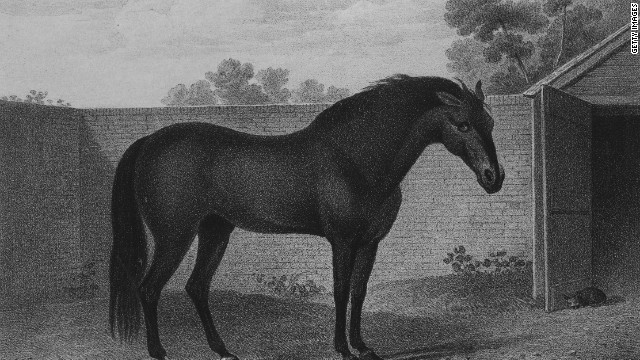 Every thoroughbred horse can be traced back to one of three stallions, and 95% of those go back to one -- the Godolphin Arabian, pictured. Named after his owner, Earl Francis Godolphin, the stallion lived from 1724-1753 and sired some of the greatest racehorses in history, with Seabiscuit and Man o' War just two of his direct descendants.
Sired by the Darley Arabian --one third of the thoroughbred stallion trifecta, along with the Godolphin Arabian and the Byerly Turk -- Flying Childers is often credited as the first true "great racehorse."He was retired to stud after winning all six of his races in the early 18th century. His British owner, the Duke of Devonshire, once reportedly received an offer to buy the stallion for the price of its weight in gold.
Grand foal of the Godolphin Arabian, Eclipse is perhaps the greatest thoroughbred ever to race. After 18 wins from 18 starts in only 17 months, Eclipse was retired to stud in 1771 due to lack of competition, as nobody would bet on the other horses. The Eclipse Stakes at England's Sandown Park are a testament to his legacy.
Potoooooooo (often spelled "Pot-8-Os") is responsible for a key element of horseracing -- that of abstract and often ludicrous naming. Sired by the great Eclipse, he was originally to be "Potatoes" but after a stableboy misspelled his name on a feedbin the horse's breeder -- the 4th Earl of Abingdon -- found the mistake so humorous he decided to keep it that way.
In 1878 Wilfrid Scawen Blunt, pictured, and his wife Lady Anne Blunt established what would become Britain's foremost thoroughbred stud farm. Crabbet Arabian Stud was founded after the Blunts decided -- while on holiday in Syria -- to bring back some of the best Arabian horses for breeding in England. Now, 90% of all Arabian horses can be traced back to Crabbet.
Persimmon, depicted here with his owner King Edward VI, is the first horse to be captured on film. The 1895 filming of the Epsom Derby fast became a worldwide cultural phenomenon, with thousands of people flocking to exhibitions to witness racing on film for the first time. Persimmon accumulated what would be $3.5 million in on-track prize money by modern standards.
American horse Man o' War won 20 of 21 races he started, raking in more than $7.5 million in today's equivalent prize money. For six races as a two-year-old, his handicap of 130 pounds was one of the heaviest ever carried.
Black Caviar, pictured, is the most successful sprinter in the world with a unbeaten record of 22 wins. There have been rumors the Australian mare has been promised to champion stallion Frankel, who has a record of 12 wins undefeated. If true, then their offspring could well be a racehorse with the genetic potential to be even better than Man o' War or Eclipse.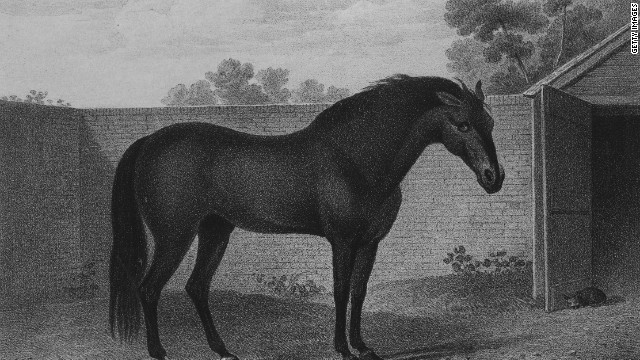 A history of the thoroughbred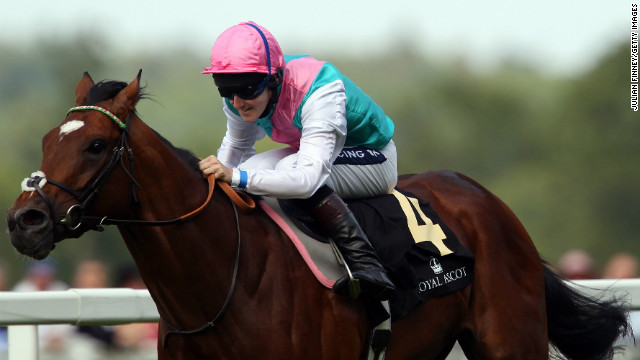 Frankel is unbeaten in 12 races and, under the stewardship of jockey Tom Queally, the four year-old has brought home winnings of just over $2.8 million for his owners.
Black Caviar turned heads at Royal Ascot and has an impressive record on tracks in her home nation of Australia too -- winning 22 races overall. At 136, she is the highest-rated filly of all time according to race statisticians Timeform.
Trainer Henry Cecil has put his all into schooling Frankel. He has even installed a closed circuit TV system in the horse's stable to ensure he is safe at night.
Trainer Peter Moody with Black Caviar after the mare's win in the 2012 Diamond Jubilee Stakes at Royal Ascot. He is undecided if she will race again.
Both horses have spawned a micro marketing industry. Frankel flags were the order of the day at Glorious Goodwood this year. There is also an impressive line in Frankel fleeces, mugs and hats available online.
The Australian High Commission in the UK had to hold a ballot for Ascot tickets, such was the demand from the expat community to see Black Caviar on British soil. She also has an online store with cufflinks selling for $42.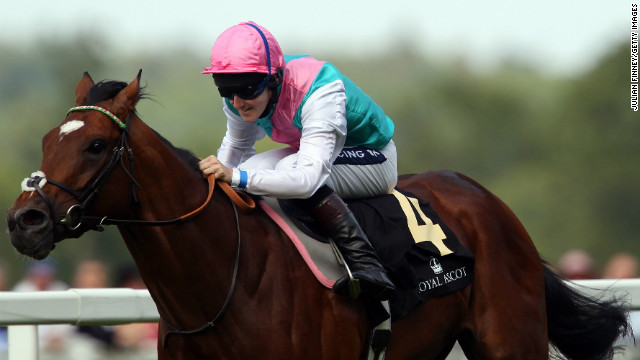 Frankel & Black Caviar: A perfect stud partnership?
This year, the gray Neptune Collonges won the Grand National at Aintree, a feat which eluded Dessie, who never ran in the prestigious UK race.
Both these great grays stood out even more because, as older horses, their coats had grown even lighter with age.
The official definition of a gray is outlined in "Identification of Horses -- Instructions for Veterinary Surgeons," a book produced by Weatherbys in conjunction with the Royal College of Veterinary Surgeons and British Equine Veterinary Association.
All thoroughbreds listed by Weatherbys in the UK have to have their coloring and markings registered by a veterinary surgeon.
"The body coat is a mixture of black and white hairs, with the skin black. With increasing age the coat grows lighter in color," reads the definition.
Nature's anomaly
Official figures confirm that grays are a rarity. Weatherbys' "General Stud Book for 2011" records that 2.8% of the foal crop in the UK were registered as gray, with bay the most prevalent color at 73.3%. Chestnut was next at 20.4%, then brown at 3%.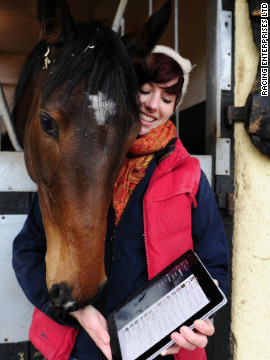 @peopleshorse: "Really enjoying my little holiday - getting a serious tan! NOL."
@blackcaviar2006: "Goodbye UK, and thank you for your hospitality Your Majesty. I enjoyed my time in Newmarket and racing at Royal Ascot xx."
@frankel_horse: "Thanks for all ur kind messages...hopefully the news I may run an extra race has put a smile on your faces."
@Ill_HaveAnother: "Borrowed IPhone so I can write one last thing re: NYT and MSNBC pieces of shoddy "journalism" SANCTIMONIOUS. Now back to quarantine."
@AnfieldCat: "so it turns out Andy Murray is infact Scottish, not British."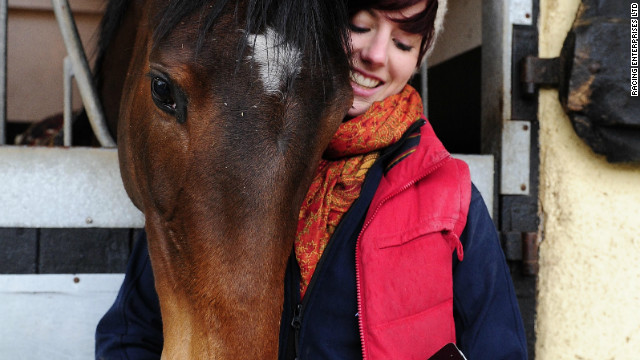 Racing horses take to Twitter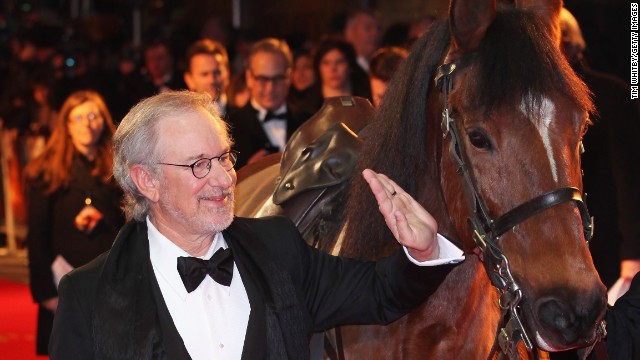 Oscar-winning director Steven Spielberg's interest in horses does not stop at the movie set. He co-owned racehorse Atswhatimtalkingabout, which came fourth in the 2003 Kentucky Derby. He is also an investor in Biscuit Stables, the Delaware-based race trainers.
Actor and director Kevin Costner, right, part-owns a number of racehorses which mainly run at Hollywood Park in California. He also supported the industry by voicing a documentary called "Laffit: All About Winning," celebrating the life and career of one of horseracing's most decorated jockeys, Laffit Pincay.
Pop icon MC Hammer, or Stanley Kirk Burrell on his passport, invested in and created his own Oaktown Stables. Hammer owned 19 racehorses at one stage, including the multiple Grade 1 stakes winner Lite Light and the aptly named Dance Floor -- which was third at the 1992 Kentucky Derby.
Rolling Stones guitarist Ronnie Wood runs Sandymount Stud in Ireland. He has also raced his own horses, including Sandymount Earl -- a gelding which won three times in three months at The Curragh, home of the Irish Derby.
Songwriter Burt Bacharach, left, has owned horses since 1980 and has seen them run in the Dubai World Cup and the Breeder's Cup. He has had notable successes with three horses over a near 30-year ownership period: Soul of the Matter, Afternoon Deelites and Heartlight No. 1.
American TV cook and celebrity restauranteur Bobby Flay is leading a new generation of celebrity into the racehorse business. He struck lucky on his first run, with Mrs. Kipling winning on her debut in 2009. Since then his horses have finished in the top three 16 times in 36 outings.
Soccer icon Alex Ferguson is a renowned owner of racehorses. Seen here with latest runner Forgotten Hero, the Manchester United manager was involved in a legal battle with Coolmore stud owner (and then major United shareholder) John Magnier about the stud fees of 2002 European Horse of the Year Rock of Gibraltar.
Racehorses are a popular subject in the Old Trafford dressing room, with former Manchester United striker Michael Owen also taking a big interest. He co-owns Manor House Stables -- the Cheshire-based racehorse trainers, as well as being the owner of a few horses himself.
Manchester United striker Wayne Rooney initially bought three horses -- Pippy, Tomway and Switcharooney -- but it was Yourartisonfire who provided his first win at English course Haydock Park on July 5.
Eddie Jordan (right) is no stranger to horsepower, having owned the Jordan Formula One team. The Irishman owns a number of horses in training with the Michael "Mouse" Morris stable in County Tipperary.
Britain's Queen Elizabeth is a renowned racehorse owner, with her first victory coming in her Coronation year of 1953 when Choir Boy won at Ascot. She is pictured here collecting the Queen's Vase after her horse Estimate triumphed at Royal Ascot this year -- her 21st win at the prestigious meeting.
As owner of the prolific Godolphin stables, United Arab Emirates ruler Sheikh Mohammed bin Rashid Al Maktoum has seen his racing unit secure nearly 200 Group 1 victories around the world every year -- creating an annual prize fund of $16.8 million. Godolphin has stables in Dubai, Ireland and the UK.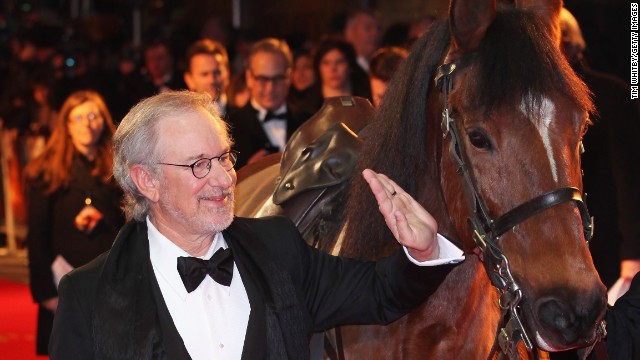 Celebrity racehorse owners
In genetic terms, to breed a thoroughbred gray one of the parents has to be so colored -- but it was not always a popular combination.
Italian Federico Tesio (1869-1954) is renowned as one of the most successful breeders in the history of horse racing.
At his Dormello Stud in Novara near Lake Maggiore, Tesio and his wife bred and trained a string of great champions over a half-century period.
His books on the subject are still "must reads" for aspiring thoroughbred breeders, but he insisted gray horses were "diseased" not just differently colored and his views proved influential.
Grays indeed are more likely to develop tumors, known as melanomas, but many are benign. While gray hairs are a sign of aging (as in humans) this is exacerbated for horses as pigment is prevented from reaching the hair.
Perhaps because of Tesio's views, grays were out of vogue and even segregated into gray-only races, not for the positive reasons that prompt the race at Newmarket and others in the United States.
The stunning success of Native Dancer and his offspring would have done much to change attitudes and in and era dominated by television, their ability to stand out in a packed field is priceless.
"Fans gravitate to gray horses because they are rare and it's easy to spot them," concluded Zipse.