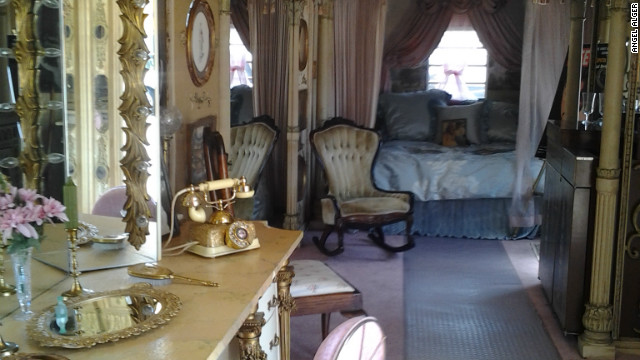 Inside the dressing room trailer created for Elizabeth Taylor to use during the filming of "Cleopatra" in 1963. The trailer's owner says it was damaged while on loan for the filming of "Liz & Dick" in July.
Damage inside the dressing room trailer.
Damage inside the dressing room trailer.
Damage inside the dressing room trailer.
Damage inside the dressing room trailer.
Elizabeth Taylor's trailer damaged
Elizabeth Taylor's trailer damaged
Elizabeth Taylor's trailer damaged
Elizabeth Taylor dressing trailer trashed
Elizabeth Taylor's trailer damaged
STORY HIGHLIGHTS
In 1963, Fox Studios spent more than $75,000 on the dressing room
Liz Taylor fan Angel Alger bought the lavishly-decorated trailer for $50,000 in June
Alger estimates $100,000 in damage to the trailer during filming of Lindsay Lohan's movie
"This has nothing to do with Lindsay," Lohan's spokesman says
Los Angeles (CNN) -- Elizabeth Taylor's Cleopatra "love nest," where her romance with Richard Burton started, was trashed while it was on loan for filming of Lindsay Lohan's "Liz & Dick," the owner of the dressing room trailer said.
Fox Studios spent more than $75,000 in 1963, about a half million in today's dollars, to create an environment fit for the queen Taylor was playing. She rested away from the set between roman columns with walls and ceilings handpainted in the style of Cleopatra's era.
Angel Alger, a Taylor fan, bought the pink, lavishly-decorated 38-foot travel trailer for $50,000, her life savings, in June. But she only had two days to enjoy it before it was delivered to Silver Screen Pictures. It was a condition of the sale since the seller had contracted to rent it to the producers for a week of filming.
"I was specifically told that it would come back in pristine condition and in even better condition than it was at that time," Alger said.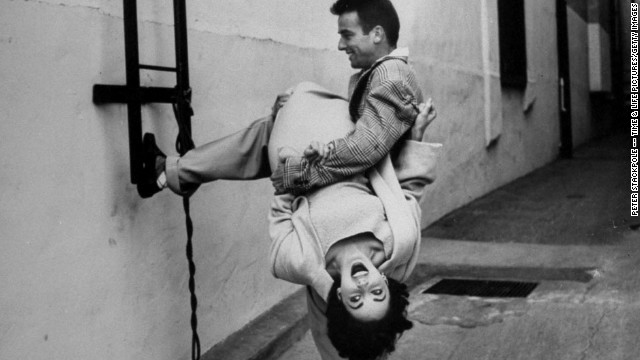 Elizabeth Taylor jokes around with co-star Montgomery Clift on the set of "A Place in the Sun" in 1950. Taylor was born 82 years ago on February 27, 1932, and Life.com published these photos in 2012 to remember the late actress. Photographer Peter Stackpole was able to capture the unique bond the young actors shared.
Taylor is shown here on the Paramount back lot where "A Place in the Sun" was filmed. The movie, which is about a young man involved with two women of different social standings, won six Oscars, including best director and best screenplay.
Taylor and Clift's friendship was strengthened after a series of events. In 1956, around the time they were filming "Raintree County" together, Clift crashed his car outside of Taylor's house while leaving a party. Taylor reportedly ran to the wreck and pulled broken teeth from Clift's mouth when he started choking on them, possibly saving his life. Taylor and Clift are shown here walking around the Paramount back lot.
In a review of "A Place in the Sun" published in the May 28, 1951, issue, Life praised the movie for being "faithful" to the book it was based on -- "An American Tragedy" by Theodore Dreiser. Life also commented on the onscreen chemistry between the two actors, saying, "While they may not make old-timers forget the Greta Garbo-John Gilbert embraces of the '20s, Miss Taylor and Mr. Clift lose no chance to show why they are considered two of the hottest juveniles in Hollywood."
Shown here is a close-up of a contact sheet with pictures of Taylor on the set of "A Place in the Sun." View more unpublished images of Elizabeth Taylor at Life.com.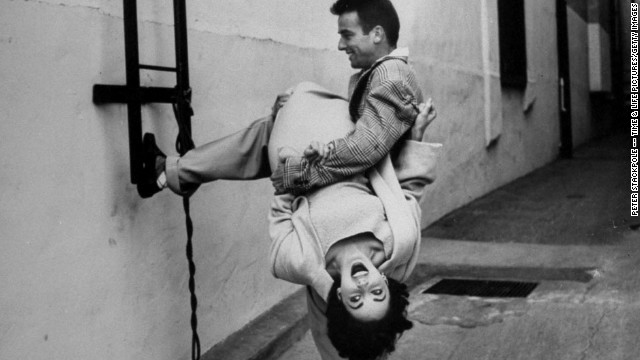 Previously unpublished photos of Elizabeth Taylor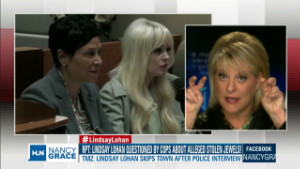 Report: Lohan questioned in jewel theft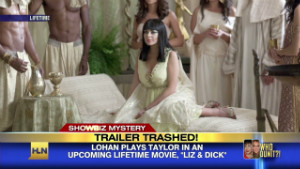 Liz Taylor's "love nest" trashed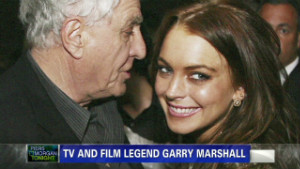 Marshall: Success sent Lohan off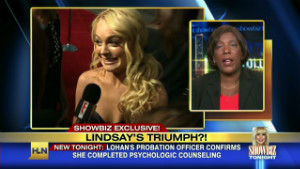 Lohan probation comes to an end
When she saw it again in July, she was devastated to see damage she estimated to be at least $100,000.
Photos show cigarette burns on fabric, furniture and even a portrait of Taylor. Dishes, mirror and glass were broken.
What's worse is what's missing, Alger said.
An exquisite antique European rocking chair that Taylor sat in after filming every night was taken.
"I did not get to enjoy using the lavish French phone that she used or even her personal hair brush that probably still had some of her hair in it," she said.
Who trashed Taylor's trailer?
"Only a psychotic and rebellious person or people would steal irreplaceable museum belongings and leave it in this vandalized condition," Alger said.
Alger said she suspects it was Lindsay Lohan, based on a studio employee's comment to her that the actress and her friends had access to it each night after filming.
But she acknowledges she has no evidence to prove it. She collected the cigarette butts left in the trailer, which she said appeared to be special cigarettes.
But Lohan's publicist said there was no way Lohan, who he said worshiped Taylor, would ever destroy anything connected to her.
"This has nothing to do with Lindsay," Steve Honig said. "You should ask the producers about it."
Alger said she would like more information from the studio to help solve the mystery.
"Liz & Dick" executive producer Larry Thompson did not return several phone calls from CNN on Wednesday. His assistant said he was busy editing the movie.
An insurance representative from the studio met with Alger to tour the trashed trailer in early August, but she said since then her calls have been unreturned.
She is hoping media attention to her story will change that.
"I want these things back because, truly, there is not enough money to replace these one-of-a-kind items," Alger said. "These have been taken from me and my family who would inherit them. Maybe they are still in the studio somewhere? I was told they would be looking for them."
She had plans to make money exhibiting the trailer in Los Angeles. With many irreplaceable furnishings missing and others broken or marred, those plans are on hold for now, she said.
"Liz & Dick," set to air on the Lifetime channel on November 3, chronicles the relationship and two marriages of Elizabeth Taylor and Richard Burton.
Rosie O'Donell: Lohan's not right for Liz Taylor role