Cathay Pacific bans shipping of shark products
September 5, 2012 -- Updated 1047 GMT (1847 HKT)
STORY HIGHLIGHTS
Cathay Pacific will stop shipping unsustainably sourced shark products
The airline is the world's largest carrier of air cargo, headquartered in Hong Kong
"The majority of shark fishing is incompatible with our position on Sustainable Development"
An estimate 50% of the shark fin trade comes through Hong Kong
Hong Kong (CNN) -- Cathay Pacific, the world's largest carrier of air cargo, will stop shipping unsustainably sourced shark products in a move marine conservation groups characterized as a big step forward in efforts to protect the animals.
"We believe that we now have compelling evidence that the majority of shark fishing is incompatible with our position on Sustainable Development," Cathay Pacific said in a statement.
"Due to the vulnerable nature of sharks, their rapidly declining population, and the impacts of overfishing for their parts and products, our carriage of these is inconsistent with our commitment to sustainable development," the airline said.
The ban will apply to Cathay Pacific and its subsidiary Dragonair, both major players in the transport of air cargo to Hong Kong and China. Shark's fin soup remains a popular delicacy for weddings and banquets within China. In order to obtain these fins, fishermen catch sharks, cut off their fins and throw the sharks back into the water to die.
More: China plans banquet ban on shark fin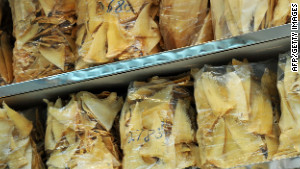 China cracks down on shark fin soup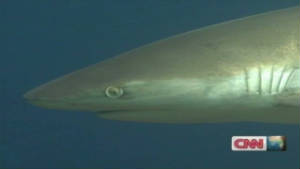 Sharks on the brink of disaster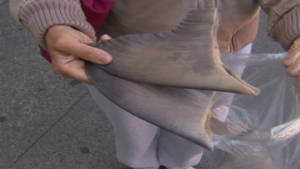 California debates shark fin ban
Environmentalists say this wasteful practice puts several shark species at risk of extinction. An estimate 50% of the shark fin trade comes through Hong Kong.
Stanley Shea, from the marine advocacy group Bloom Association, believes Cathay Pacific's move sends a message to other Hong Kong corporations. They are "showing other corporates they understand the issue and making change happening in Hong Kong."
The airline says it will take three months to implement the new policy, but it will stop accepting any new contracts immediately.
More: Shark fin off the menu at top hotel
Cathay's decision came after the airline received a July letter from more than 40 international environmental organizations, requesting it set an "aggressive timeline" to stop carrying shark's fin.
In the letter, the group estimated Cathay Pacific carries between 20-50% of all the air cargo trade in shark's fin.
Shea said they are also targeting the shipping lines, which are still responsible for carrying the majority of shark products worldwide.

Part of complete coverage on
April 22, 2013 -- Updated 0647 GMT (1447 HKT)

Twitter resumes -- or "twesumes" -- have been touted as the best way for social media-savvy types to snag a dream job.
April 17, 2013 -- Updated 0800 GMT (1600 HKT)

We live in a three-speed economic world, according to the International Monetary Fund.
April 17, 2013 -- Updated 1627 GMT (0027 HKT)

Women have long dominated the heated discussion around gender equality. But men need to too, says Facebook's Sheryl Sandberg.
April 19, 2013 -- Updated 1053 GMT (1853 HKT)

Security threats from mobile malware are on the rise and nearly 95% of targets operate on the Android operating system, according to a new report from NQ Mobile.
April 15, 2013 -- Updated 2006 GMT (0406 HKT)

Microsoft is working on a touch-enabled smartwatch, The Wall Street Journal says, reporting that the company asked Asian suppliers to ship components for the device.
April 19, 2013 -- Updated 0647 GMT (1447 HKT)

Give your anxious, negative colleagues a chance, and they just might surprise you.
April 17, 2013 -- Updated 1046 GMT (1846 HKT)

In Europe, high-speed rail has come to stand for ease and efficiency where journeys of four hours or less trump airplanes and the hassle of airport security.
April 19, 2013 -- Updated 1812 GMT (0212 HKT)

Infographic: Singapore may be tiny but it is also one of East Asia's most powerful trading hubs.
April 22, 2013 -- Updated 0027 GMT (0827 HKT)

In Hong Kong urban lore, an apartment where a violent death took place can often be bought for as much as 10-30 per cent off the market price.
April 16, 2013 -- Updated 1605 GMT (0005 HKT)

With gold prices officially in a bear market, investors must ask themselves if this is the time to buy?

Today's five most popular stories