Cathay Pacific bans shipping of shark products
September 5, 2012 -- Updated 1047 GMT (1847 HKT)
STORY HIGHLIGHTS
Cathay Pacific will stop shipping unsustainably sourced shark products
The airline is the world's largest carrier of air cargo, headquartered in Hong Kong
"The majority of shark fishing is incompatible with our position on Sustainable Development"
An estimate 50% of the shark fin trade comes through Hong Kong
Hong Kong (CNN) -- Cathay Pacific, the world's largest carrier of air cargo, will stop shipping unsustainably sourced shark products in a move marine conservation groups characterized as a big step forward in efforts to protect the animals.
"We believe that we now have compelling evidence that the majority of shark fishing is incompatible with our position on Sustainable Development," Cathay Pacific said in a statement.
"Due to the vulnerable nature of sharks, their rapidly declining population, and the impacts of overfishing for their parts and products, our carriage of these is inconsistent with our commitment to sustainable development," the airline said.
The ban will apply to Cathay Pacific and its subsidiary Dragonair, both major players in the transport of air cargo to Hong Kong and China. Shark's fin soup remains a popular delicacy for weddings and banquets within China. In order to obtain these fins, fishermen catch sharks, cut off their fins and throw the sharks back into the water to die.
More: China plans banquet ban on shark fin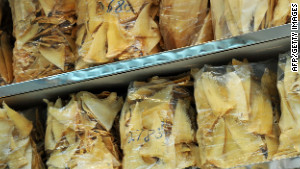 China cracks down on shark fin soup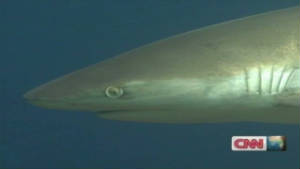 Sharks on the brink of disaster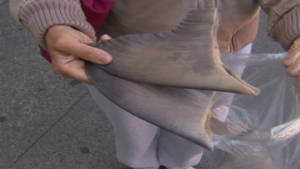 California debates shark fin ban
Environmentalists say this wasteful practice puts several shark species at risk of extinction. An estimate 50% of the shark fin trade comes through Hong Kong.
Stanley Shea, from the marine advocacy group Bloom Association, believes Cathay Pacific's move sends a message to other Hong Kong corporations. They are "showing other corporates they understand the issue and making change happening in Hong Kong."
The airline says it will take three months to implement the new policy, but it will stop accepting any new contracts immediately.
More: Shark fin off the menu at top hotel
Cathay's decision came after the airline received a July letter from more than 40 international environmental organizations, requesting it set an "aggressive timeline" to stop carrying shark's fin.
In the letter, the group estimated Cathay Pacific carries between 20-50% of all the air cargo trade in shark's fin.
Shea said they are also targeting the shipping lines, which are still responsible for carrying the majority of shark products worldwide.

Part of complete coverage on
March 3, 2014 -- Updated 1033 GMT (1833 HKT)

Mobile World Congress spans the full spectrum of untethered gadgetry Explore this year's top trends with Stuff Magazine Editor Will Findlater.
February 28, 2014 -- Updated 1623 GMT (0023 HKT)

Cocoa-nomics: Why chocolate really doesn't grow on trees. CNN returns to Africa's cocoa plantations to examine the fight against child labor.
February 27, 2014 -- Updated 1958 GMT (0358 HKT)

CNN's Maggie Lake speaks to Lego CEO Jørgen Vig Knudstorp about why Lego continues to be a hugely popular toy.
February 27, 2014 -- Updated 2032 GMT (0432 HKT)

A Japanese rocket roared into orbit carrying what NASA calls its most precise instrument yet for measuring rain and snowfall.
February 28, 2014 -- Updated 2003 GMT (0403 HKT)

When you hail yourself as a "passionate advocate" for job-seekers, you probably ought not blast one of those job-seekers in a snide e-mail.
February 26, 2014 -- Updated 2201 GMT (0601 HKT)

Love that chocolate Haagen-Dazs ice-cream? But what about the way its makers treat their farmers? Oxfam reveals the ethics behind the brands.
February 20, 2014 -- Updated 1121 GMT (1921 HKT)

SnapScan is an award-winning app allowing buyers to pay with their smartphone -- no need to worry about carrying cash or lost credit cards.
February 18, 2014 -- Updated 1452 GMT (2252 HKT)

In the wake of recent credit card breaches, CNN's Richard Quest explores the threats of the non-cash economy. Is your money as safe as you think?
February 19, 2014 -- Updated 0833 GMT (1633 HKT)

Like many companies in China, Fu Shou Yuan uses celebrities to attract clients. Except, in this case, they're dead. They're in the funeral business.
February 19, 2014 -- Updated 1255 GMT (2055 HKT)

Coca-Cola is staying afloat as the soda market shrinks, and many point to a marketing strategy around the so-called "secret recipe."

Today's five most popular stories