5 lines that killed at the DNC
September 6, 2012 -- Updated 0943 GMT (1743 HKT)
STORY HIGHLIGHTS
Bill Clinton becomes the first former president to nominate a sitting president for re-election
Former Texas governor's daughter says GOP has something in common with Don Draper
Massachusetts Senate candidate says the country isn't run for corporations
Fluke: We need a president who thinks of his daughters - not his delegates or donors
(CNN) -- Former President Bill Clinton delivered more than five classic lines Wednesday night at the Democratic National Convention, but we should spread the love around.
Here are the top ones from Day 2 of the DNC:
1. "We're here to nominate a president, and I've got one in mind."
-- Clinton beginning his 48-minute speech, making his case to reelect President Barack Obama
2. "It's like we woke up in a bad episode of 'Mad Men.'"
-- Cecile Richards, daughter of former Texas Gov. Ann Richards (who delivered a killer line at the 1988 DNC) and president of Planned Parenthood Federation of America and Planned Parenthood Action Fund on Republican policies.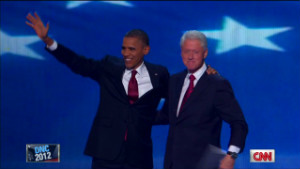 Begala: Clinton substantive and riveting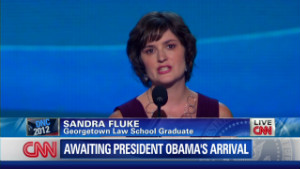 Fluke: Women face 2 futures in election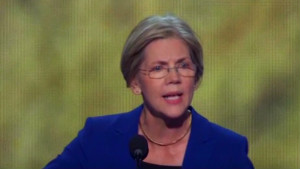 Warren: The system is rigged
Opinion: Romney no friend on women's health
3. "No, Governor Romney, corporations are not people. People have hearts, they have kids, they get jobs, they get sick, they cry, they dance, they live, they love and they die and that matters. That matters because we don't run this country for corporations -- we run it for people and that's why we need Barack Obama."
-- Massachusetts Senate candidate Elizabeth Warren on Mitt Romney's "corporations are people" comment in April 2011
4. " An America in which our president, when he hears a young woman has been verbally attacked, thinks of his daughters — not his delegates or donors"
-- Sandra Fluke, the women's rights activist who Rush Limbaugh called a "slut" after she advocated for mandating contraception coverage.
Initially silent, Romney addresses Limbaugh 'slut' remarks
5. "You got to give him one thing -- you got to give the guy some brass for attacking (Obama) on something you did."
-- Clinton about GOP running mate Paul Ryan's budget, which would cut subsidies to Medicare health care providers and insurance companies similar to what Obama's Medicare reform plan calls for

Today's five most popular stories
Part of complete coverage on

Get all the latest news at CNN's Election Center. There are race updates, a delegate counter and much more.

A black man is returning to the White House. Four years ago, it was a first, the breaking of a racial barrier. Tuesday night, it was history redux. And more.

The 2012 presidential election shattered spending records, further polarized a divided country and launched a thousand hashtags.
November 8, 2012 -- Updated 1841 GMT (0241 HKT)

Democratic and Republican congressional leaders continue to sharply disagree over the key issue of whether top tax rates should be raised to help resolve the looming crisis.
November 7, 2012 -- Updated 1924 GMT (0324 HKT)

In a historic turnaround, the ballot box is showing America's shifting attitudes about same-sex marriage.

Even though voters indicated to pollsters that their financial situation is the same or worse than it was four years ago, they put their trust in the president.
November 8, 2012 -- Updated 0919 GMT (1719 HKT)

The president faces a long and familiar set of challenges after riding a wave of support from moderates, women and minorities to victory.
November 7, 2012 -- Updated 1427 GMT (2227 HKT)

Republicans kept a lock on the U.S. House of Representatives, a crucial victory after the party failed to wrest away the presidency from Barack Obama and the Senate from the Democrats.
November 8, 2012 -- Updated 0034 GMT (0834 HKT)

Democrats will retain their control of the Senate after winning several closely contested races on Tuesday.