How world leaders travel: Boeing's latest mile-high luxury
September 7, 2012 -- Updated 2011 GMT (0411 HKT)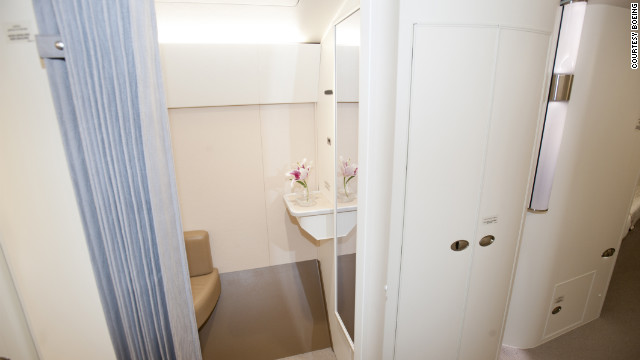 The luxurious upper deck cabin area of Boeing's latest luxury offering, the Aeroloft, comes complete with a changing area to get comfortable before a well-deserved rest.
The Aeroloft sleeping area fitted on VIP BBJ 747-8 aircraft was installed by Boeing Global Transport & Executive Systems (GTES) in Kansas.
The Aeroloft-fitted BBJ aircrafts will have an additional 36.5 meters of cabin space.
Private suites will provide space for a world leader take a quick nap in between state affairs.
Boeing says the modified cabin area will mainly be used by support staff or accompanying passengers of the primary customer.
Artistic rendering of how the Aeroloft cabin fits into the top deck of a Boeing BBJ 747-8.
BBJ President, captain Steve Taylor and BBJ chief pilot, captain Rene Gonzalez in the cockpit.
The first Boeing BBJ with fitted Aeroloft cabin departs Wichita, KS as it heads to Hamburg, Germany for more luxury fittings.
VIP comfort among the clouds
VIP comfort among the clouds
VIP comfort among the clouds
VIP comfort among the clouds
VIP comfort among the clouds
VIP comfort among the clouds
VIP comfort among the clouds
VIP comfort among the clouds
STORY HIGHLIGHTS
Boeing take delivery of Aeroloft-fitted Boeing Business Jet
Modified BBJ 747-8 has eight private sleeping areas
To date, all purchases made by undisclosed head-of-state customers
Business Traveller is a monthly show about making the most of doing business on the road.
(CNN) -- The business-flying elite will soon be able to cruise the skies in even more comfort as one of the world's leading aircraft manufacturers unveils its latest VIP cabin fittings.
Boeing has taken delivery of the first Boeing Business jet (BBJ) fitted with the new Aeroloft. Boeing said of the nine Aeroloft-modified BBJ aircrafts that have been sold to date, all are for destined for undisclosed head-of-state customers.
Designed by Washington-based company Greenpoint Technologies, the Aeroloft provides an additional 36.5 meters of cabin space in a VIP-configured BBJ 787-8. The new cabin design sits above the main deck of the aircraft between the upper deck and tail.
Christine Hadley, manager of sales and marketing at Greenpoint Technologies said: "The Aeroloft was developed to accommodate customer driven requirements for the Boeing 747-8 aircraft. Boeing cleared this 'overhead' area and customers desired a solution for optimal passenger space utilization."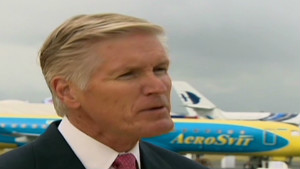 Boeing shows off at Farnborough airshow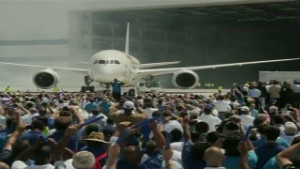 Boeing unveils new 787 Dreamliner
Exhausted business leaders can change into less formal attire before recharging their batteries in one of the eight private, luxurious sleeping quarters or sitting back in the adjacent lounge.
BBJ president, captain Steve Taylor said: We're certain all the BBJ 747-8 customers receiving the Aeroloft will be thrilled with this unique and comfortable space."
Taylor and BBJ chief pilot, captain Rene Gonzalez are flying the newly-fitted plane to Lufthansa Technik in Hamburg, Germany where more VIP interior elements are to be added for the first customer.
Boeing is scheduled to deliver another two BBJ 787-8s this year.
But high-flyers of the corporate world shouldn't rejoice just yet. The BBJ 747-8 is a large aircraft and after all the luxurious trimmings have been added, figures released by Boeing show the modified plane will have a price tag of around $500 million.

Today's five most popular stories
November 26, 2014 -- Updated 1110 GMT (1910 HKT)

Don't surprise Germans and stick to the agenda in Japan. What international road warriors need to know.
November 14, 2014 -- Updated 0633 GMT (1433 HKT)

Eurostar, the high-speed train company connecting London with Brussels and Paris, has just upped its game.
October 20, 2014 -- Updated 1407 GMT (2207 HKT)

Japan is set to make its mark in the skies with its first new commercial jet for over 50 years, the Mitsubishi Regional Jet, aka the MRJ.
October 4, 2014 -- Updated 0516 GMT (1316 HKT)

Think hotels are deliberately blocking your personal Wi-Fi networks so you'll buy theirs?
October 31, 2014 -- Updated 1749 GMT (0149 HKT)

How would you like to trim three hours off the current commercial jet flight time between Paris and Washington, D.C.?
October 3, 2014 -- Updated 1443 GMT (2243 HKT)

It's been a big week for makeovers in the world of aviation.
August 29, 2014 -- Updated 1525 GMT (2325 HKT)

Aviation isn't known as the most eco-friendly industry; running an airline produces an incredible amount of waste. But some are doing something about it.
August 19, 2014 -- Updated 1514 GMT (2314 HKT)

Airports aren't exactly stress-free zones, but drones, tracking and virtual reality could help make them better places.
August 12, 2014 -- Updated 0906 GMT (1706 HKT)

In many ways, airplanes are a retailer's dream come true. They serve a captive -- often bored -- audience with a disposable income.
July 30, 2014 -- Updated 1835 GMT (0235 HKT)

Takeoff on one of Airbus' new A350WXB test planes is a strangely quiet experience.