Report names the world's 100 most endangered species
September 12, 2012 -- Updated 0731 GMT (1531 HKT)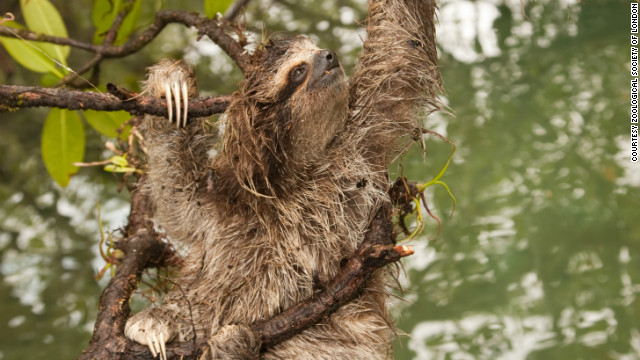 There are less than 500 individual pygmy three-toed sloths left in the wild and are only found in on the Isla Escude de Veraguas, Panama.
Found on Hainan island, China, conservationists believe less than 20 mature Hainan gibbons are still alive. Hunting has been the main reason for their perilous status as critically endangered.
The Luristan newt is only found in three fast-flowing streams in the southern Zagros mountains in Iran. Their illegal collection for the pet trade has led to less than 1,000 mature individuals being left in the wild.
Trapping and reclamation of its winter grounds has left the spoon-billed sandpiper on the brink of extinction. The global population is thought to be less than 100 breeding pairs.
The limited availability of habitat in Pembrokshire, Wales has led to this fungi being one of the world's most endangered.
It is unknown how many Archey frogs are left in their natural habitat of the Coromandel peninsula and Whareorino Forest in New Zealand.
Around 95% of the West Australian underground orchid's natural habitat has been destroyed leading to estimates that less than 100 exist in the wild.
The Javan rhino was once found in forests across Southeast Asia, but today less than 100 remain in the Kulon National Park in Java. Their horns are prized in traditional medicine and can fetch up to $30,000 on the black market.
Habitat loss, poaching and competition with livestock have left the wild Hirola population in dire straits. Less than 1,000 are left in southeast Kenya and southwest Somalia.
Found in Mauritius, destruction of its natural habitat and invasive species are pushing this plant to the brink of extinction.
A few hundred pairs of this small fish can be found only in small springs around Lake Aci in Turkey.
Found in two small caves on Silhouette and Mahe, Seychelles, it is thought to be only up to 100 mature individuals of this rare bat species left.
Less than 250 Sumatran rhino exist in the wild and can be found in decreasing locations across Indonesia and Malaysia.
Hanging on: Pygmy three-toed sloth
Hainan gibbon
Luristan newt
Spoon-billed sandpiper
Willow blister
Archey's frog
West Australian underground orchid
Javan rhino
Hirola
Dombeya mauritania
Aci Gol toothcarp
Seychelles sheath-tailed bat
Sumatran rhino
STORY HIGHLIGHTS
First time a list with most endangered has been published
8,000 scientists identified the animals, plants and fungi
Report's authors worry less "useful" species will not survive
(CNN) -- The 100 most endangered species on the planet have been identified in a first-of-its-kind list.
Announced during the International Union for the Conservation of Nature's World Conservation Congress in Jeju, South Korea, the list is the culmination of work by 8,000 scientists who identified the animals, plants and fungi from 48 countries that are most in danger of extinction.
Animals like the Hainan gibbon, pygmy three-toed sloth and Luristan newt are critically endangered but perhaps better placed to survive than many of the less charismatic species on the list, said the report's authors.
There is a fear among some conservationists that many of the plants and fungi listed will not be saved or gain public attention because they don't benefit humans.
Tasmanian Devils' hope for survival could rest on being less ferocious
Do these species have a right to survive or do we have a right to drive them to extinction?
Jonathan Baillie, Zoological Society of London
"The donor community and conservation movement are leaning increasingly towards a 'what can nature do for us' approach, where species and wild habitats are valued and prioritized according to the services they provide for people," said Professor Jonathan Baillie of the Zoological Society of London (ZSL) in a press statement.
"This has made it increasingly difficult for conservationists to protect the most threatened species on the planet. We have a important moral and ethical decision to make: Do these species have a right to survive or do we have a right to drive them to extinction?"
Infographic: Conservation hits and misses
The full list was published in a report entitled "Priceless or Worthless?", which aims to push the plight of less valued creatures or species up the agenda.
"All the species listed are unique and irreplaceable. If they vanish, no amount of money can bring them back," said the report's co-author Ellen Butcher, who is also from the ZSL. "However, if we take immediate action we can give them a fighting chance for survival."
Some species on the list provide economic benefits, such as the swim bladder of the giant yellow croaker fish used in traditional medicine (and by weight worth over seven times the price of gold).
Illegal ivory trade taking severe toll on Africa's elephants, groups say
Yet while accepting monetizing nature can be an effective policy in conservation, the wider value of species on the brink of extinction should not be disregarded, said the report's authors.
"All species have a value to nature and thus in turn to humans," said Simon Stuart, Chair IUCN Species Survival Commission.
"Although the value of some species may not appear obvious at first, all species in fact contribute in their way to the healthy functioning of the planet."
Madagascar's bid to save its majestic baobab trees