Chinese ships begin patrols around islands at center of dispute with Japan
September 14, 2012 -- Updated 0700 GMT (1500 HKT)
STORY HIGHLIGHTS
NEW: Japan says the Chinese ships ignored warnings not to enter its waters
NEW: Tokyo will take "all possible measures to ensure security," Noda says
Tensions between Japan and China are high over a group of disputed islands
Japan controls the islands, but China claims they are part of its territory
Tokyo (CNN) -- Six Chinese maritime surveillance ships entered waters around a group of islands at the center of a heated territorial dispute between Tokyo and Beijing, ignoring warnings from the Japanese authorities.
The Chinese ships arrived near the uninhabited islands -- which Japan calls Senkaku and China calls Diaoyu -- on Friday morning and began patrols and "law enforcement," China's state-run news agency Xinhua reported, citing a government statement.
The islands, situated in the East China Sea between Okinawa and Taiwan, are currently under Japanese control, but China claims they have been an "inherent" part of its territory "since ancient times."
The Chinese ships entered Japanese territorial waters despite warnings from the Japanese Coast Guard, said Shinichi Gega, a spokesman for Japan's 11th Regional Coast Guard Headquarters. Three of the ships have since left Japanese waters, he said.
The Japanese government will "take all possible measures to ensure security" around the islands, Prime Minister Yoshihiko Noda said Friday.
See a map of Asia's disputed islands
Two of the Chinese ships responded to a Japanese Coast Guard vessel's warning by reiterating China's territorial claim to the islands and saying they were carrying out patrol work, according to Gega. Japanese ships are continuing their own patrols of the area, he said.
The controversial Chinese move to begin patrols around the islands follows the Japanese government's purchase of several of the islands from a private Japanese owner earlier this week, a deal that China described as "illegal and invalid."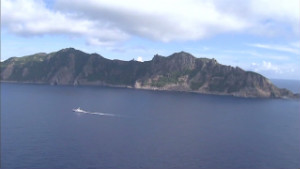 Disputed islands in East China Sea
Animosity between the two countries over the islands runs deep.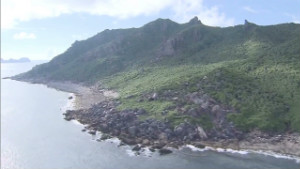 Why is Japan feuding over islands?
They have come to represent what many Chinese people see as unfinished business: redressing the impact of the Japanese occupation of large swathes of eastern China during the 1930s and 1940s.
China says its claim goes back hundreds of years. Japan says it saw no trace of Chinese control of the islands in an 1885 survey, so formally recognized them as Japanese sovereign territory in 1895.
Japan then sold the islands in 1932 to descendants of the original settlers. The Japanese surrender at the end of World War II in 1945 only served to cloud the issue further.
The islands were administered by the U.S. occupation force after the war. But in 1972, Washington returned them to Japan as part of its withdrawal from Okinawa.
CNN's Junko Ogura in Tokyo and Jethro Mullen in Hong Kong contributed to this report.

Today's five most popular stories
Part of complete coverage on
Asia's disputed islands

At first sight it looks like a scene from a post-apocalyptic movie. Journalist Tomas Etzler travels to one of the most remote locations in the South China Sea -- the front line of a dispute between the Philippines and China.
November 29, 2013 -- Updated 0521 GMT (1321 HKT)

President Xi Jinping has reshaped China's foreign policy by recalibrating its stresses on sovereignty and stability, writes Shen Dingli.
November 27, 2013 -- Updated 0412 GMT (1212 HKT)

Two U.S. military aircraft flew into China's new air defense zone, an action that could inflame power tensions, a U.S. official said.
November 27, 2013 -- Updated 0715 GMT (1515 HKT)

Tensions magnified among the world's top three economies over China's controversial new air defense zone.

CNN looks at the main flashpoints as tension simmers between rival countries over a series of scattered and relatively barren islands.
November 27, 2013 -- Updated 0024 GMT (0824 HKT)

CNN's David McKenzie reports from Beijing on why the Chinese claim sovereignty over an area in the East China Sea.
November 1, 2013 -- Updated 0042 GMT (0842 HKT)

Surprise, surprise, Japan and China are still not getting along, writes Jeff Kingston of Temple University in Japan.
October 25, 2013 -- Updated 0935 GMT (1735 HKT)

Japan is using YouTube to bolster assertions of ownership over islands also claimed by neighboring China and South Korea.
August 6, 2013 -- Updated 0100 GMT (0900 HKT)

Players join the ranks of the country's military to take on the enemy in China's first online game co-developed by the People's Liberation Army.
April 24, 2013 -- Updated 1016 GMT (1816 HKT)

The fragile relationship between China and Japan came under fresh strain as ships from both sides crowded around the disputed islands.
April 8, 2013 -- Updated 1753 GMT (0153 HKT)

Sightseeing cruises soon to set sail to China's newest city, Sansha, located on a disputed island in the South China Sea, a Chinese official said.

America's power and purpose are in jeopardy if the world's three largest economies cannot step back from the brink, writes Patrick Cronin.
November 15, 2012 -- Updated 0854 GMT (1654 HKT)

China uses perceived provocations as a chance to change the status-quo in its favor, writes Stephanie Kleine-Ahlbrandt.