Residents in Syria's capital 'stuck in the middle' as civil war closes in
September 19, 2012 -- Updated 1235 GMT (2035 HKT)
STORY HIGHLIGHTS
"I am worried sick ... but there is nothing we can do," a woman in Damascus says
Another worries about how to respond to regime or rebel fighters who might stop her
Artillery shells explode just a few miles away from busy city streets
Damascus, Syria (CNN) -- After 18 months of violent unrest, clouds of black smoke suggest conflict is closing in on Syria's capital.
On the streets of Damascus, no one flinches when artillery shells explode just a few miles away. Residents who support neither the government nor the opposition say the situation is out of their control.
"Every day, we are hearing this boom, boom and everything else, but there is life that is going on," said Rama Hamdi, seeking a bit of normalcy at a beauty salon. "I am worried sick about it, but there is nothing we can do."
Jolie visits Syria refugees in Iraq
Despite an abundance of people at an ancient bazaar, several storekeepers say business is down. They said they are afraid to talk on camera, worried about what the government might say and what the rebels might do to them.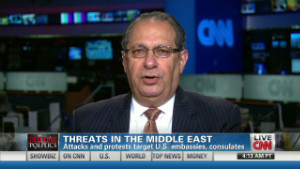 The 'red line' between the U.S. & Syria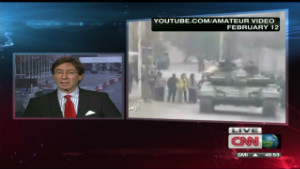 Finding a solution in Syria
When asked about the shelling heard in the background, the storekeepers say they are afraid because they think the war is getting closer.
And they're right. Destruction from when government forces chased the rebel Free Syrian Army lies just a 10-minute drive away.
On many days, the reported death toll from around the capital is far higher than from areas surrounding other cities.
"Nowadays, I cannot go to the countryside without being worried someone will stop me," said Rauda Alaita, the salon owner. "Is it the real army or the other army stopping me? What answer should I answer them with (about) who I am? Now it's really difficult because you are stuck in the middle."
At a news conference under the banner of unity -- and in an array of anything but united -- opposition figures called for talks with the government.
War clouds start of school year in Syria
There is an air of urgency here as speakers discuss how the situation is worse than it was a year ago. They say they need to be united and need to speak with a common voice. Even as these talks are going on, here you can hear a blast in the distance.
But members of the armed opposition, such as the Free Syrian Army, aren't present. They'd be arrested.
The opposition members gathered here are the ones the government tolerates. Some, like Mazen Bilal, know they are powerless.
"We are demanding from the regime ... guarantees for the safety of this opposition to come in," Bilal said, "but we can't impose this on the regime."

Part of complete coverage on
Syrian crisis

There's more to the Syrian civil war than rebels versus the regime. Syria's neighbors in the Middle East also have a stake in the conflict.
May 9, 2013 -- Updated 2113 GMT (0513 HKT)

Israel is taking steps to defend itself against threatened retaliation from Syria after claims it launched airstrikes on Damascus.
May 14, 2013 -- Updated 1636 GMT (0036 HKT)

Domestic political will is a necessary for intervention and polls show Americans are reluctant to support military interventions in Syria.
May 6, 2013 -- Updated 1738 GMT (0138 HKT)

Syria's claim that Israel launched airstrikes presents a dangerous escalation of Israel's involvement in Syria's war, writes Fawaz Gerges.
May 7, 2013 -- Updated 0941 GMT (1741 HKT)

The U.N. says a Syrian rebel group may have used a nerve agent -- it would not be the first time the al-Qaeda-affiliated group used chemical weapons.
May 1, 2013 -- Updated 1800 GMT (0200 HKT)

Having willfully avoided direct military involvement in Syria for the past two years, Obama may not be so lucky anymore, writes Aaron David Miller.
May 10, 2013 -- Updated 0944 GMT (1744 HKT)

What began as a protest movement became an uprising that metastasized into a war, a vicious whirlpool dragging a whole region toward it.

A devout man prays. A fighter weeps over a slain comrade. These are a few faces of the Syrian conflict captured by photographer LeeHarper.
April 25, 2013 -- Updated 0859 GMT (1659 HKT)

A group of pro-Syrian regime hackers that has targeted major news organizations but its cyber attacks can have real-life impact.
March 7, 2013 -- Updated 2324 GMT (0724 HKT)

The role of women in Syrian uprising is little reported, but many have played a key part as activists and medics since the bloodshed began.

Are you in Syria? Share your stories, videos and photos with the world on CNN iReport, but please stay safe.
Today's five most popular stories