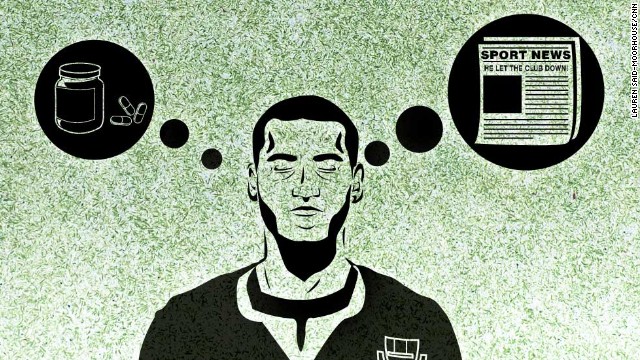 In 2009, Robert Enke was first-choice goalkeeper for the German national football team, enjoying a successful club spell with Hannover. But in November of that year, he took his own life by stepping in front of train. The 32-year-old had been battling depression for the majority of his career and the story of his struggle is told movingly in Ronald Reng's acclaimed biography "A life too short: The tragedy of Robert Enke".
Kelly Holmes is a British sporting hero after winning her gold medals over 800 and 1500 meters at the Athens 2004 Olympic Games. But the track star has had to fight depression throughout her life, including a period of self-harming in the year before her Olympic triumph.
Stan Collymore is former England footballer turned broadcaster who now campaigns for depression charities. He tweeted last year: "I'm tweeting because the stigma around this illness suggests that us sufferers all of a sudden become useless, maudlin, and unable to function. Well, I haven't seen daylight for 4 days now ... but I've done a week of Talksport/Channel 5 prep work, a national newspaper column, all in the eye of one of the most challenging, soul destroying bouts of this cruel illness one could have."
Sebastian Diesler was hailed as the future of German football after bursting onto the international scene at the start of the last decade. His performances earned him a move to Bayern Munich in 2002, but by 2007 he had retired -- aged 27. Diesler endured an injury-ravaged career, while struggling to come to terms with the pressure of professional football.
Boxer Ricky Hatton revealed he contemplated suicide following his brutal defeat to Manny Pacquiao in 2009. Hatton, who has suffered from drink and drug problems, retired from the sport in the aftermath of the loss, but this month announced he intends to make a return to the ring in November.
Marcus Trescothick was a key member of the England Test cricket team which beat Australia to win the Ashes in 2005. Ahead of the return series in 2007, England announced Trescothick would be leaving the squad citing a reccurence of a stress-related illness as the reason.
Jerry West is an NBA icon who revealed he has been battling depression since childhood, stemming from his abusive father. West said his relationship with his father left him feeling worthless and tormented.
Former New Zealand rugby international John Kirwan spoke in detail about his battle with depression in the book "All Blacks Don't Cry". He is actively involved with mental health campaigns in his homeland.
The Secret Footballer
Robert Enke
Kelly Holmes
Stan Collymore
Sebastian Diesler
Ricky Hatton
Marcus Trescothick
Jerry West
John Kirwan
STORY HIGHLIGHTS
"The Secret Footballer" tells CNN about his battle with depression
In the house he grew up in, professional football viewed as "almost a cop out"
"The Secret Footballer" takes the drug Citalopram to help with his illness
He remains convinced there must be more to life than playing football
Editor's note: "The Secret Footballer" is a current player who has chosen to write about his life in the English game. His book "I Am The Secret Footballer: Lifting The Lid On The Beautiful Game" is published by Guardian Books on August 23. Read more about him at www.thesecretfootballer.com
(CNN) -- CNN asked "The Secret Footballer" to write a column about his experience of depression in football.
"They f*** you up, your mum and dad". According to the English poet, Philip Larkin, they do, anyway. The quote sticks in my head not least because, strangely, it was something that my dad used to say to me when I was about 13 years old before slapping a copy of the poet's 1974 book, "High Windows", in my hand.
At the time, it was difficult to know what to think. On the one hand, it was an extremely steep learning curve, way beyond anything that I was capable of digesting; but on the other hand, it sowed a seed in my mind that has only just begun to germinate - that with the right influences and the right teachers, a person has the ability to do and say what they please.
If they're lucky (or not), they may even find an audience, if what you seek is fame and attention. I never wanted to be famous.
"Secret Footballer" reveals life inside the English Premier League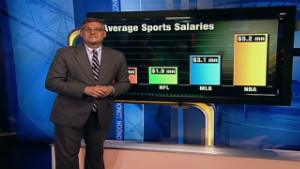 Footballers' salaries surge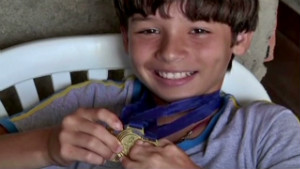 Footless footballer to meet Messi
But things in our house were never quite how they first appeared. When I was still of Disney age, I remember being sat down to watch "Alice in Wonderland". It was a surreal experience, of course it was.
The story makes no f***ing sense and features a succession of nightmarish characters that could quite easily pass for somebody's version of hell. Then, one day, my father told me to watch it again: "Right, now listen to this song and tell me what you think Alice in Wonderland means".
The song was "White Rabbit", by Jefferson Airplane, and I happen to be listening to it as I type this. The song seemed to finish with a thousand doors all swinging open in unison as the band's female singer, Grace Slick, belted out the line "Feed your head, feed your head". And that's when I understood.
"Feed your head, feed your head", it was an acid trip. Everybody works that out eventually, of course, but when you work it out at the age of 12, things are never quite the same again.
When it is obvious that all you want to do as a kid is play football, these interruptions are as curious as they are eccentric, but my outlook on life really began to change out of all recognition when I became a footballer. Up until that point, I had been in search of some perspective to life, a meaning, if you like, and I felt that it wasn't far away.
I still continued to look for these little insights into life while having to live a very sterile existence as a footballer. You can be the most successful footballer who ever graced the pitch but you're never any closer to finding a meaning than somebody who has only played a handful of pub games. It doesn't matter how many medals you win.
The level of attention that a top-flight footballer gives over to mundane things such as practice, hydration, rest and nutrition is both extremely important if you are to maintain any success in the game and yet, at the same time, incredibly frustrating because it accounts for a lot of time that could be spent stimulating the mind.
After a while, the things that made me a great footballer hampered my life progress and I came to resent every one of them and, in turn, it led me down a very dark path.
It is a feeling that I still have to this day, albeit the edge has been taken off by the medication I now take. I'm sorry if you think that I sound ungrateful but the fact of the matter is that, in the house I lived in as a kid, playing football for a living (or a means to an end) is regarded as a less-than-worthwhile contribution to the human race. Almost a cop out, in fact.
And I can understand that because I have only ever found football to provide me with any great joy in the immediate aftermath of winning a game. When you win a game of football, it is a unique feeling.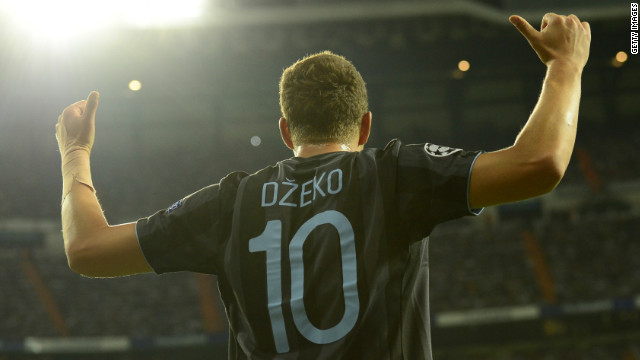 Edin Dzeko came off the bench to give Manchester City the lead against Real Madrid in their European Champions League encounter in the Spanish capital.
But it was Jose Mourinho's Real who edged a pulsating tie, Cristiano Ronaldo scoring a last-minute winner to give the Spanish champions a 3-2 win. As the ball struck the net, Mourinho slid on his knees across the touchline.
Big-spending Zenit St Petersburg, who recruited Hulk (pictured) and Axel Witsel from Portuguese football during the recent transfer window, were stunned by Spanish Champions League debutants Malaga.
Despite being in financial turmoil, Malaga continued their fine start to the season with a 3-0 triumph. Isco (pictured) scored either side of a strike from Argentine striker Javier Saviola.
It has been a turbulent few months for AC Milan, who lost star duo Zlatan Ibrahimovic and Thiago Silva to Paris-Saint German during the offseason. Massimiliano Allegri's team have made a stuttering start to the Italian season, which carried over into the Champions League on Tuesday with a 0-0 draw against Anderlecht.
While his former club were struggling, Silva was enjoying a dream debut for PSG. The Brazilian defender scored the second of four goals, with PSG running out 4-1 winners against Dinamo Kiev.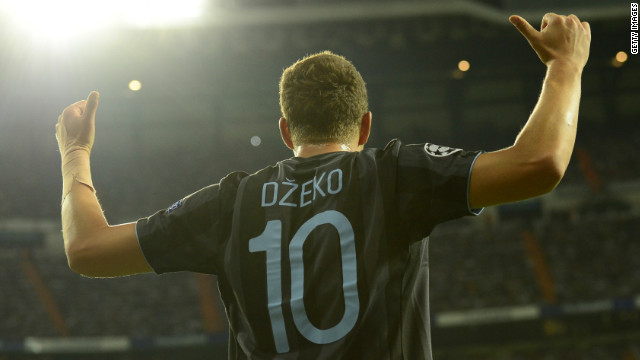 Real Madrid stun Man City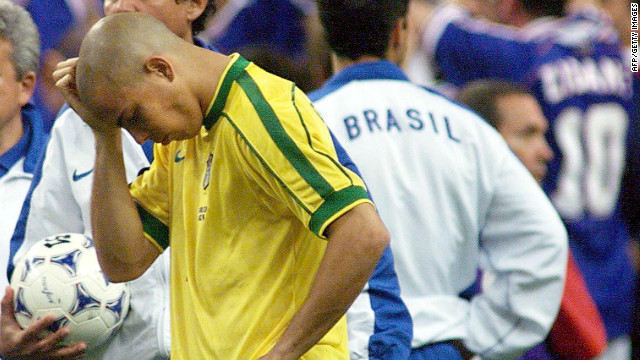 Ronaldo arrived at the 1998 World Cup in France as the most talked about footballer in the world. The 22-year-old scored four goals during the tournament, but confusion and controversy reigned before and after Brazil's 3-0 defeat to France in the final. Ronaldo was initially left out of the starting XI for the Paris match, before being reinstated at the last minute. He was largely anonymous during the match, with the exact details of what occured prior to kick-off still unknown.
Redemption came four years later. Alongside the attacking talents of Rivaldo and Ronaldinho, he found the net six times as Brazil romped through to a final match with Germany. In Yokohama's International Stadium, Ronaldo scored two second-half goals to give Brazil a 2-0 win and finally exorcise the ghosts of Paris four years earlier. It was Ronaldo's second World Cup triumph, having been part of Brazil's winning squad in 1994.
Ronaldo has scored more goals in FIFA World Cup matches than any other player in history. With his trademark quick step-over and a simple finish against Ghana in a round of 16 match in 2006, he scored his 15th and final World Cup goal to overhaul the legendary German Gerd Muller.
Ronaldo joined Real Madrid from Inter Milan in 2002. After waiting until October to make his debut for Madrid, he ended the season with 23 league goals as Los Blancos took the Spanish La Liga title.
During his career Ronaldo was hampered by chronic knee injuries. After scoring a stunning hat-trick in a European Champions League game against Manchester United and with Real on track for a treble, Ronaldo again succumbed to injury. In 2007, Ronaldo was sold to AC Milan having scored 104 goals in 177 matches for Real.
After a year with AC Milan and two with Corinthians in his native Brazil, Ronaldo announced his retirement from football in February 2011. In addition to his injuries, Ronaldo was also suffering with a thyroid problem which made it difficult for him to control his weight.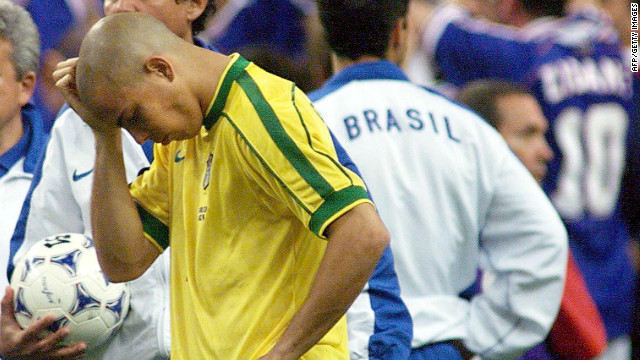 El Phenomenon: The career of Ronaldo
Winning says "I'm better than you and the lads that I play with are also better than you". It's a playground mentality, deep rooted in us, that comes racing to the surface in the wake of a success.
But losing a football match is a terrible feeling and, worse, being responsible for that loss with a mistake feels as if the whole world is pointing at you and laughing while taking pot shots at your stomach.
Afterwards, you arrive home with your thoughts and that's where a player suffering from depression is extremely vulnerable. I know because I went through it for nine-tenths of my career. Everything about football, other than winning, feels like a grind. To me at least.
I can recall being comprehensively beaten by Arsenal. That was when a little piece of my life fell apart. Up to that moment, I had felt quite comfortable as a footballer in the Premier League; I never looked out of my depth and, if anything, I performed very well.
I watched the DVD of that match over and over again, trying to work out how the Arsenal players were doing what they did. It was like Brian Wilson listening to "Sgt. Pepper" on a loop. "How do they do this?" I asked myself. "How can I do it?" Once the game becomes complicated in your head, there is no way back.
I became even more withdrawn to the point where I'd come in from training and sit on my own staring at the wall. The TV wasn't on and the curtains were usually drawn.
I can't even remember if I had any thoughts about life, it was just an emptiness, a hopeless void that was only punctuated at certain points of the day by playing a game that I had come to hate. For me, that is the "spiral" effect that you sometimes hear sufferers of depression talk about.
Around the training ground, I became extremely volatile and would find myself in conflict with a different person nearly every day. It was all I could do to get through it. I just wanted to go home and stare at the wall again -- the wall never answered back, you see.
At its worst, I drove to the training ground, took one look around at the familiarity and turned around. My brain had started to associate everything with unhappiness.
The silver BMW belonging to our striker, which was the first car I saw in the morning, now filled me with dread; the groundsman who used to grunt "Good morning" to me while having his morning fag became a figure of repetitive torture.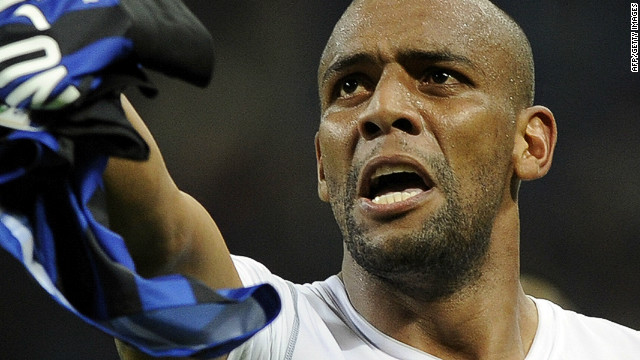 From Inter Milan to Manchester City: The reigning English Premier League champions have snapped up right-back Maicon for an undisclosed fee to help boost their bid for domestic and European honors in 2013. The Brazilian international has been at the San Siro for the past six seasons and made 235 appearances for the club.
Spurs to Hamburg: The Dutch international returns to the Bundesliga after a successful two-year spell at the north London club. Van der Vaart played for Hamburg from 2005 to 2008 before joining Spanish champions Real Madrid.
Manchester United to Fulham: With the arrival of Robin van Persie from Arsenal earlier this month, the chances of Dimitar Berbatov playing even more of a bit part at Old Trafford have only increased. Fulham have been the benefactors of Alex Ferguson's growing indifference to the player he signed for $47 million from Tottenham Hotspur in 2008. The 31-year-old Bulgarian rejected suitors in Italy, notably Juventus and Fiorentina, to stay in the English Premier League.


The $55 million paid by PSG for 19-year-old midfielder Lucas Moura broke the Brazilian transfer record for the third time this year, eclipsing the fee the French club spent on Thiago Silva and Chelsea's deal for Oscar. He will move to Paris in January, becoming the sixth Brazilian at the club.
Sao Paulo to Paris Saint-Germain


At $50.75 million, Thiago Silva is the world's most expensive defender in terms of upfront transfer fees -- though the largest including add-ons remains Rio Ferdinand's move from Leeds to Manchester United, which eventually rose to $150,000 more than the Brazilian's total). The 27-year-old spent three years in Italy with AC Milan and is an established international.
AC Milan to Paris Saint-Germain


Spain midfielder Javi Martinez completed a "complicated" move to the Bundesliga giants after activating a $50 million buyout clause in his contract that left him having to foot some of the bill.
Athletic Bilbao to Bayern Munich


Luka Modric completed his long-awaited switch from English club Tottenham Hotspur to Spanish champions Real Madrid for a reported $50 million. After attempting to force a transfer ahead of the 2011-12 season, the Croatian has finally got his move away from White Hart Lane.
Tottenham to Real Madrid
Lille to Chelsea
Eyebrows may have been raised upon seeing the size of the $49.5 million transfer fee Chelsea paid for Eden Hazard, but the 21-year-old Belgium winger is one of Europe's biggest talents, having being selected for the Ligue 1 Team of the Year three times in a row.


After a protracted saga of a transfer, Chelsea finally gave in to Internacional president Giovanni Luigi's demands and paid a Brazilian transfer record $39.25 million for 20-year-old midfielder Oscar. Only time will tell if the talented young playmaker is worth the money, but with so many creative options at Roberto di Matteo's disposal he may well have to make an immediate impact or risk spending a season on the bench.
Internacional to Chelsea


Robin van Persie, the English Premier League's top scorer last season, stunned Arsenal fans by joining rivals United for $37 million after refusing to sign a new contract.
Arsenal to Manchester United


Argentina international forward Ezequiel Lavezzi arrives at PSG with a $36.25 million price tag and a big reputation following his five years in Italy. He will link up with another former Serie A star in Zlatan Ibrahimovic.
Napoli to Paris Saint-Germain
Borussia Dortmund to Manchester United
Those who cynically write off $26.25 million signing Shinji Kagawa as nothing more than a ploy to boost United shirt sales in Asia do so at their own peril -- the 23-year-old is a top-level player with excellent credentials: two Bundesliga titles, one German Cup, an Asian Cup and more than 30 appearances for Japan.


Young England international Jack Rodwell was Roberto Mancini's first signing since winning Manchester City's first English league title in 43 years. At $24 million he is far from the most expensive player at the Etihad Stadium, but the highly-rated 21-year-old midfielder is seen as a long-term investment.
Everton to Manchester City


Until last season, Zlatan Ibrahimovic had won the league eight years in a row with five different clubs. The Sweden striker's $24 million move to PSG pushed him further ahead of Nicolas Anelka as the most expensive player of all time, with total transfers of more than $210 million.
AC Milan to Paris Saint-Germain


For the second year in a row, a key Arsenal player has been lured to Spain by Barcelona. Last August it was Cesc Fabregas, this time it's Cameroon midfielder Alex Song. The 25-year-old moved for $23.7 million on a five-year contract, with a release clause of $100 million.
Arsenal to Barcelona


Spain star Santi Cazorla was one of Malaga's marquee signings last season, but is the first of the troubled Spanish club's high-profile players to depart in the midst of financial problems. The winger's $23.5 million fee is similar what he cost when joining from Villarreal.
Malaga to Arsenal
Borussia Monchengladbach to Borussia Dortmund
Finishing fourth in both goals scored and assists last season, Marco Reus almost single-handedly pushed Borussia Monchengladbach to a fourth-place finish in Germany and Champions League football. Champions Dortmund see the 23-year-old, who cost $21 million, as the ideal replacement for Shinji Kagawa -- and if his brief appearances at Euro 2012 are anything to go by he could become much more.


After much interest from all corners of Europe, FC Twente's top-scoring target man Luuk de Jong decided to join Borussia Monchengladbach in an $18. 5 million deal. The 21-year-old, who scored 25 goals in 32 appearances last season, went to Euro 2012 but did not appear for the Netherlands.
FC Twente to Borussia Monchengladbach


With the eyes of the English Premier League's fans firmly set on the Robin Van Persie transfer saga, many have neglected the man coming in to replace him -- $18.5 million France international Olivier Giroud. For all the money PSG spent last season, it was Giroud and his 21 goals which spurred underdogs Montpellier to a first Ligue 1 title.
Montpellier to Arsenal


New Barca boss Tito Villanova acted quickly to fill the gap left since Eric Abidal's liver transplant, bringing in Spain's Euro 2012 surprise standout player Jordi Alba for a bargain $17 million to fill the left-back slot before the tournament had even finished.
Valencia to Barcelona


New Liverpool boss Brendan Rodgers paid $17 million for 21-year-old striker Fabio Borini, whose nine goals in 24 appearances at Roma earned him selection for Italy's Euro 2012 squad. He returns to Britain following an earlier loan spell with Rodgers' former club Swansea.
AS Roma to Liverpool


Lukas Podolski has left his childhood club Cologne for the second time, having struggled to make an impression at Bayern Munich following his 2006 transfer. The Germany star cost Arsenal $15.75 million after scoring 18 Bundesliga goals last season -- which was not enough for "the Billy Goats" to avoid relegation.
FC Cologne to Arsenal


A surprise star of Euro 2012, Mario Mandzukic scored three times in three games for Croatia to be the tournament's equal top scorer. Bayern paid Bundesliga rivals Wolfsburg $15.75 million for the 26-year-old striker's services.
Vfl Wolfsburg to Bayern Munich


Belgium international Jan Vertonghen is already being touted by Tottenham fans as the long-term replacement for injury-plagued former captain Ledley King in the center of defense. His protracted $11.5 million transfer could prove key to the fortunes of new Spurs boss Andre-Villas Boas.
Ajax to Tottenham Hotspur


Chelsea took its spending in the current transfer window to over $100m with the signing of Spanish full back Cesar Azpilicueta from French team Marseille.
Marseille to Chelsea


Germany midfielder Marko Marin agreed his $9.5 million move to Chelsea before last season had even finished, and the 23-year-old is expected to make a big impact for the European champions with the skills that have seen him dubbed "the German Messi."
Werder Bremen to Chelsea


Antonio Cassano has left AC Milan to join city rivals Inter, while fellow Italy striker Giampaolo Pazzini went in the other direction. Milan had to pay a reported $8.7 million extra for Pazzini, who at 28 is two years younger than his former Sampdoria teammate. Cassano, meanwhile, recovered from heart surgery to help Italy reach the final of Euro 2012.
AC Milan to Internazionale


Diego Forlan struggled to impress in his one season in Italy after seven prolific years in Spain's top flight, but the 33-year-old Uruguay striker could prove to be a free-transfer bargain in Brazil for Internacional. He was named best player at the 2010 World Cup, where he was joint top scorer, and has led the goal charts twice in Europe.
Internazionale to Internacional


Midfielder Riccardo Montolivo agreed to join Milan on a free transfer before helping Italy reach the final of Euro 2012, having spent seven years at Fiorentina.
Fiorentina to AC Milan


Turkey midfielder Nuri Sahin failed to impress in in his one season at Real Madrid after being snapped up from German champions Borussia Dortmund, and has been given the chance to kickstart his career in the English Premier League.
Real Madrid to Liverpool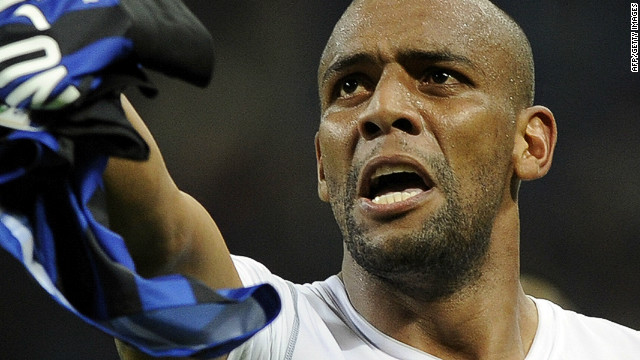 Top European football transfers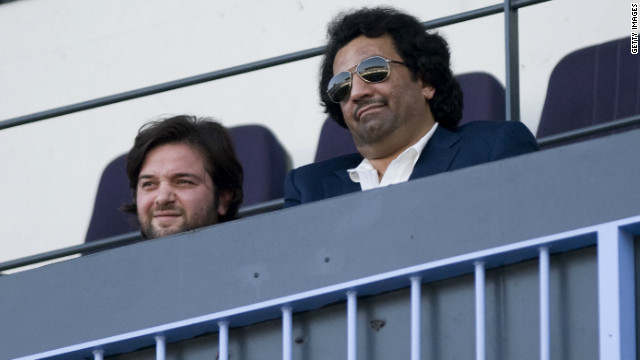 Sheikh Abdullah Al Thani (right) purchased Spanish La Liga team Malaga in June 2010 and proceeded to spend millions bringing top players to the Costa del Sol.
Under the guidance of former Real Madrid coach Manuel Pellegrini, players such as Santiago Cazorla and Dutch defender Joris Mathijsen helped Malaga finish fourth and qualify for the Champions League for the first time. However, Pellegrini was reportedly not paid for several months this year, while sporting director Fernando Hierro quit in May.
As Malaga began cutting costs, the big-name players left the club. Cazorla was transferred to English team Arsenal, while Mathijsen returned to his native Netherlands with Feyenoord.
Malaga's fans have been left in the dark where Al Thani and the club's future is concerned. Some supporters accused journalists of attempting to destabilize the team with stories of wages not being paid.
Malaga earned a 1-0 win over newly-promoted Celta Vigo on the Spanish season's opening weekend, but Pellegrini's team needed a goal from 16-year-old substitute Fabrice Olinga to secure victory.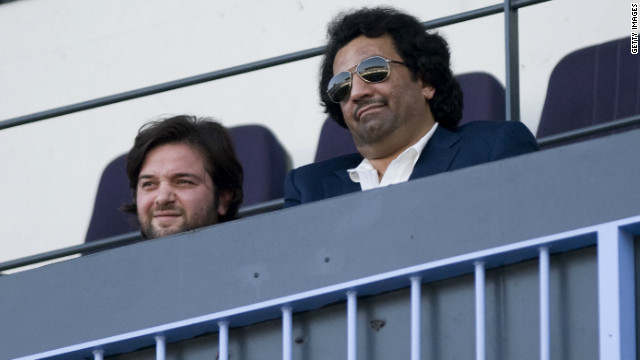 Malaga's financial meltdown
And then I'd walk through the changing room doors only to be confronted by the usual banter regarding my shoes or jeans or the fact that I was late.
The safety guard that prevented me from engaging in any violence in the split second after I walked through the door was to walk straight through to the boot room and stay there for a couple of seconds before walking back in with my boots. Those few seconds were very important. They saved a lot of people from a lot of punches, me included.
In any football club, there are one or two players who live and breathe football. They have to be first even in the warm-up and, for me, they became my barometer whenever I came into training.
The more these two pissed me off for no reason, the more susceptible I felt I was to blowing up. I hate warming up; it is without doubt one of the most tedious things in a footballer's career, particularly when it is the same warm-up day in and day out.
One day, I think I must have cracked; either that or I had a moment of clarity without realizing it. "I don't want to do this any more," I thought to myself. "This must be one of the most pointless things that any person can do with their life".
And with that, I walked out of the training ground and went home. I surfaced from my bedroom three days later. The crazy thing is that, when I went back to training, nobody said a word. Not the players, not the coaches and not the manager.
Years later, after becoming all but a recluse, my club doctor invited me into his office to talk about my moods. He took one look at me and asked: "How is your mental health?" That's when I knew that he'd busted me.
I confided in him everything that had happened to me in the last 20 years, which didn't take as long as I'd thought because I hadn't done anything worth doing, I didn't go out and I didn't talk to anyone.
The levels that I'd sunk to are all too obvious if I look back at the first few months of my treatment. Below is an extract of a conversation that my club doctor was kind enough to pass on to me for this article. We think that this is probably about three months into my treatment.
Doctor: "Don't worry, you're not different to anyone else"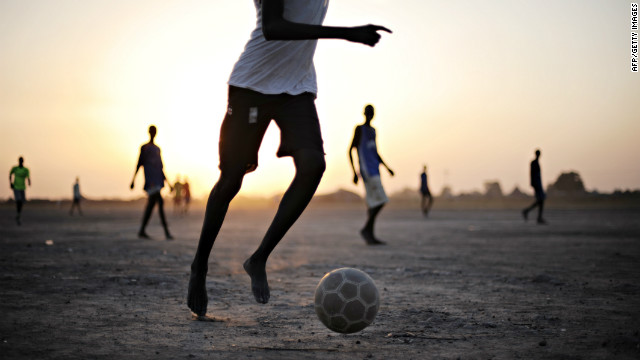 An academic study in 2009 estimated as many as 20,000 African boys are living on the streets of Europe after failing to secure contracts with European clubs following their trials.
In the last six months the total income from 4,973 transfers around the globe was $576 million. Stars like Arsenal striker Robin van Persie dominate the transfer headlines but the bulk of football transfers go under the media's radar.
Clubs are constantly on the search for the next "Lionel Messi." The Argentine joined Barcelona from Newell's Old Boys in 2000 at the age of 13.
Every professional player is required to possess a "sport passport" under FIFA regulations. But if a player is registered for the first time in Europe, confusion can arise because a federation there might not necessarily record the player's former clubs in South America or Africa.
Sports agent Paulo Texeira has switched his attention from representing footballers to fighting training compensation claims for South American and African clubs. In his spare time he is a keen surfer.
Teixeira claims Italian club AC Milan owes Brazilian club Botafogo FC of Ribeirao Preto compensation involving its training of the player Sergio Ceregatti.
Milan and Belgian club Anderlecht have complained to FIFA about what they claim is Teixeira's "defamation and calumny."
Training compensation is not just a matter for the European mega-clubs. Lowly Welsh team Aberyswyth Town had to wait over two years for a five-figure compensation payout from English side Shrewsbury Town after Tom Bradshaw became a professional.
In the Olivier Bernard case, the European Court ruled against Newcastle United in 2010 after a claim by the player's former French club Lyon, but cautioned that training-cost compensation is only acceptable if it reflects the accurate amount lost by the breach of contract.
Argentine laywer Ariel Reck made a successful compensation claim regarding Franco di Santo. After transferring from Chilean club Audax Italiano to Chelsea in 2008, training fees were still owed to two Argentine teams.
In a move to ensure the future rights of African clubs and players alike, Texeira has formed a partnership with the Samuel Eto'o Foundation to ensure care of the players enrolled at the Cameroon star's numerous football academies.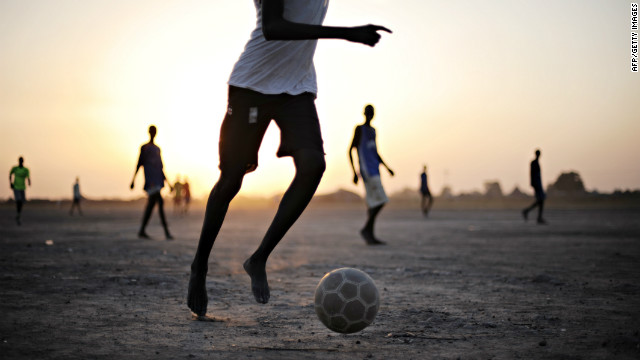 Football's invisible children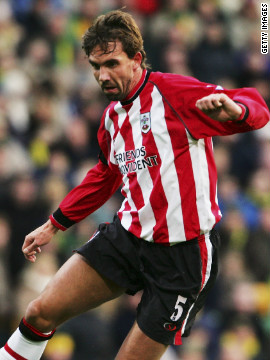 Former Southampton defender Claus Lundekvam has claimed there was widespread spot-fixing in the English Premier League. Lundekvam told a Norwegian television channel he and fellow players would bet on minor details of games, such as when the first throw-in would be taken.
Lars Bohinen enjoyed eight years in the Premier League and played alongside Lundekvam at international level for Norway. He told CNN there is far more addiction among top-flight players than people see. He said: "You could sense it from the way they gambled."
Former England captain Tony Adams is one footballer who has lived with addiction. After overcoming drug and alcohol problems he founded the Sporting Chance Clinic, dedicated to helping other sportsmen and women do the same. The Professional Footballers' Association and his one-time Arsenal teammate Paul Merson are also patrons.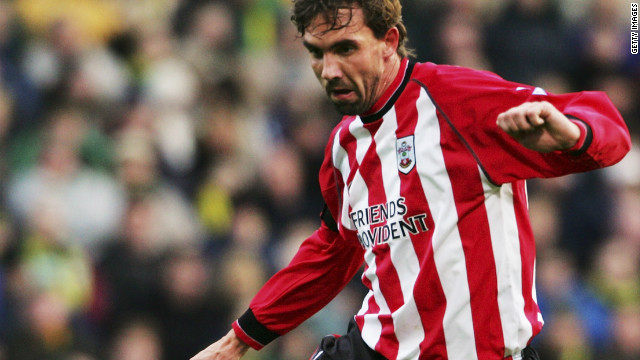 Footballers speak out on addiction
Me: "No, doc, you're wrong, I am different. I used to 'get it' but now I've lost it"
Doctor: "What did you 'get'?"
Me: "Everything, doc. I was close to understanding everything and now it's gone"
Doctor: "Do you mean football or something else?"
Me: "Something else"
Doctor: "Do you know what that is?"
Me: "Not any more"
Doctor: "OK, I think we should take your Citalopram dosage up from 20mg to 40mg, just for a few weeks to see how we get on. I'd also like you to see a CBT therapist as quickly as we can.
Do you have anyone local that can escort you home today?" (Doctors only ever ask that when they have a genuine concern that you will throw yourself under a train that day).
For what felt like a split second after I upped my medication, I thought I was home. I immediately felt that I might be able to get back to what I was doing before football.
Alas, this turned out to be nothing more than a Proust-like brush with a remembrance of things past. The side effect of Citalopram is a terrible jaw ache brought about by non-stop grinding of the molars.
My brain had tricked me in to temporarily thinking that this was a good thing while attempting to cross reference my memory bank to make sure. In the event, it wasn't a good thing.
The ingredient in Citalopram that causes this weird side effect is a variation of MDMA, which -- as all you budding chemists will know -- is the main ingredient in ecstasy. The next time you go to a nightclub and see hundreds of packets of "Chewits" behind the bar, you'll know the reason.
I remain convinced that there is something more to life but, despite receiving the treatment that I clearly needed, the answer has never felt so far away. Whatever that was, I am certain that I was on to it before this game got in the way. For me, football has seriously f***ed me up. Or it could be that Larkin was right ...
"They f*** you up, your mum and dad.
They may not mean to, but they do.
They fill you with the faults they had
And add some extra, just for you."
My son is seven years old. He already knows the truth about Alice in Wonderland and Jefferson Airplane's White Rabbit and he is far more advanced than I was at his age.
But when he asks me about football and what really happens in this game of ours, I remain fiercely protective of him. It's for his own good, he's simply too young to understand.