Grand National safety changes announced
September 20, 2012 -- Updated 1547 GMT (2347 HKT)
STORY HIGHLIGHTS
Organizers of UK's Grand National announce changes to start position and fences following two fatalities in 2012
Steeplechase run over 30 fences by 40 horses claimed lives of Synchronized and According to Pete
Horse welfare charity welcomes course changes but urges a reduction in number of horses allowed to enter
(CNN) -- A package of measures designed to improve the safety of the UK's Grand National steeplechase have been announced by British horse racing authorities.
Details of changes to the start and modification to fences were published Thursday by Aintree Racecourse and the British Horseracing Authority (BHA) following the deaths of two horses during this year's race last April.
"Following this year's race, our priorities were to establish the facts surrounding the incidents that occurred during the running of the race and, secondly, to review the events which led to what was an unsatisfactory start to the race," Jamie Stier, Director of Raceday Operations and Regulation for the BHA, said in a statement.
"We have worked closely with Aintree and consulted widely with jockeys, trainers and legitimate welfare organizations - the RSPCA (a UK-based animal welfare charity) and World Horse Welfare - on a range of elements related to the race," Stier added.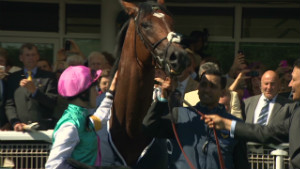 Fabulous Frankel wins again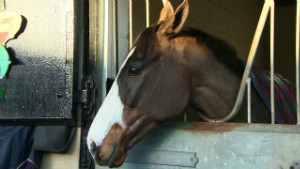 Racehorse poised to make history
These include moving the start 90 yards (82 meters) away from the crowds and the grandstands.
The objective of these changes is to create "a calmer and more controlled environment for both horse and rider," Stier says.
"We recognize that there is pressure and tension before the race and we want to alleviate that where possible," he added.
Along with ongoing research into safer fence design, the BHA and Aintree have announced alterations to Becher's Brook -- the fence where both Synchronized and According to Pete were fatally injured in 2012.
The fence which is jumped twice (6th and 22nd in a total of 30) during the race is having its landing area leveled further, while landing areas at fences four, five and 13 will also see work carried out to smooth out natural undulations.
The number of horses allowed to enter the race will remain at 40.
World Horse Welfare welcomed the new commitments to course alterations.
"We are especially encouraged by their program of work on the fences, replacing the hard cores with softer materials to make them more forgiving to the horses. This has the potential to make a big difference to safety," Roly Owers, chief executive of World Horse Welfare said in a statement.
But Owers was disappointed at the lack of action on the size of the field.
"We believe that the number of fallers, unseated riders and horses being brought down by other horses in the National is too high (50% in 2012), Owers said.
"While there is clearly no magic formula here, changes need to be made to significantly reduce the faller rate which will reduce the number of injuries, fatalities and loose horses which pose risks to themselves and others on the course. We believe the single most effective way of doing this is to trial a reduction in the field size -- say for three years."

Today's five most popular stories
October 30, 2014 -- Updated 1237 GMT (2037 HKT)

He's won six Olympic medals on two legs, but Bode Miller's future will ride on four -- can he replicate his skiing success in the "Sport of Kings"?
October 23, 2014 -- Updated 1247 GMT (2047 HKT)

As a jockey, Philip Blacker lived for the thrills and spills of horse racing. As a sculptor, his work captures the horror of World War I.
October 14, 2014 -- Updated 1512 GMT (2312 HKT)

Ever thought zebras couldn't be tamed? Think again. Gary Witheford has a remarkable way with wild animals -- which he proved after a pub boast.
October 9, 2014 -- Updated 1435 GMT (2235 HKT)

The internet went wild for so-called "horse yoga" -- but there was something deeper going on that reconnects humans with the animal world.
September 1, 2014 -- Updated 1323 GMT (2123 HKT)

The going is always soft and the only permanent building is a toilet block. It's the antithesis to the pomp of Royal Ascot ... welcome to Irish beach racing.
August 13, 2014 -- Updated 1107 GMT (1907 HKT)

Each August, over a thousand tents and hundreds of horses converge on Little Big Horn River in Montana for the Crow Fair and Rodeo.
August 1, 2014 -- Updated 0957 GMT (1757 HKT)

Show me the money! Hollywood star Tom Cruise was a big hit when he visited the Glorious Goodwood festival.
July 21, 2014 -- Updated 1241 GMT (2041 HKT)

Little-known outside the tribes of the Rocky Mountains in the American northwest, Indian Relay is a "magical" horse-racing relay.
July 8, 2014 -- Updated 1325 GMT (2125 HKT)

Now in his 50s, one of the world's most successful jockeys explains why he gave up acting to return to the sport that nearly crippled him.

Winning Post's Francesca Cumani is impressed by the all-round multitasking skills of Ireland's champion trainer Aidan O'Brien.
June 7, 2014 -- Updated 0853 GMT (1653 HKT)

More people have walked on the moon than have won the fabled Triple Crown of U.S. horse racing. California Chrome is seeking to square that score.
June 5, 2014 -- Updated 1137 GMT (1937 HKT)

A long history of controversy made him the "enfant terrible" of horse racing, but veteran jockey Kieren Fallon is looking for redemption.