STORY HIGHLIGHTS
Fresh polling suggests Democrats in some crucial contests are on the rise
Democrats defending most of the 33 Senate seats up for grabs in November
Republicans confident but say it's way too early to make predictions
President Barack Obama may be helping Democratic candidates in some Senate contests
Washington (CNN) -- It gets second billing to the race for the White House, but the battle for control of the Senate is just as important and fresh polling suggests Democrats in some crucial contests are on the rise.
A Republican tidal wave in the 2010 midterms gave the GOP control of the House of Representatives. They also reduced their deficit in the Senate and set their sights on retaking that chamber this year.
Democrats currently control the Senate, 53-47 -- down from 59-41 before the midterms -- but they're defending 23 (21 Democrats and two independents who caucus with the party) of the 33 seats up for grabs in November.
While the GOP still has a very good chance of winning control, which they lost in the 2006 midterms, their path to victory might be getting a bit more difficult.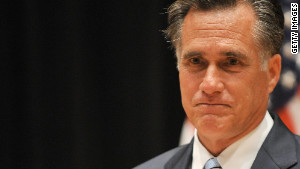 Sen. candidates steer clear of Romney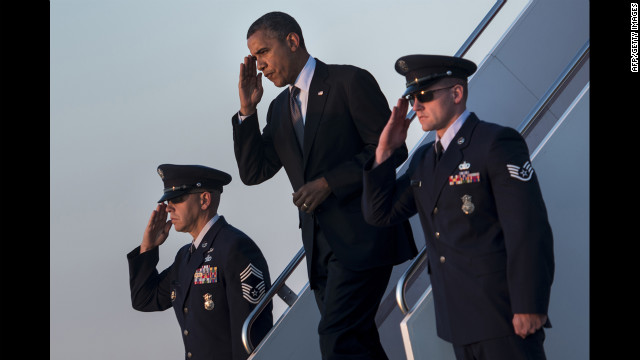 President Barack Obama arrives at Andrews Air Force Base in Maryland on Thursday, September 13. Obama returned to Washington after a two-day campaign trip with events in Nevada and Colorado. See more of CNN's best photography.
Republican presidential candidate Mitt Romney shakes hands with supporters during a Juntos Con Romney Rally at the Darwin Fuchs Pavilion on Wednesday, September 19, in Miami.
Supporters wait for Romney to speak at a campaign rally at Lake Erie College in Painesville, Ohio, on Friday.
A crew member opens the door to Air Force One after the jet arrived at John F. Kennedy Airport in New York on Tuesday.
President Barack Obama, first lady Michelle Obama and Vice President Joe Biden pose for a photograph with members of the U.S. Olympic and Paralympic teams at the White House on Friday in Washington. The U.S. team brought home 104 medals, 46 of them gold, from the Games in London.
Olympic swimming silver medalist Jimmy Feigen, left, is greeted by Obama and Vice President Joe Biden on the South Lawn to welcome the 2012 U.S. Olympic and Paralympic teams on Friday.
U.S. Marines stand around a casket during the transfer of remains ceremony marking the return to the United States of the remains of the four Americans killed in an attack this week in Benghazi, Libya, at Andrews Air Force Base in Maryland on Friday. U.S. Ambassador Christopher Stevens died along with three other Americans in the assault on the consular building in Benghazi on September 11.
Four hearses carrying caskets leave the hangar during the Transfer of Remains Ceremony for the return of the four Libyan embassy employees on Friday at Joint Base Andrews, Maryland.
Intern Chris Jobson of the Senate Democratic Media Center signs the condolence book for Ambassador J. Christopher Stevens at the U.S. Capitol on Friday in Washington.
Burmese opposition politician Aung San Suu Kyi, center, is presented with a U.S. Congressional Gold Medal by Speaker of the House John Boehner, left, as House Minority Leader Nancy Pelosi, second left, and Senate Minority Leader Mitch McConnell, right, look on during a presentation ceremony at the Rotunda of the U.S. Capitol on Wednesday in Washington. Aung San Suu Kyi was presented with the medal for her leadership and commitment to human rights and for promoting freedom, peace and democracy in Myanmar, also known as Burma.
Obama and David Letterman speak during a break in the taping of the "Late Show with David Letterman" at the Ed Sullivan Theater on Tuesday in New York.
Romney boards his plane in Cleveland before taking off for Boston on Friday.
Attendees sing the National Anthem during The Family Research Council Action Values Voter Summit on Friday in Washington. The summit is an annual political conference for U.S. social conservative activists and elected officials.
A native of Lebanon, Mirna Mumm uses a U.S. flag to hold her hair in place after becoming one of 215 new citizens during a ceremony at the National Archives on Monday in Washington. The ceremony was held on the 225th anniversary of the signing of the U.S. Constitution.
Vice presidential candidate Paul Ryan arrives on stage to address The Family Research Council Action Values Voter Summit on Friday.
NYPD arrests protesters affiliated with Occupy Wall Street as they attempt to form a "Peoples Wall" to block Wall Street on the one-year anniversary of Occupy on Monday in New York.
From left to right: Mitt Romney, his wife Ann, and son Tagg watch one of Tagg's sons play soccer in Belmont, Massachusetts, on Saturday.
Supporters cheer as they listen to Romney speak during a Juntos Con Romney Rally at the Darwin Fuchs Pavilion on Wednesday in Miami. See more of CNN's best photography.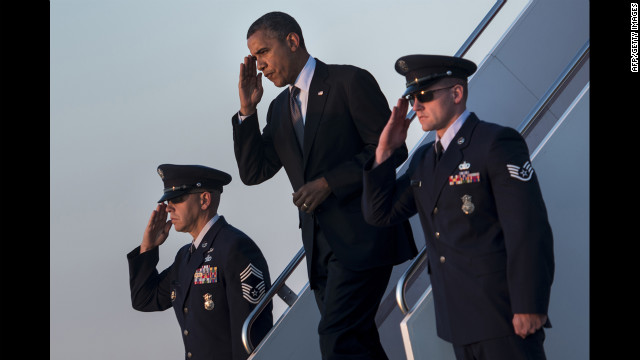 Week in Politics: September 14 - 21
"Democrats are cautiously optimistic. We inherited a difficult map but Republican missteps and strong Democratic campaigns have made a major difference," Democratic Senatorial Campaign Committee Communications Director Matt Canter told CNN. "There is still a long way to go but right now the tide is certainly moving in our favor.
Obama defends record on immigration at Univision forum
Republicans remain confident but agree that it's way too early to be making predictions.
"The Senate Democrats' reckless and failed leadership on the economy has put them on defense in races across the country and Republicans are positioned to hold them accountable on Election Day," Brian Walsh, Canter's counterpart at the National Republican Senatorial Committee, said. "But seven weeks is an eternity in politics and no one in either party should be taking anything for granted."
Let's start with Massachusetts, one of the most expensive and closely watched Senate contests this cycle. Polls over the past year suggested that the marquee matchup between incumbent Republican Sen. Scott Brown and Democratic candidate Elizabeth Warren was a dead heat. That changed earlier this week with Warren's numbers rising in two new surveys of likely voters in the Bay State.
Warren held a 48%-44% margin over Brown in a Suffolk University/7News poll and a 50%-44% advantage in a Western New England University survey. Both margins are within the polls' sampling errors.
Warren's well received speech earlier this month at the Democratic convention may have contributed to her rise in the surveys. But another new poll, by UMass Lowell/Boston Herald, gives Brown a 49%-45% edge.
Before launching her campaign for the Senate last year, Warren was best known as a top adviser to President Barack Obama, a role in which she was integral to the formation of the Consumer Financial Protection Bureau, which was created as part of the 2010 financial reform law.
Brown was a state lawmaker who scored an upset victory in a January 2010 special election to fill the final 2 1/2 years of the term of the late Democratic Sen. Ted Kennedy.
Brown and Warren faced off Thursday in the first of four debates leading up to the election.
Romney pivots after controversies distract campaign
There was also a debate on Thursday in another high-profile and expensive Senate race in Virginia.
It's a similar story as Massachusetts, with polls over the past year showing a tie between the Democrat, former Gov. Tim Kaine (who most recently served as chairman of the Democratic National Committee) and former Gov. George Allen, who's trying to win back the Senate seat he lost in the 2006 election to Democrat Jim Webb, who decided against running for re-election.
But a pair of polls out this week from The Washington Post and from Quinnipiac University/CBS News/New York Times indicate Kaine with leads of seven and eight points. A new Fox News poll has it closer, with Kaine holding a four-point edge.
Two Democratic incumbents facing what were thought to be tough re-elections are seeing good news in the latest polling. Sen. Sherrod Brown of Ohio holds a seven-point lead over Ohio state Treasurer Josh Mandell, the GOP candidate, in two surveys over the past two weeks.
And Sen. Bill Nelson of Florida holds 14-point leads over Rep. Connie Mack Jr. in two surveys released over the same span. The polling indicates that both Brown and Nelson so far are holding their own against of flood of attack ads put up by pro-Republican independent groups.
In Wisconsin, where four-term Democratic Sen. Herb Kohl is retiring, a new poll suggests that Rep. Tammy Baldwin, who's trying to keep the seat in party hands, is up nine points over former Republican Gov. Tommy Thompson, who served in President George W. Bush's Cabinet. But another survey indicates the race tied at 47% each.
And some new polling suggests that Democratic Sen. Debbie Stabenow of Michigan is building a lead as she faces off against former Rep. Pete Hoekstra, the Republican candidate.
Meanwhile Democratic chances in Senate contests in Indiana and North Dakota also seem to be on the rise, while Republican chances of grabbing back a seat in traditionally blue Connecticut seem much better now than just a few weeks ago.
Brown hits Warren over claim of Native American heritage in first debate
The race for the White House influences down-ballot races, and President Barack Obama may be helping Democratic candidates in Senate contests in some battleground states.
Thompson blamed his numbers, in part, on GOP presidential nominee Mitt Romney's rocky campaign.
"The presidential thing is bound to have an impact on every election," Thompson told Madison television station WKOW. "You know, whether you're a Democrat or Republican, if your standard-bearer for the presidency is not doing well, it's going to reflect on the down-ballot."
But while the face-off between Obama and Romney greatly impacts the other contests, the candidates will determine them.
"Candidates and campaigns matter," says Jessica Taylor, senior analyst and reporter for the non-partisan Rothenberg Political Report. "Several candidates are still going to need to run significantly ahead of their party's presidential nominee in more hostile states, and while that playing field may level out closer to Election Day, candidates such as Joe Donnelly (Democrat in Indiana), Heidi Heitkamp (Democrat in North Dakota) and Linda McMahon (Republican in Connecticut) have been running strong campaigns and appear to be benefiting from weaknesses by their opponents."
With 6 1/2 weeks to go, Democrats may be breathing a little bit easier.
Ann Romney lashes back at conservative critics
CNN's Peter Hamby contributed to this report