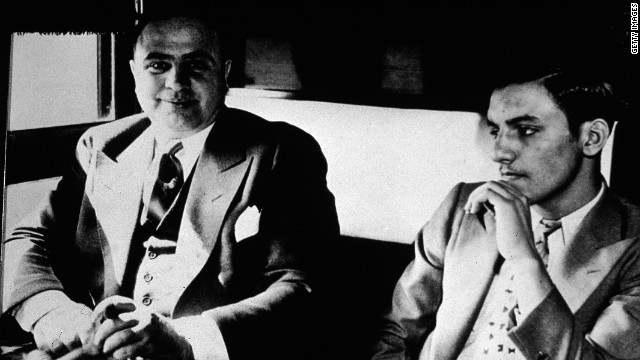 American gangster Al Capone was far more lethal with his machine gun than his golf clubs. According to his former caddie, Tim Sullivan, Capone needed 60 shots just to clear the front nine.
According to Sullivan, Capone played with stakes of $500 a hole and often played with fellow gangsters "Machine Gun" Jack McGurn, Fred "The Killer" Burke and Jake "Greasy Thumb" Guzik.
As well as being a huge golf fan, Capone loved his baseball. Sitting alongside his son, Albert (Sonny) Capone, he chats to Chicago Cubs player Gaby Hartnett.
Capone was in and out of prison for much of his life and was transferred to Alcatraz after a stint in an Atlanta jail for tax evasion. He spent over four years at one of the most infamous prisons in the United States.
There was not any space to swing a club inside Capone's cell on Alcatraz. According to his niece, Deirdre Marie Capone, the gangster remained in love with golf until his final days. She said: "'I remember seeing his bag of clubs in the house in Miami where he lived. He told me they'd been made for him in Scotland.''
Capone, or "Scarface" as he was nicknamed, passed away on January 25, 1947 at the age of 48.
Capone lived a life of luxury in Miami. He bought the 36,000-square-feet island property at 93 Palm Avenue for a measly $40,000 in 1928. After recent renovations, it is now worth an estimated $9.95 million.
Sitting pretty
Capone's cronies
Different ball game
Welcome to Alcatraz
Behind bars
Final hole
Gangster's paradise
STORY HIGHLIGHTS
Infamous gangster Al Capone and his associates were keen golfers
Capone oncet eed off by hitting the ball off the chin of an associate
Capone traveled under a false name to play golf in Scotland
He died at the age of 48 from cardiac arrest
(CNN) -- As Chicago prepares to host all-out golfing war in the form of the Ryder Cup, there is more reason than you might think to remember the city's most infamous son.
"Scarface" Al Capone was not a man to be in competition with. The murderous mob boss ruled Chicago to the rattling sound of heavy machine-gun fire in the 1920s and took out anybody -- make that pretty much everybody - who stood in his way.
But it was not all bootlegging and brutality for the life of Capone.
Away from the bloody battles of prohibition-era America, it turns out he loved nothing more than a good walk spoiled and target practice of a very different kind. As unlikely as it seems, the gangster was a golf nut.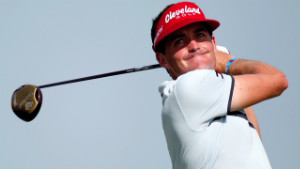 Is Olazabal ready for Ryder Cup?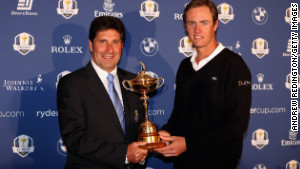 What can Ryder Cup golfers expect?
"Al Capone was an avid golfer," John Binder, academic and author of The Chicago Outfit: Images of America, told CNN. "Some of the guys around him were, too.
"The hoods loved sports. Capone and a few others managed some fighters, and they went to baseball games together a lot, too."
Capone liked golf, but that is not to say he was very good at it.
"At first, he seldom broke 60 for nine holes; he eventually elevated to 18 holes though there is no evidence he was anything but a hacker on the golf course," wrote Luciano Iorrizo in Al Capone: The Biography.
Iorrizo continued: "His rounds were devoted to having fun with his gangster friends who drank plenty each hole, gambled recklessly on the stroke of a ball and carried loaded weapons in their golf bags for use in emergences."
Ryder Cup revolutionaries: Seve and Ollie
During his 1920s heyday, Capone was a regular at Burnham Woods golf course - a facility 20 miles south of Chicago that is still in operation today, though Capone's memory has long since been erased.
It was there he hosted regular games with his associates and acquired the services of a wide-eyed, eight-year-old caddie named Tim Sullivan.
In a 1972 article for Sports Illustrated, Sullivan recalled his first round on the bag for Capone.
The stakes were $500 a hole and Capone was partnered with "Machine Gun" Jack McGurn in a foursomes match against Fred "The Killer" Burke and Jake "Greasy Thumb" Guzik.
McGurn and Burke were both implicated in the 1929 St. Valentine's Day Massacre -- the gangland hit on his mob rivals that made Capone a household name. Neither faced charges, but McGurn -- a talented golfer -- was assassinated almost exactly seven years later in a suspected revenge attack.
Burke was convicted of the murder of a policeman in 1931 and died of a heart attack in prison. Guzik was the Chicago mob's lawyer of choice.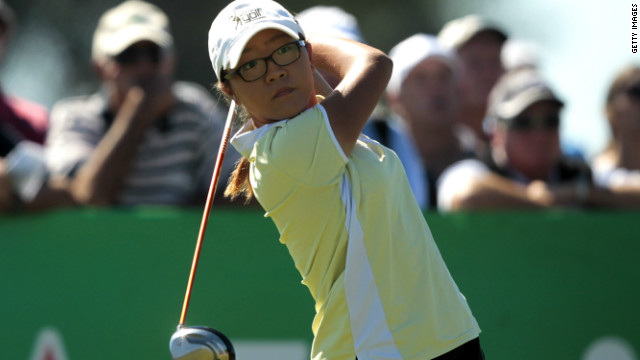 Fifteen-year-old Lydia Ko is the youngest LPGA Tour winner in history courtesy of her win at the Canadian Women's Open. She was just 14 when she triumphed at the the New South Wales Open in January 2012, becoming the youngest player to win a professional tournament. She clinched the U.S. Amateur Championship two weeks ago.
Guan Tian-Lang, 13, made history as the youngest player at a European Tour event when he teed off at his home China Open in April 2012.
However, he could not better the achievement of Jason Hak, who was 14 when he became the youngest player to make the halfway cut at a European Tour event at the 2008 Hong Kong Open.
Japan's Ryo Ishikawa is the youngest male player to win a professional tournament. He was 15 when he triumphed at the Munsingwear Open in 2007, and has since gone on to become a top-level tour competitor.
Before Ko, Lexi Thompson was the youngest player to win on the women's LPGA Tour. The American was 16 when she triumphed at the LPGA Classic in Prattville, Alabama in September 2011.
Thompson is the youngest player to win on the European Ladies' Tour. Here she receives her trophy at the Dubai Ladies Masters on December 17, 2011.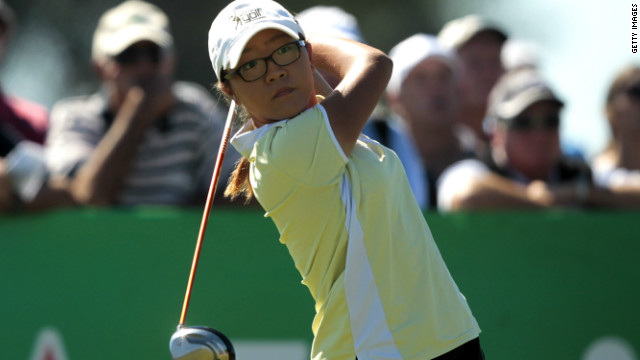 Golf's young prodigies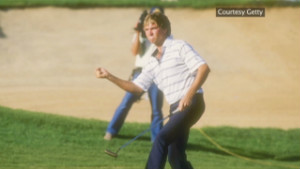 Davis Love III's golfing family
You might call them the original 'group of death'. And there were we thinking Europe's Rory McIlroy and Graeme McDowell were a frightening pairing to come up against.
"Capone teed off first," said Sullivan. "He fetched the ball a whack that would have sent it clear down the fairway, only he hooked it and it curved way off to the left into a clump of trees.
"I scrambled around on all fours for about 10 minutes trying to find it, scared to death Al would lose his temper and hit me or maybe shoot me, but all he did was grin, pat me on the head and call me Kid.
'It's O.K., Kid, So we lose a stroke, that's all. Just gimme another ball.' And I thought: 'He can't be as mean and rough as he's cracked up to be.'"
Sullivan paints a picture of wild, booze-fuelled matches where cheats prospered and arguments frequently spilled over into violence.
There was the time Capone accidentally shot himself in the foot by setting off a revolver in his golf bag as he rummaged for a club.
And the time Guzik, maddened by his inability to escape a bunker, ran after Sullivan wielding his driver and ready to use it. This was golf the way gangsters play it, with etiquette very much afterthought.
"There was a crazy game called Blind Robin," Sullivan wrote.
"One guy would stretch out flat on his back, shut his eyes tight, and let the others tee off from his chin. They used a putter and swung slow and careful. Otherwise they would have smashed the guy's face. On the putting greens they'd throw down their pistol holders -- clunk - and hold a wrestling match."
Taking the first tee on day one of the Ryder Cup suddenly does not seem such a nerve-wracking proposition after all.
Phil Mickelson won't be armed and we won't see Sergio Garcia swigging whisky and ready to beat his caddie over the head with a hybrid (at least we hope not).
There will be bodyguards, though, especially surrounding Tiger Woods.
McIlroy to hunt down Woods at Medinah?
But to disregard Capone's golfing exploits as drunken folly is to do his infatuation with the sport a disservice.
According to a new book written by the mobster's niece, Deirdre Marie Capone, her uncle was so hooked he escaped under a false name and made a golf pilgrimage to Scotland during the height of his reign -- traveling with a caddy who doubled as his bodyguard and buying a handmade set of clubs, which he had engraved with his initials.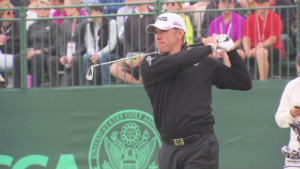 Lee Westwood looks forward to Ryder Cup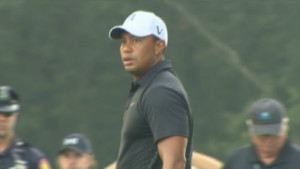 Is Woods intimidated by McIlroy?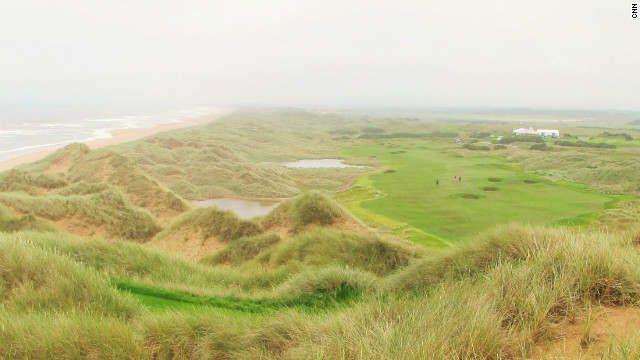 Hailed by owner Donald Trump as "the world's greatest golf course," the American's new Scottish project mixes breathtaking views from elevated tees with classical links bunkers and wild rough. Dramatic, tall sand dunes frame many of the photogenic holes at Trump International. The true test of the course's standing will be its longevity and whether it matures into a stern test of championship golf.
Consistently ranked as one of the very best, if not the best course on earth, Cypress Point is a small, private club on the tip of the Monterey Peninsula in California. Originally designed by Alister MacKenzie in 1928, several of its picturesque closing holes play alongside and over the Pacific Ocean.
Famed for hosting the annual Masters tournament, the exclusive Augusta National was the brainchild of the most successful amateur golfer of all time, Bobby Jones. He recruited MacKenzie to design the course in 1933 after seeing his handiwork at Cypress Point. The result has become one of the world's most recognizable and colorful sporting venues.
The first and only course designed by George Crump, Pine Valley is set in relatively featureless New Jersey countryside. Since opening in 1919 it has been considered among the most perfect and varied challenges in golf.
According to historians, a form of golf has been played over the links land outside the quaint Scottish coastal town of St. Andrews since the 12th century. Not necessarily the most dramatic or challenging course, but the natural beauty and history of "The Old Course" make it every golfer's "must play."
Set at the feet of Northern Ireland's majestic Mountains of Mourne, Royal County Down opened in 1889 and was given royal patronage almost 30 years later. Exposed to winds from the Irish Sea, the rugged sand dunes are covered by purple heather and yellow gorse. A fierce debate rages over its relative merits versus County Antrim's Royal Portrush.
One of few top-ranked courses outside the U.S. and UK, the Royal Melbourne layout was also crafted by MacKenzie. It is the oldest golf club in Australia and famed for its bold bunkers blending into the natural rolling land of the Melbourne Sandbelt.
Routed along the crags of Carmel Bay, Pebble Beach opened in 1919 and has hosted five U.S. Opens. Boasting some of the most dramatic panoramic views in golf, it is the most highly-rated U.S. course that accepts public bookings, with fees of $495 per round.
Built in 1901, Turnberry is a classic Scottish links, with rolling hills, sandy dunes and strong winds coming off the Ayrshire coast. Made up of three courses, Turnberry has hosted four British Opens on its Ailsa layout, most notably 1977's "Duel in the Sun" between Jack Nicklaus and Tom Watson.
The host venue for the 2012 British Open, Royal Lytham & St. Annes is thought to be one of the oldest major's toughest courses. It lies half a mile from the Lancashire coast yet retains the feel of a classic links course, with tall rough grass and 206 bunkers guarding the rolling fairways and greens.
Noted for its secluded cliff-top location in New Zealand's Hawke's Bay, Cape Kidnappers is a 20-minute drive from the gate on the nearest public road. Deep gullies dip down to the sea between fairways, which give spectacular panoramic views along the shore and across the nearby wine country. Only eight years old, it is one of the newest courses to consistently feature near the top of world rankings.
One of the five founding clubs of the United States Golf Association with the first specifically-designed golf clubhouse in the country, Shinnecock Hills has hosted the U.S. Open four times across three centuries. It occupies links land on Long Island, 90 miles east of New York City, but has been said to possess the windy bleakness of British seaside golf.
Muirfield is home to the "The Honorable Company of Edinburgh Golfers" -- the world's oldest golf club, formed in 1744. The design by Old Tom Morris is considered a masterpiece, with two concentric rings of nine holes ensuring that the wind from the North Sea hits you from all angles. Small greens, deep bunkers and thick rough have made the East Lothian course one of the most revered on the British Open circuit.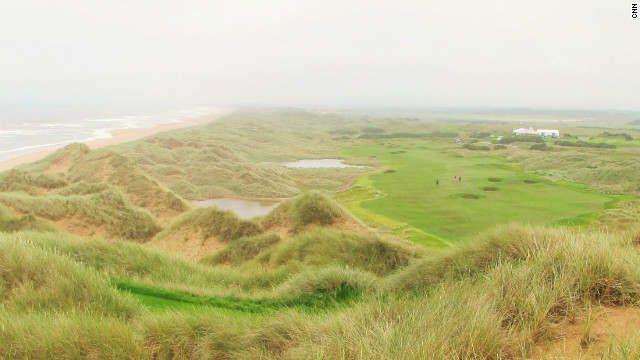 The world's best golf courses
"He was in love with the game and with Scotland,'' Mrs. Capone told the Daily Express newspaper.
''I remember seeing his bag of clubs in the house in Miami. He told me they'd been made for him in Scotland.''
Capone, with his crime syndicate bringing in an estimated $100 million a year at the peak of its operation, had no problems funding his habit
According to Billy Kay, author of The Scottish World: A Journey Into The Scottish Diaspora, Capone's Chicago outfit saw golf as yet another avenue for making money.
Most people paid to play, but -- as with everything with Capone -- golf found a way of paying him.
"Every city had gangsters but the country clubs were built and financed by the social elite and gangsters were not allowed near," Kay told the Daily Record in 2009. "But Chicago was a unique set-up. Al Capone and his gang ran the golf clubs in Chicago.
There, mobsters like Capone, drew protection money from the country clubs and they had access to the golf courses."
Binder has yet to find evidence Capone used golf to make money. He does accept, though, that criminal activity was likely in the planning on the fairways. "Golf was a pastime for them (the Chicago outfit)," he told CNN.
"It wasn't until the 1950s and 60s that the mob in Chicago started controlling golf clubs. But if they're on the course and nobody's around, they're talking business. Many normal people in the business world use golf that way."
The one thing Capone could not control was his game. He died in 1947, aged 48, and having never mastered how to hit a straight drive or sink a putt.
There is just not a racket to get you from tee to green, it seems, which goes to show there really are some things in life that money cannot buy.
If he was still with us there is no doubt Capone would have scored VIP Ryder Cup passes for his golfing buddies.
Watching on with cigars in mouth, hipflasks in hand and guns at the ready, the Chicago outfit would have been in their element at Medinah Country Club.
They would, quite literally, have owned the place.