STORY HIGHLIGHTS
NEW: Government announces spending cuts, taxes
The country is considered "too big to fail, too big to bail"
Thousands of Spaniards have protested in the streets against austerity measures
Spain faces recession, has fourth-largest economy in eurozone and high joblessness
Madrid (CNN) -- Spain will create a new fiscal authority to oversee the new spending cuts, tax increases and structural adjustments included in a new budget presented Thursday.
The country is in an economic crisis with an unemployment rate near 25%, and protests have grown against austerity measures, such as the ones included in the new budget.
Despite the budget crunch, Vice President Soraya Saenz de Santamaria said there will be increases in pensions, scholarships and interest on debt.
But the budget also includes large reductions in spending in an effort to reduce deficits.
The budgets of all ministries will be reduced by an average of 12%, Saenz said.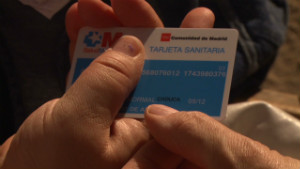 Spain's hairdressers fear tax, not cuts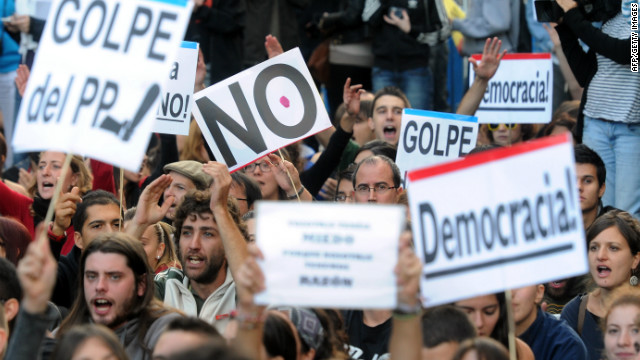 Protesters take part in a demonstration organized by Spain's 'indignant' protesters on September 26, 2012 in Madrid, a day after a mass protest in which police beat and fired rubber bullets at demonstrators.
Protesters surround police vans near the Spanish Parliament in Madrid on Tuesday, September 25. Spain's unemployment is near 25%, and demonstrators -- fed up with anti-austerity measures -- accuse the government and opposition alike of trying to solve the country's financial woes on the backs of the people.
Demostrators shout slogans at the start of a march Tuesday to the lower house of the Spanish Parliament in Madrid. Clashes between police and demonstrators resulted in nearly 30 people being hurt, police said.
A protester carries a sign as she walks toward the Spanish Parliament to join the demonstration.
A restaurant owner, with his customers behind him, shouts in front of his business.
Protesters clash with riot police Tuesday in Madrid. At one point, police charged demonstrators with batons to prevent them from approaching Parliament, which was in session.
Protesters shout at police during the demonstration. More than 20 people among a crowd of 6,000 were arrested, police said.
A man hands a flower to riot police during the protest against the government's handling of the economic crisis.
A riot police officer stands behind an injured protester after clashes. Demonstrators said police shot into the crowd with rubber bullets; police wouldn't comment.
Demonstrators raise their hands during the protest against government spending cuts.
Police stand guard during the demonstration.
A demonstrator throws a fence toward riot police. Some protesters threw bottles and rocks at officers, who fought back, a state-run broadcaster reported.
Riot police stand in front of protesters.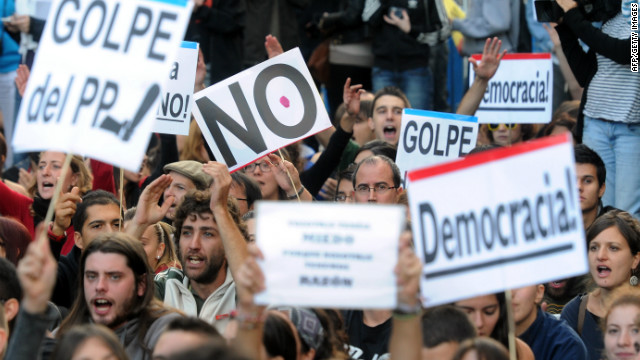 Photos: Anti-austerity protests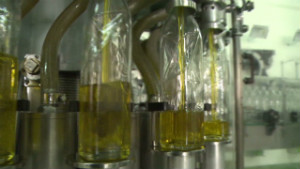 Spain's olive oil crisis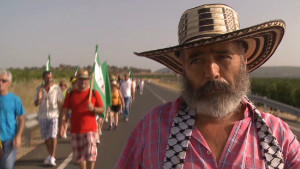 Spanish mayor likened to Robin Hood
The package includes a "road map" of 43 proposed laws that will regulate and tweak various sectors of the economy to spur growth in weak areas and to maintain growth in stronger sectors.
For the third year in a row, salaries of public workers will be frozen.
"This is a budget made in a time of crisis, but precisely to get out of the crisis," Saenz said.
Spain, which has one of the largest economies in Europe, is fighting to bring down its huge deficit, which threatens the stability of the euro, the currency used by hundreds of millions of people across Europe.
Prime Minister Mariano Rajoy said in July that the country would cut 65 billion euros ($83 billion) from the budget in three years by raising taxes and shrinking bureaucracy.
But Spaniards have taken to the streets to demonstrate against austerity measures, and are expected to do so again after expected new cuts are unveiled.
Clashes between police and demonstrators in central Madrid's Neptuno Square resulted in 28 people being hurt Tuesday, two of them police officers, a police spokesman said.
The spokesman said 22 people among the estimated crowd of 6,000 had been arrested.
Demonstrators said police were shooting into the crowd with rubber bullets; police would not comment.
"We have you surrounded," some demonstrators sang. "We have no fear."
At one point, Spanish police charged demonstrators with batons to prevent them from approaching the parliament, which was in session.
The protesters accused the government and the opposition alike of trying to solve the country's financial woes on the backs of the people.
Video from the scene showed police charging groups of protesters with their clubs, but such clashes were isolated.
Tuesday's protest seems to have been the most violent in the capital this year, but it was only one of an estimated 1,900 demonstrations in Madrid in 2012, according to government figures.
The country is suffering from soaring borrowing costs, a banking system leaking cash and unemployment rates at devastating levels. It has been in recession since April, and analysts think the economic situation will get worse before it gets better.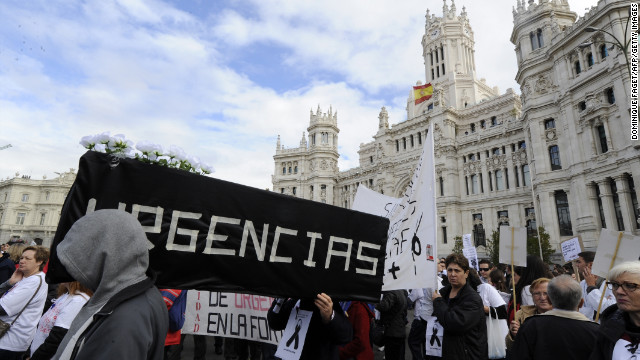 Medical workers demonstrate in Madrid against the Spanish government's latest austerity measures to deal with Spain's crippling debt.
Protesters walk through smoke thrown by firemen and policemen during a demonstration of public service workers in Spanish Sevilla on September 29, 2012.
Protests against the budget cuts errupted again on Saturday September 29, 2012.
Spanish police officers attend a demonstration against government spending cuts in Madrid on October 2, 2012 .
Demonstrators confront police near the Spanish parliament during a protest against spending cuts and the government of Mariano Rajoy on September 29, 2012 .
Spain's Prime Minister Mariano Rajoy gives a press conference on September 11, 2012. The conference followed Finnish Prime Minister Jyrki Katainen backing Spain and calling the crisis "unfair."
Spanish workers take to the streets to demonstrate against the government's austerity measures on September 15, 2012 in Madrid.
Supporters of independence for Catalonia demonstrate on September 11, 2012 in Barcelona to mark the Spanish region's official day, amid protests over Spain's financial crisis.
The streets of Leon in northern Spain light up as thousands of coal miners march with their helmet lights on. The protest on June 12, 2012 was part of a nationwide miners' strike against subsidy reductions.
A vampire puppet holding money is held by protesters outside Bankia's building Kio Tower in Plaza Castilla, on June 2, 2012 in Madrid
Spanish miners burn tires during an anti-austerity demonstration in Vega del Rey, near Oviedo, in northern Spain on June 4, 2012.
A protester hits a pot while walking past the Bank of Spain on May 15, 2012 in Madrid, Spain. Spain's 'Indignants' prepared events across Spain to mark the anniversary of their movement.
Protesters with Spain's Indignant movement attend a rally at Puerta del Sol on May 15, 2012 in Madrid, Spain. The movement was formed to protest against the economic crisis and high unemployment.
Health workers in Seville protest against government austerity measures on June 12, 2012. The campaigners display banners saying 'Don't play with health' and 'More gowns and fewer ties.'
People demonstrate against Spain's banking sector in front of Bankia, on June 02, 2012. Bankia asked for €19 billion in aid.
Commuters are reflected on the headquarters of Bankia SA on May 29, 2012 in Madrid, Spain. Spanish borrowing costs have increased after the government announced a rescue plan for Bankia involving more public debt.
Activists stage a performance depicting Prime Minister Mariano Rajoy and a banker outside the Congress of Deputies in Madrid on June 12, 2012. The demonstration came days after Spain secured a eurozone banking bailout of €100 billion euros ($125 billion).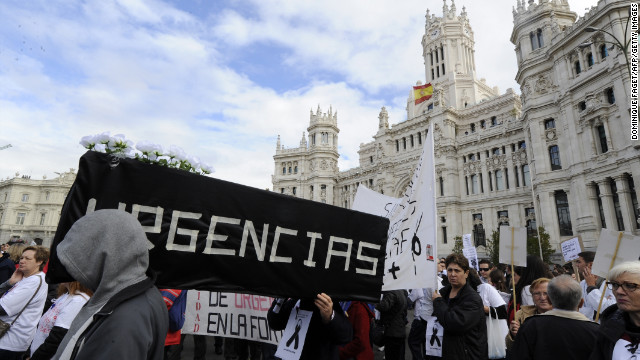 Photos: Spain in crisis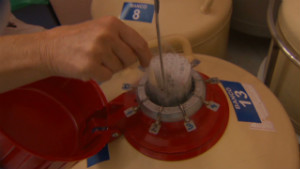 Selling sperm, eggs to survive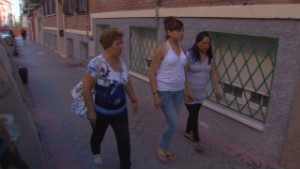 Family struggles to keep home in Madrid
"Growth is likely to be weak for a prolonged period," said Ben May, an economist at Capital Economics in London. "More austerity will be needed."
The Bank of Spain said Wednesday that it expects economic activity in the second quarter to continue to weaken. It estimated that gross domestic product will shrink 1.3%. That would be the third straight quarter of contraction.
'Too big to fail, too big to bail'
Greece may be the country risking expulsion from the eurozone, but Spain's situation is potentially of much greater concern.
If such a major economy were to fail, the repercussions could cause unprecedented havoc across Europe -- and the globe.
The Spanish economy is the eurozone's fourth-largest -- after Germany, France and Italy -- making up around 11% of the bloc's GDP.
To put that in perspective, Greece, Portugal and Ireland -- the three eurozone countries that have already been bailed out -- combined make up less than 6% of the bloc's economy.
Prime Minister Rajoy has tough targets to meet in order to cut the deficit.
Michala Marcussen, an economist at Societe Generale, says "substantial efforts" will be required to meet a budget deficit target of 4.5%.
Pension reforms are possible, such as fast-tracking plans to increase the retirement age to 67 from 65, while taxation and labor markets could also be targeted, Marcussen noted.
The budget will be followed by Friday's release of the country's banking audit, which is expected to reveal details of the sector's financial needs.
The consensus is that the banks need an injection of around 60 billion euros ($77 billion), and "too low a number will raise concerns that there are more hidden losses to come -- all the more given the very frail economic backdrop," Marcussen wrote in an analysis.
As it stands, the banks have an estimated 300 billion euros in problem loans on their books, with the full cost of recovery not yet clear.
Eurozone finance ministers agreed in June to give aid to Spain's banking sector, but Rajoy has insisted that the government does not need a bailout.
Spain, in its second recession since 2009, has been dubbed "too big to fail, too big to bail."
The country also has an unemployment crisis, with more than half those younger than 24 out of work, and almost one in four people overall. Spain's jobless rate has helped pushed the eurozone's total unemployment rate to 11% -- its highest since the eurozone was created in 1999.
Why is the economy collapsing now?
The situation in Spain has developed like a perfect storm, with money being pulled out of the country, despite the desperate need to stem capital flight and support its banking system.
This leaves Spain in a precarious financial state, driving investors away, pushing up its borrowing costs and making it more likely to need a bailout.
It's a reminder of how governments are inextricably tied to their countries' banking systems, essentially the lifeblood of their economy.
The struggles in Europe have been exacerbated by continued gloomy news out of the U.S.
Al Goodman reported from Madrid, Irene Chapple from London and Catherine Tymkiw from New York. CNNMoney's Aaron Smith, Alfred Souza and Ben Rooney, and CNN's Tim Lister contributed to this report.