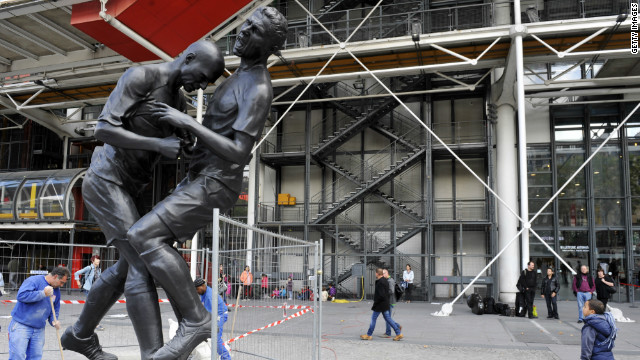 The moment French football superstar Zinedine Zidane headbutted Italy's Marco Materazzi in the 2006 World Cup final has been immortalized in a five meter bronze statue. The statue, positioned outside of Paris' Pompidou Museum, is the work of Algerian-born artist Adel Abdessemed.
The headbutt, which occured in the second half of extra-time, stunned the football world. Zidane scored from the penalty spot to give France a 1-0 lead, before Materazzi equalized. After 120 minutes of play and with the scores still level, the match went to penalties. Italy prevailed to win a third World Cup. The assault was the last action of Zidane's incredible career.
Eight years earlier, Zidane had an altogether different World Cup experience. With an expectant French crowd looking on at the Stade de France, Zidane scored two first-half headers as France beat Brazil 3-0 in the 1998 final.
Zidane and his teammates, including Thierry Henry and Marcel Desailly, ensured France were crowned world champions for the first time.
Four years later, Zidane painted his masterpiece at Hampden Park in Glasgow. With the scores level at 1-1 between Zidane's Real Madrid and Germany's Bayer Leverkusen in the 2002 European Champions League final, the Frenchman expertly dispatched a Roberto Carlos cross with a stunning volley from the edge of the penalty area. The sumptuous strike was enough to secure Real a ninth European crown.
Zizou's bronze butt
Out with a bang
Brilliant brace
Allez Les Bleus!
Hammer at Hampden
STORY HIGHLIGHTS
A bronze statue of Zinedine Zidane head-butting Marco Materazzi unveiled
The piece outside Paris' Pompidou Museum is the work of Adel Abdessemed
The headbutt occurred in the 2006 World Cup final, which Italy won on penalties
Zidane is regarded as one of the finest footballers in history
(CNN) -- Books have been written about him, a film was devoted to following his every move on a football field and now the career of French icon Zinedine Zidane has been immortalized in bronze.
From Cannes to Real Madrid -- his first and last clubs -- Zidane's career was characterized by moments of audacity and greatness.
None more so than when he scored a brace which helped win the World Cup for France on home soil in 1998, or one of the greatest goals of all time in the 2002 European Champions League final in Real Madrid's 2-1 win over Bayer Leverkusen in Glasgow.
But Algerian-born artist Adel Abdessemed was less interested in the zenith of Zidane's career.
Instead he has focused on its nadir -- the Frenchman's infamous headbutting of Italy's Marco Materazzi in the 2006 World Cup final in Zidane's last professional game.
"This statue goes against the tradition of making statues in honour of certain victories. It is an ode to defeat," exhibition organizer Alain Michaud told Agence France Presse after the five meter statue was unveiled in the French capital city of Paris outside the world-renowned Pompidou Museum.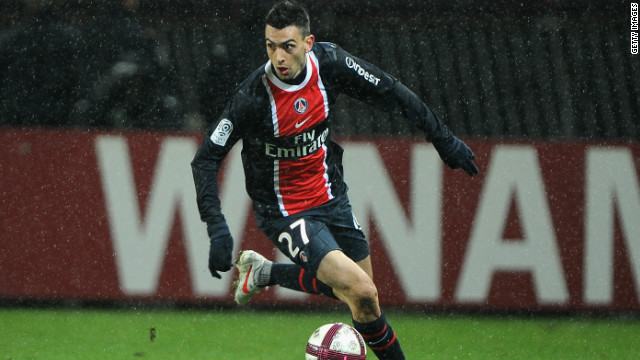 Javier Pastore is the most expensive player in French football history after he cost Paris Saint-Germain a fee believed to be $56 million. But Pastore is not the first footballer to have swapped clubs for a hefty price tag.
Fernando Torres swapped Chelsea for Liverpool on the final day of the January 2011 transfer window. After moving for a British-record transfer fee, believed to be in the region of $80 million, Torres has scored just five goals in a little over 12 months with the club.
In 2001, Real Madrid broke the world transfer record to bring FIFA World Player of the Year Zinedine Zidane to Spain from Italian club Juventus. The fee for the French World Cup winner was reported to be €86.5 million ($115 million).
Real broke world transfer record again in June 2009, paying a reported $100 million to lure Brazil's Kaka away from Italian club AC Milan.
Zlatan Ibrahimovic moved to Real's archrivals Barcelona during the same transfer window. Barca paid Inter Milan a reported $65 million for the Sweden striker, but he lasted only one season before returning to Italy with AC Milan.
Kaka's time as the world's most expensive player was short, with Real smashing the transfer record once again to sign Cristiano Ronaldo from Manchester United for a reported $130 million.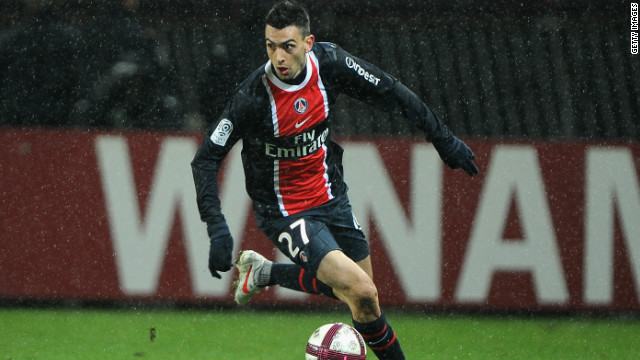 Football's biggest transfers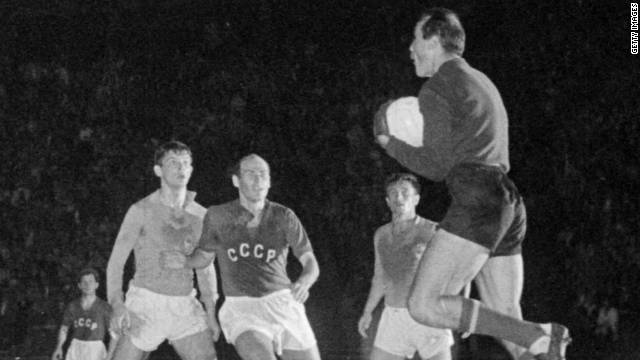 Just 17 teams entered the first tournament in 1960 and it was played on a home-and-away basis until the semifinal stage, which France hosted. The Soviet Union and Yugoslavia contested the final in Paris, with Viktor Ponedelnik carving his name in history by scoring the winning goal in extra time to give the Russians victory.
West Germany and the Netherlands had contested the 1974 World Cup final and were fancied for a repeat final in Euro 1976 -- but Czechoslovakia had other ideas. They sunk the Dutch in the semis thanks to a couple of extra time goals before a superb German side were beaten on penalties in the final, with Antonin Panenka clinching the trophy with one of the cheekiest spot-kicks in football history.
No player has dominated a finals tournament the way Michel Platini did in 1984. On home soil, Platini weaved his magic in devastating style, scoring hat-tricks against Belgium and Yugoslavia on his way to a record nine goals. The highlight came in a memorable semifinal against Portugal when, 2-1 down with six minutes of extra time remaining, France fought back to win 3-2 with the great man himself scoring the last minute winner.
Marco van Basten's career was cut short early through injury, but not before he had made his mark on world football with one of the greatest goals of all time. Van Basten had already scored a hat-trick against England in a group game, and the winner against hosts West Germany in the semis. The Dutch were strongly fancied to beat Russia in the final, which they duly did, with the help of a Van Basten volley that will never be forgotten.
Denmark didn't qualify for the Euro 1992 finals in Sweden but war-torn Yugoslavia were prevented from appearing, meaning group runners-up Denmark took their place instead despite being totally unprepared. They failed to score in their opening two matches before beating France to scrape into the semfinals. They then proceeded to defeat holders Netherlands on penalties and world champions Germany 2-0 in the final to become the unlikeliest winners of all time.
Germany had only conceded two goals in five games en route to the Euro 1996 final against the Czech Republic, but the Czechs looked on course to repeat their final victory over Germany from 20 years earlier when Patrik Berger scored from the penalty spot. However, Oliver Bierhoff equalized with 15 minutes left and the same player then scored the winner early in extra time, the first time a major tournament had been decided by a golden goal.
"Football's Coming Home" sang the England fans during Euro 1996, as the hosts reached the semifinals on a wave of euphoria. The highlight of their run was a superb individual strike by talented midfielder Paul Gascoigne, as old rivals Scotland were beaten 2-0 on a baking hot day at Wembley Stadium. Sadly for England, eventual winners Germany defeated them on penalties and were to adopt the "Football's Coming Home" chant their fans still sing to this day.
Austrian referee Gunter Benko awarded France a penalty after Portugal's bleach-blonde defender Abel Xavier had handled on the line in their Euro 2000 semifinal in Brussels. Zinedine Zidane stroked home the spot-kick with just six minutes left of extra time to put France through on the golden goal. Portugal were incensed with the decision and argued their case far too strongly for UEFA's liking. The chief culprit was Xavier himself who copped a six-month ban for his protestations.
France went into Euro 2000 as hot favorites after winning the World Cup two years previously, but their hopes of victory looked over as Italy led 1-0 in the final going into injury time. However, Sylvain Wiltord leveled with virtually the last kick of the game and remarkably David Trezeguet then broke Italian hearts with the winning golden goal in extra time.
Hosts Portugal were strongly fancied to do well in Euro 2004, but they lost 2-1 to outsiders Greece in their opening game. However, they regrouped strongly and Russia, Spain, England and Netherlands were all beaten as Portugal stormed into the final, where Greece stood in their way once again. Surely an on-fire Portuguese side would gain their revenge? They didn't ... Greece stunned a nation 1-0 to ensure the last game of the finals went exactly the same way as the first one.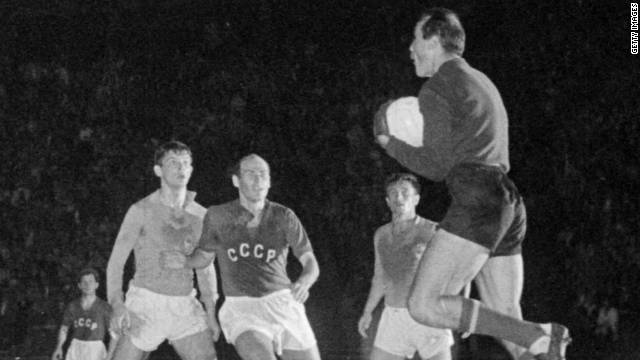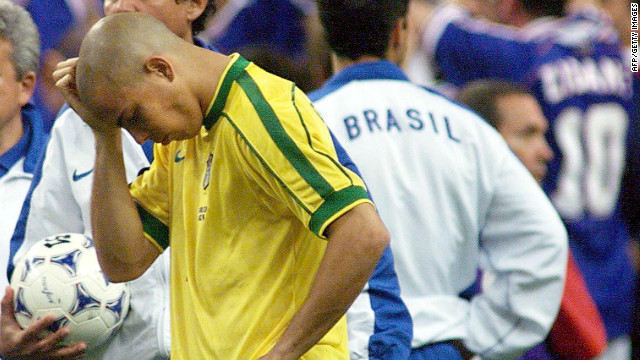 Ronaldo arrived at the 1998 World Cup in France as the most talked about footballer in the world. The 22-year-old scored four goals during the tournament, but confusion and controversy reigned before and after Brazil's 3-0 defeat to France in the final. Ronaldo was initially left out of the starting XI for the Paris match, before being reinstated at the last minute. He was largely anonymous during the match, with the exact details of what occured prior to kick-off still unknown.
Redemption came four years later. Alongside the attacking talents of Rivaldo and Ronaldinho, he found the net six times as Brazil romped through to a final match with Germany. In Yokohama's International Stadium, Ronaldo scored two second-half goals to give Brazil a 2-0 win and finally exorcise the ghosts of Paris four years earlier. It was Ronaldo's second World Cup triumph, having been part of Brazil's winning squad in 1994.
Ronaldo has scored more goals in FIFA World Cup matches than any other player in history. With his trademark quick step-over and a simple finish against Ghana in a round of 16 match in 2006, he scored his 15th and final World Cup goal to overhaul the legendary German Gerd Muller.
Ronaldo joined Real Madrid from Inter Milan in 2002. After waiting until October to make his debut for Madrid, he ended the season with 23 league goals as Los Blancos took the Spanish La Liga title.
During his career Ronaldo was hampered by chronic knee injuries. After scoring a stunning hat-trick in a European Champions League game against Manchester United and with Real on track for a treble, Ronaldo again succumbed to injury. In 2007, Ronaldo was sold to AC Milan having scored 104 goals in 177 matches for Real.
After a year with AC Milan and two with Corinthians in his native Brazil, Ronaldo announced his retirement from football in February 2011. In addition to his injuries, Ronaldo was also suffering with a thyroid problem which made it difficult for him to control his weight.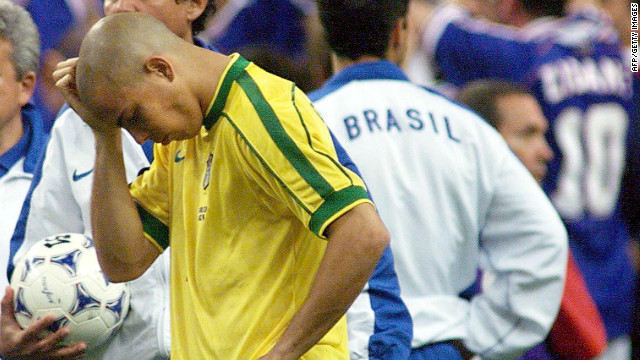 El Phenomenon: The career of Ronaldo
The statue captures the moment when, with the scores level at 1-1 between France and Italy in Berlin in football's biggest game, Zidane was given a straight red card for his assault on Materazzi deep into extra-time.
France went on to lose the match on penalties, when striker David Trezeguet saw his spot kick crash into the crossbar and Fabio Grosso converted to crown Italy world champions.
Exactly what Materazzi said to draw such a violent reaction from Zidane remains unknown.
U.S. animated comedy Family Guy parodied the incident in the 2006 episode "Saving Private Brian", where Zidane headbutts an old lady while delivering her a birthday cake.
Widely regarded as one of the finest footballers to have ever played the game, Zidane playedfor Cannes and Bordeaux in France, before moving to Juventus and then Real.
The Algerian-born playmaker scored twice as France beat Brazil 3-0 in the World Cup final of 1998.
He is also remembered for the stunning goal which won Real Madrid a ninth European Cup in 2002, when he converted a Roberto Carlos cross with a stunning volley against Bayer Leverkusen at Hampden Park.
Zidane, who retired immediately after the 2006 final, was crowned FIFA World Player of the Year on three occasions.
He now works as Real Madrid director of football, while his three sons are all members of the club's youth academy.
Read: Down the rabbit hole: Depression in the Premier League
Zidane is not the first footballer to be honored with a permanent monument to his on-field achievements.
Wembley Stadium, the home of English fooball, is decorated with a statue of Bobby Moore, the defender who captained the country to its only World Cup triumph in 1966.
Carlos Valderrama is the most-capped player in Colombia's history, famous for his flair and outrageous afro and the midfielder has a statue in his hometown of Santa Marta, complete with frizzy golden locks.
But it is not just players who have been the subject of sculptures.
Azerbaijani linesman Tofiq Bahramov, who ruled that England's controversial third goal had crossed the line in the 1966 final, has a statue outside of the stadium named in his honor in his homeland.
Perhaps most unusually of all, English Premier League team Fulham has a sculpture of the late pop icon Michael Jackson outside its Craven Cottage stadium. The club's owner Mohamed al Fayed was a close friend of Jackson's prior to his death in 2009.
Zidane's statue will remain outside the Pompidou Museum until the end of the Abdessemed exhibition in January.