Seats come loose on two American Airlines flights
October 2, 2012 -- Updated 1440 GMT (2240 HKT)
STORY HIGHLIGHTS
NEW: A second incident occurred on another American jet, airline said
NEW: American said it has decided to reinspect eight Boeing 757 planes
First report involved seats that came loose on plane shortly after takeoff from Boston
Bankrupt American wrangling with labor unions over contracts; tension with pilots
(CNN) -- Seats on two American Airlines jetliners came loose on flights in rare occurrences that prompted the company to inspect eight Boeing planes, the carrier said.
An American spokeswoman confirmed both incidents took place on Saturday and Monday. There were no reports of injuries to passengers on either 757 aircraft.
The first incident occurred on a flight from Boston to Miami that was carrying 175 passengers. It diverted to New York's John F. Kennedy Airport when three seats in Row 12 came loose shortly after takeoff.
A second, similar incident occurred on Monday on a flight from New York to Miami with 154 passengers. It returned to JFK without further incident.
A guerrilla approach to flying with kids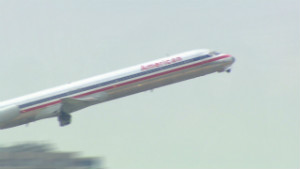 American Airlines: Troubled skies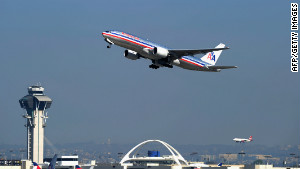 American cancellations pile up
American said in a statement that an internal investigation indicated there could be "a possible issue" with a certain model of seats and "how they fit" into tracking used to secure them.
Andrea Huguely, an airline spokeswoman, said the company would never "compromise the safety and reliability" of its fleet.
American said that "out of an abundance of caution" it had decided to reinspect eight 757s that could possibly have the same issue.
Huguely confirmed some of the seats were installed by contract maintenance workers as well as American employees.
"The issue does not seem to be tied to any one maintenance facility or one work group," she said.
Gregg Overman, a spokesman for the pilots' union, said it was "an embarrassing problem."
Investigators find cracks in second Dreamliner engine
The airline said the incidents were reported to the Federal Aviation Administration.
American Airlines declared bankruptcy last year and has been wrangling with its major unions over contract terms.
In the past month, more than 1,000 American flights have been canceled and 12,000 delayed.
Airline management blames the situation on pilots filing what it claims are frivolous reports about aircraft problems. The pilots' union denied management's assertion.
Naval aviator returns to underwater site of 1974 crash
CNN's Stephanie Gallman contributed to this report.

Part of complete coverage on
CNN recommends
June 11, 2013 -- Updated 1817 GMT (0217 HKT)

It's about making an entrance. Dramatic entries are a given with air travel, and airports should convey a sense of welcome and arrival.
September 10, 2013 -- Updated 1356 GMT (2156 HKT)

When even the most secluded beach on the mainland is too crowded, there's always the option of renting a private island for your vacation. Really.
June 6, 2013 -- Updated 1218 GMT (2018 HKT)

Yosemite National Park has almost everything a nature lover could desire.
September 10, 2013 -- Updated 1722 GMT (0122 HKT)

It all started with Madonna -- the original Madonna -- and the 16th-century Italian artists who paid tribute to her with artwork drawn directly on the street.
September 9, 2013 -- Updated 1333 GMT (2133 HKT)

Sports venues in the United States have come full circle.
September 6, 2013 -- Updated 1237 GMT (2037 HKT)

Bread served hot out of the oven. Fluffy pancakes topped with huckleberries. These are the kinds of hotel breakfasts that satisfy guests.
November 27, 2013 -- Updated 1105 GMT (1905 HKT)

An afternoon spent in a world-class museum can be an out-of-body experience -- a trip in a mental time machine.
February 4, 2013 -- Updated 1627 GMT (0027 HKT)

Check out daily travel photos from CNN.com readers and share your best shots
June 10, 2013 -- Updated 1212 GMT (2012 HKT)

We've come to expect fees for hotel WiFi and parking, but as lodging fees pile up, there are some that may come as a surprise.
April 26, 2013 -- Updated 1222 GMT (2022 HKT)

The worn-down, travel-weary businessperson is looking for proximity, convenience and comfort in an airport hotel. There's little time to waste.
October 19, 2012 -- Updated 1245 GMT (2045 HKT)

Gross is everywhere. It's in the food we eat, it's in nature, and of course, we ourselves might be the greatest source of grossness.
July 28, 2012 -- Updated 0101 GMT (0901 HKT)

When five teenagers sat down and posed for a picture at Copco Lake in 1982, they didn't plan on making it a tradition. But that's what it became.
Today's five most popular stories