Political Mann: Debate delivers a much needed boost for Romney
October 4, 2012 -- Updated 1840 GMT (0240 HKT)
STORY HIGHLIGHTS
Ahead of the debate twice as many voters expected Obama to win, a poll showed
The polls afterwards turned that expectation upside down: Majority of voters said Romney won
Fisrt presidential debate delivers a much needed boost to Romney's campaign
(CNN) -- Mitt Romney was ready.
After nearly two-dozen debates against fellow Republicans earlier in his campaign and exacting preparation in the months since, the Republican candidate had his first chance to debate with Barack Obama face-to-face. The result seemed so imbalanced that even some of the president's supporters quickly conceded defeat.
Complete coverage: Presidential debates 2012
"It looked like Romney wanted to be there and President Obama did not," said Democratic Party strategist and CNN Contributor James Carville.
Romney has been trailing in many opinion polls. Some fellow Republicans have criticized his campaign for lacking focus and Romney himself for committing a series of gaffes. The three scheduled debates with Obama leading up to the November 6 election have been widely described as his best chance to change course.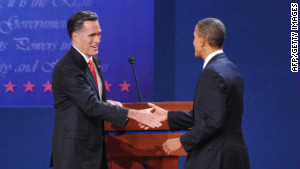 Analyst: Election now 'a horse race'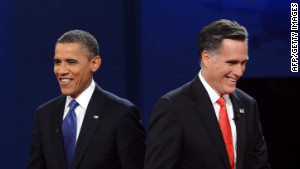 Obama: Occasionally you have to say no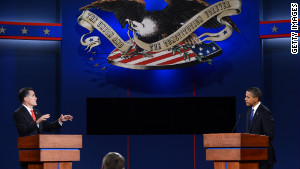 Romney: Not looking for $5 trillion cut
Read more: Romney shakes up the race
There were no attention-grabbing insults or errors in the 90 minutes the two men spent on stage in Denver, Colorado. There was no single moment that will dominate how voters are likely to remember the conversation.
But Romney seemed cheerful, confident and in command of his facts, challenging the president at every opportunity and promising voters he could do better.
"My priority is putting people back to work in America. They are suffering in this country," he said. "Going forward with the status quo will not cut it for American people struggling today."
Read more: Five things we learned from the presidential debate
Obama hasn't had to endure a televised debate since he was elected four years ago and aides said the demands of office prevented him from devoting as much time as Romney to preparing.
The president seemed tense for much of the debate, smiling tightly and showing little of the passion or energy that he has summoned for so many of his public appearances.
Read more: 10 debate moments that mattered
The impact was obvious from our polling. The percentage of Americans who said ahead of time they expected Obama to win the debate was twice as high as the ones who thought Romney would prevail.
CNN's first poll afterwards found that expectation was turned upside down. Voters who saw the debate said Romney won it, by a margin of more than two to one.
Obama and Romney will meet two more times and their vice-presidential running mates are scheduled to debate each other next week as well.
A debate won't necessarily decide the election, but Romney's campaign badly needed a boost, and this week it got one.
The opinions expressed in this commentary are solely those of Jonathan Mann.

Part of complete coverage on

Get all the latest news at CNN's Election Center. There are race updates, a delegate counter and much more.

A black man is returning to the White House. Four years ago, it was a first, the breaking of a racial barrier. Tuesday night, it was history redux. And more.

The 2012 presidential election shattered spending records, further polarized a divided country and launched a thousand hashtags.
November 8, 2012 -- Updated 1841 GMT (0241 HKT)

Democratic and Republican congressional leaders continue to sharply disagree over the key issue of whether top tax rates should be raised to help resolve the looming crisis.
November 7, 2012 -- Updated 1924 GMT (0324 HKT)

In a historic turnaround, the ballot box is showing America's shifting attitudes about same-sex marriage.

Even though voters indicated to pollsters that their financial situation is the same or worse than it was four years ago, they put their trust in the president.
November 8, 2012 -- Updated 0919 GMT (1719 HKT)

The president faces a long and familiar set of challenges after riding a wave of support from moderates, women and minorities to victory.
November 7, 2012 -- Updated 1427 GMT (2227 HKT)

Republicans kept a lock on the U.S. House of Representatives, a crucial victory after the party failed to wrest away the presidency from Barack Obama and the Senate from the Democrats.
November 8, 2012 -- Updated 0034 GMT (0834 HKT)

Democrats will retain their control of the Senate after winning several closely contested races on Tuesday.

Today's five most popular stories