Bruyneel leaves RadioShack
October 17, 2012 -- Updated 1338 GMT (2138 HKT)
STORY HIGHLIGHTS
Bruyneel leaves role as general manager of RadioShack following USADA report
Belgian was Armstrong's team manager between 1999-2005
Bruyneel to fight charges in hearing before independent judge
Fabian Cancellera admitted he may no longer be able to work with Bruyneel
(CNN) -- Johan Bruyneel has become the first victim of a United States government investigation into Lance Armstrong and doping.
Armstrong was part of "the most sophisticated, professionalized and successful doping program that sport has ever seen," the U.S. Anti-Doping Agency said Wednesday in releasing more than 1,000 pages of evidence in the case.
Evidence of Armstrong doping 'overwhelming,' agency says
Bruyneel, who was a close confidante of Armstrong during his seven Tour de France wins, has left his post as general manager of RadioShack by mutual agreement.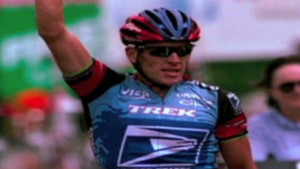 Team masseuse claims Armstrong doped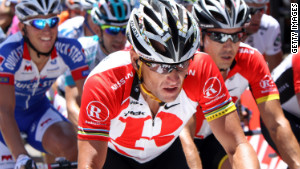 How will Lance Armstrong's brands react?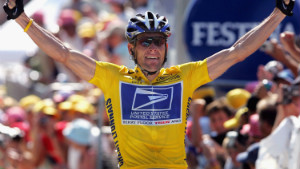 Lance Armstrong: A champion at cheating?
Bruyneel was named in the USADA report which alleged that he was involved in helping Armstrong organize doping within the US Postal Team.
"From this day on, Johan Bruyneel will no longer act in the position of general manager of cycling team RadioShack Nissan Trek," a statement said on the team's website.
But Bruyneel says he is disappointed with the way he has been treated and says the USADA may have harmed his chances of a fair trial.
"I am surprised and extremely disappointed that USADA released information in the public domain relating to their pending case against me before I had been given any opportunity to review the evidence and provide my defence against it," he told AFP.
"I still hope to be able to defend myself in a forum free from bias, although I now fear that USADA's calculated action may have irreversibly prejudiced my case.
"It is a troubling facet of USADA's approach to this case that it appears not to respect basic principles such as the right to be heard and the presumption of innocence."
The Belgian was Armstrong's team manager when the Texan won his seven tour victories between 1999-2005.
Lance Armstrong's legacy may withstand accusations
He also worked alongside Armstrong in 2009 and 20010 following his three-and-a-half year spell away from cycling.
Bruyneel along with team doctor Pedro Celaya and team trainer Jose "Pepe" Marti will all receive a hearing before an independent judge to fight the charges following the report.
Bruyneel's departure comes after RadioShack rider Fabian Cancellara claimed he was close to leaving the team following the report.
"Johan's name is cited 129 times in the report," Cancellara was quoted as saying by the Belgian newspaper Het Laatste Nieuws.
"I don't know if I can still work with Johan. We'll see what happens next. I want to know what happened."

Today's five most popular stories
Part of complete coverage on
August 20, 2014 -- Updated 1219 GMT (2019 HKT)

He admits to having a "f**k you" attitude, but Lance Armstrong insists he "never gets crap" following his long-awaited admission of long-term doping.
August 19, 2014 -- Updated 1017 GMT (1817 HKT)

CNN's Alex Thomas talks to CNN.com writer Matt Majendie about his interview with Lance Armstrong.
August 13, 2014 -- Updated 1152 GMT (1952 HKT)

He might have been best known for his acting career, but the late Robin Williams was a cycling fanatic.
July 28, 2014 -- Updated 1606 GMT (0006 HKT)

Whisper it quietly, but after years of foreign domination the prospect of a French winner of the Tour de France is more than just a mere pipe dream.
July 27, 2014 -- Updated 1947 GMT (0347 HKT)

Vincenzo Nibali became only the sixth man in history to win all three of cycling's major tours as he sealed victory in the 2014 Tour de France.
July 17, 2014 -- Updated 1500 GMT (2300 HKT)

Standing on the podium at London 2012, Joanna Rowsell achieved her greatest dream -- and gave hope to millions around the world.
July 7, 2014 -- Updated 2248 GMT (0648 HKT)

The Tour de France is arguably the world's toughest event -- but it's just got a whole lot tougher.
June 6, 2014 -- Updated 0025 GMT (0825 HKT)

The primary joy of a bicycle is that, in its purest form, it's little more than a highly efficient way of walking.
May 28, 2014 -- Updated 1315 GMT (2115 HKT)

David Kinjah won medal after medal -- but he also nurtured local Kenyan talent, like future Tour de France champion Chris Froome.
March 5, 2014 -- Updated 1240 GMT (2040 HKT)

Winning the Tour de France may be one of sport's toughest challenges but Chris Froome believes today's cyclists have an equally arduous task.
January 23, 2014 -- Updated 1026 GMT (1826 HKT)

Dubbed "the fastest man on two wheels," Mark Cavendish is a formidable sprint cyclist.