Chinese surplus widens as exports surge
October 13, 2012 -- Updated 0800 GMT (1600 HKT)
STORY HIGHLIGHTS
China's trade surplus widens in September to $27.67 billion
Exports jumped almost 10% year-on-year to $186B
Imports also rose in September, up 2.4% after three months of falls
Trade with European Union fell, while trade with the U.S. increased
Hong Kong (CNN) -- China's trade surplus widened to $27.67 billion in September from $26.66B the previous month, the Chinese government reported Saturday.
Exports surged almost 10% in September to $186.35B, compared to the same time last year. This increase follows a year-on-year gain of just 2.7% in August.
Imports also rose in September -- up 2.4% -- after three months of consecutive falls. Total foreign trade for September increased by 6.3% to $345.03B.
In the first three quarters this year, China's foreign trade expanded by 6.2 percent to $2.84 trillion, giving the country a trade surplus of $148.31B. Exports rose 7.4 percent while imports gained 4.8 percent.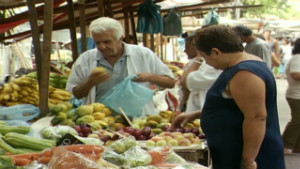 Emerging markets slow to recover
However, China's trade with its largest trade partner, the European Union, fell by 2.7% over the nine months from January. The positive overall trade figures may be attributed to a staggering 9.1% increase in China's trade with the United States, its second largest trading partner.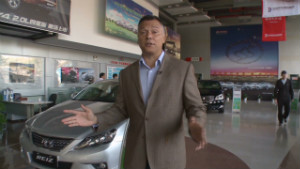 Islands dispute hits trade
China's trade with Japan suffered over the nine month period, falling 1.8% to $248.76B. In recent months, tension has been rising between the two countries over a set of contested islands in the East China Sea, called Diaoyu by China and Senkaku by Japan.
The dispute sparked hundreds of protests across China and calls for a boycott of Japanese-made goods. During September, sales of Japanese cars fell between 35% and 50%, according to earnings reports from Toyota, Honda, Nissan, Mazda and Mitsubishi.
However, the short-term impact of the dispute unrest was expected to be limited, according to a report released last month by credit rating and research company Moody's. The report said that the longer-term effect of the dispute was harder to predict, but the anti-Japanese sentiment in China could lead to loss of access for Japanese manufactured goods.

Part of complete coverage on
March 3, 2014 -- Updated 1033 GMT (1833 HKT)

Mobile World Congress spans the full spectrum of untethered gadgetry Explore this year's top trends with Stuff Magazine Editor Will Findlater.
February 28, 2014 -- Updated 1623 GMT (0023 HKT)

Cocoa-nomics: Why chocolate really doesn't grow on trees. CNN returns to Africa's cocoa plantations to examine the fight against child labor.
February 27, 2014 -- Updated 1958 GMT (0358 HKT)

CNN's Maggie Lake speaks to Lego CEO Jørgen Vig Knudstorp about why Lego continues to be a hugely popular toy.
February 27, 2014 -- Updated 2032 GMT (0432 HKT)

A Japanese rocket roared into orbit carrying what NASA calls its most precise instrument yet for measuring rain and snowfall.
February 28, 2014 -- Updated 2003 GMT (0403 HKT)

When you hail yourself as a "passionate advocate" for job-seekers, you probably ought not blast one of those job-seekers in a snide e-mail.
February 26, 2014 -- Updated 2201 GMT (0601 HKT)

Love that chocolate Haagen-Dazs ice-cream? But what about the way its makers treat their farmers? Oxfam reveals the ethics behind the brands.
February 20, 2014 -- Updated 1121 GMT (1921 HKT)

SnapScan is an award-winning app allowing buyers to pay with their smartphone -- no need to worry about carrying cash or lost credit cards.
February 18, 2014 -- Updated 1452 GMT (2252 HKT)

In the wake of recent credit card breaches, CNN's Richard Quest explores the threats of the non-cash economy. Is your money as safe as you think?
February 19, 2014 -- Updated 0833 GMT (1633 HKT)

Like many companies in China, Fu Shou Yuan uses celebrities to attract clients. Except, in this case, they're dead. They're in the funeral business.
February 19, 2014 -- Updated 1255 GMT (2055 HKT)

Coca-Cola is staying afloat as the soda market shrinks, and many point to a marketing strategy around the so-called "secret recipe."

Today's five most popular stories