Deliciously kitschy and 'Crap Souvenirs'
October 15, 2012 -- Updated 1318 GMT (2118 HKT)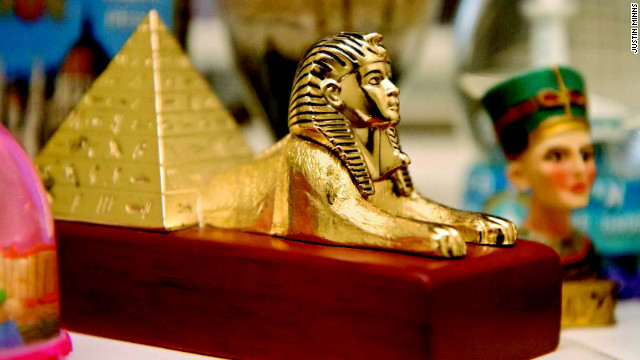 A genuine Sphinxamid! Not even the pharaohs had one of these! -- Captions are from "Crap Souvenirs" author Doug Lansky.
The "I Swallowed a Snow Globe" bear with demon eyes.
Nothing says "Colombian passion" like a local holding a pig in a blanket while humping a life-size shot glass.
Revolutionary smoking frog with taco hat.
Ladies, how many times have you walked out the door, made it halfway to town, and realized you forgot your bra? That's where the Parisian bra bag comes in.
His and hers British police dogs!
Talk about uncanny renderings! The patriotic one on the left is a dead ringer for tower creator Alexandre Gustave Eiffel, looking dapper (and medicated) in his favorite bow tie and top hat. The pink one looks just like his wife, Marie (before she contracted pneumonia in 1887), and their first of five children is right in the middle (a distant cousin of SpongeBob).
Egypt
Pigeon Forge, Tennessee
Colombia
Cuba
Paris
London
Luxor, Egypt
Paris
STORY HIGHLIGHTS
"Crap Souvenirs" features photos of some of the world's kitschiest trinkets
The book features photos of Sphinxamids and smoking frogs
A souvenir has to reflect a place beyond being emblazoned with its name, author says
(CNN) -- I recently became the proud owner of a bobblehead moose magnet. The jaunty little guy sports a Nova Scotia T-shirt, and while made in China, he reminds me of a lovely Canadian adventure lacking only in a real moose.
Doug Lansky knows all about the draw of those touristy retail emporiums packed to the ceilings with tacky T-shirts and plastic bric-a-brac. He's the author of "Crap Souvenirs: The Ultimate Kitsch Collection." The book, released this month, features more than 150 tchotchke photos, some of which Lansky collected from travelers online. He's still collecting photos of these gems on his website crapsouvenirs.com.
CNN asked Lansky to explain his terminology. He provided the following answers via e-mail:
What's a "crap souvenir?"
For starters, I want to be clear that "crap souvenir" is just a snarky way to say "awesomely kitsch." These are a collection of entertaining souvenirs that are, you might say, so bad, they're good. It was hard to find a litmus test for tacky -- nearly all souvenirs possess an element of tackiness. (Finding kitsch-free souvenirs is a far more difficult task.) In the end, it was a gut reaction. I suppose I was looking for something that invoked an emotion that landed somewhere between a cringe and a laugh.
Is the photo better than the vacation?
What criteria did you consider for an "awesomely kitsch" or remarkably crappy souvenir?
It was almost more difficult to define what was a souvenir. Sure, it's French for "to remember," but that doesn't help the selection process much. Your first thought, like mine, might be that a souvenir is a memento you bring back from a trip. Seems reasonable, but consider the example of a German tourist who picks up an iPad while visiting New York's Apple Store. He might consider it a souvenir of his visit. And his device is a souvenir for him, but iPads in general aren't.
So, Rule 1 is that it has to be a souvenir on its own standing.
Rule 2: It should be an object on sale to the public. There may be a life-size polar bear in a cowboy hat and hula skirt standing in front of a tourist shop that makes for memorable souvenir photos, and one could argue that any item is for sale if you make the right offer, but if it isn't specifically there to be sold, it doesn't count.
Travel Snapshots: Not-so-kitsch souvenirs
Rule 3 is a bit more complicated. It should be tied to a location. One way is simply to print the name of the town, city or country on it. But that would also qualify any random object that says "Made in China." So it has to be tied to a place in a way more substantial than being outsourced for production. In lieu of a printed location, the item might include national colors or depictions of a famous icon or be made of well-known items endemic to that locale. This was my working guideline. However, after all this reasoning, there were a few exceptions that were simply too deliciously kitsch to pass up.
What's the tackiest souvenir you've ever come home with? Share your finds in the comments section below.

Part of complete coverage on
CNN recommends
February 12, 2014 -- Updated 1653 GMT (0053 HKT)

Are abandoned buildings urban blight or historic relics? Photographers love them, in either case.
January 17, 2014 -- Updated 2225 GMT (0625 HKT)

Earth never stops surprising us. Every corner of the planet offers some sort of natural peculiarity.

For 24 hours, we made the world's busiest airport our destination and found a world unto its own. Join us on our journey. What you see will surprise you.
February 11, 2014 -- Updated 2021 GMT (0421 HKT)

Some roadside attractions have become kitsch institutions. You might even make a trip just to see them.
February 4, 2013 -- Updated 1627 GMT (0027 HKT)

Check out daily travel photos from CNN.com readers and share your best shots.
January 2, 2014 -- Updated 1502 GMT (2302 HKT)

The coasts get all the glory in the United States, but there's something fun to do in each and every state. Yes, every state.
June 21, 2013 -- Updated 1122 GMT (1922 HKT)

The big stuff moves us.
June 6, 2013 -- Updated 1218 GMT (2018 HKT)

Yosemite National Park has almost everything a nature lover could desire.
June 11, 2013 -- Updated 1817 GMT (0217 HKT)

It's about making an entrance. Dramatic entries are a given with air travel, and airports should convey a sense of welcome and arrival.
November 27, 2013 -- Updated 1105 GMT (1905 HKT)

An afternoon spent in a world-class museum can be an out-of-body experience -- a trip in a mental time machine.
September 10, 2013 -- Updated 1356 GMT (2156 HKT)

When even the most secluded beach on the mainland is too crowded, there's always the option of renting a private island for your vacation. Really.
August 13, 2013 -- Updated 1934 GMT (0334 HKT)

Beaches along the coasts of the United States call to shoreline explorers year-round.
July 28, 2012 -- Updated 0101 GMT (0901 HKT)

When five teenagers sat down and posed for a picture at Copco Lake in 1982, they didn't plan on making it a tradition. But that's what it became.
Today's five most popular stories