Foxconn admits using underage interns in China
October 17, 2012 -- Updated 1421 GMT (2221 HKT)
STORY HIGHLIGHTS
Foxconn admitted that interns as young as 14 worked at one of its Chinese plants.
Chinese law prohibits workers younger than 16 from working in the factories
The interns worked for about three weeks at Foxconn's Yantai manufacturing plant
Foxconn is the world's largest electronics manufacturer with clients like Apple and Samsung
Hong Kong (CNN) -- Foxconn Technology Group -- the world's largest electronics manufacturer and supplier to companies like Apple, Samsung and Microsoft -- admitted that interns as young as 14 worked at one of its Chinese plants.
"An internal investigation carried out by our company has confirmed media reports in China that some participants in the short-term student internship program that is administered at our campus in Yantai, Shandong Province are under the legal working age of 16 years," the company said in a statement. "This is not only a violation of China's labor law, it is also a violation of Foxconn policy and immediate steps have been taken to return the interns in question to their educational institutions."
The underage interns had worked at the plant for about three weeks, the company said. No evidence was found at other plants in China, the company added.
Opinion: U.S. misses full truth on China factory workers
Foxconn is one of the world's largest suppliers of components for the electronics industry. Much of its manufacturing division is based in mainland China, where it assembles a range of products including Apple's iPhone and iPad, Amazon's Kindle and Microsoft's Xbox.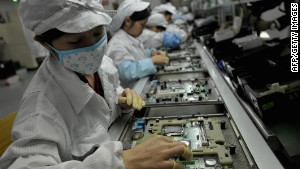 Apple supplier progress in China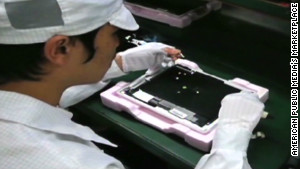 Rare look inside Foxconn factory campus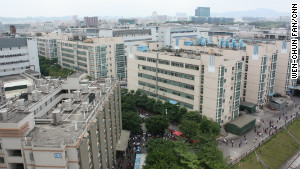 Audit of Foxconn finds major violations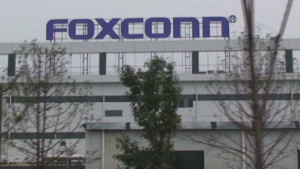 Auditors inspect Apple's China supplier
Interns represent about 2.7% of Foxconn's 1.2 million employees in China.
The report was the latest in a string of incidents for Foxconn. Earlier this month, workers rights groups and Chinese state media reported work stoppage at a Zhengzhou plant regarding "overly strict demands" for production of Apple's iPhone. The company disputed reports of a "strike," but admitted employee "disputes." Last month, a factory in Taiyuan was shut down for a day after a large-scale brawl sent 40 people to the hospital.
Working conditions at Foxconn factories have been under the spotlight since a 2010 spate of worker suicides at its plants. Foxconn said it had increased workers pay, introduced counselors, started a 24-hour phone counseling service and opened a stress room where workers can take out frustration on mannequins with bats.
The Fair Labor Association -- an industry-funded labor watchdog whose membership includes Apple, a large customer of Foxconn -- released a report in August that Foxconn has moved to bring working hours including overtime down to below 60 hours per week "with the goal of reaching full compliance with the Chinese legal limit of 40 hours per week, plus an average of 9 hours of overtime per week while protecting worker compensation."
"Immediate health and safety measures" had been made, such as enforcement of breaks, changing equipment design to reduce repetitive stress injuries and testing of emergency equipment like eyewashes and sprinklers, the August report said.
An explosion last year at a Foxconn plant that makes Apple's iPad2 in Chengdu killed four people and injured 18 more. Chinese officials said the blast may have been caused by combustible dust in a polishing workshop. That incident followed a report by a labor group alleging that workers at the same plant do not have adequate training in the use of chemicals and do not have regular on the job health checks.
In June: Police, company investigates Foxconn death

Part of complete coverage on
March 13, 2014 -- Updated 1157 GMT (1957 HKT)

Mobile World Congress spans the full spectrum of untethered gadgetry Explore this year's top trends with Stuff Magazine Editor Will Findlater.
February 28, 2014 -- Updated 1623 GMT (0023 HKT)

Cocoa-nomics: Why chocolate really doesn't grow on trees. CNN returns to Africa's cocoa plantations to examine the fight against child labor.
February 27, 2014 -- Updated 1958 GMT (0358 HKT)

CNN's Maggie Lake speaks to Lego CEO Jørgen Vig Knudstorp about why Lego continues to be a hugely popular toy.
February 27, 2014 -- Updated 2032 GMT (0432 HKT)

A Japanese rocket roared into orbit carrying what NASA calls its most precise instrument yet for measuring rain and snowfall.
February 28, 2014 -- Updated 2003 GMT (0403 HKT)

When you hail yourself as a "passionate advocate" for job-seekers, you probably ought not blast one of those job-seekers in a snide e-mail.
February 26, 2014 -- Updated 2201 GMT (0601 HKT)

Love that chocolate Haagen-Dazs ice-cream? But what about the way its makers treat their farmers? Oxfam reveals the ethics behind the brands.
February 20, 2014 -- Updated 1121 GMT (1921 HKT)

SnapScan is an award-winning app allowing buyers to pay with their smartphone -- no need to worry about carrying cash or lost credit cards.
February 18, 2014 -- Updated 1452 GMT (2252 HKT)

In the wake of recent credit card breaches, CNN's Richard Quest explores the threats of the non-cash economy. Is your money as safe as you think?
February 19, 2014 -- Updated 0833 GMT (1633 HKT)

Like many companies in China, Fu Shou Yuan uses celebrities to attract clients. Except, in this case, they're dead. They're in the funeral business.
February 19, 2014 -- Updated 1255 GMT (2055 HKT)

Coca-Cola is staying afloat as the soda market shrinks, and many point to a marketing strategy around the so-called "secret recipe."

Today's five most popular stories