STORY HIGHLIGHTS
Lazio fined $52,000 fine by UEFA for "improper conduct of the club's supporters"
Fine follows racist chanting by supporters during Europa League tie at Tottenham
Group of fans directed monkey chants at Spurs players
Lazio has three days to appeal against decision
Lazio has been hit with a $52,000 fine by UEFA following racist chanting by its supporters during the Europa League fixture with Tottenham last month.
The Italian club was heavily criticized after a group of away fans directed loud monkey chants at Spurs trio Jermain Defoe, Aaron Lennon and Andros Townsend.
The decision, which was taken by UEFA's Control and Disciplinary Body, must be appealed within three days if Lazio are to contest the fine.
UEFA to take action against Lazio
A statement on UEFA's website read: "UEFA's Control and Disciplinary Body has today fined S.S. Lazio €40,000 for the improper conduct of the club's supporters (racist behaviour) during the UEFA Europa League group stage match in London on Thursday 20 September between Tottenham Hotspur FC and the Italian side.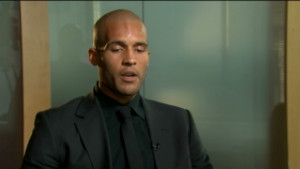 PFA chairman: Serbia should be banned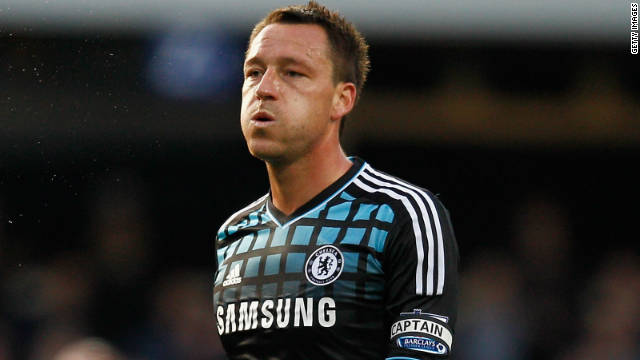 It is now nearly a year since Chelsea lost to QPR 1-0 in an English Premier League game at Loftus Road. During the game it was alleged QPR defender Anton Ferdinand swore at John Terry and made reference to the Chelsea captain's reported affair with the ex-partner of former team-mate Wayne Bridge. Terry is then said to have described Ferdinand as a "f***ing black c***".
In July, Terry was cleared in a London court, where the criminal burden of proof is "beyond all reasonable doubt". But the English Football Association then investigated the case, and using the test of "on the balance of probabilities", came to the conclusion that Terry's defence against claims he racially abused Ferdinand was "improbable, implausible, contrived".
Back in September, Ferdinand had declined Terry's offer of a handshake when QPR met Chelsea at Loftus Road as the feud between the two players rumbled on.
After the FA delivered the independent commission's report on the Terry case, the Chelsea captain's teammate Ashley Cole tweeted: "Hahahahaa, well done #fa I lied did I, #BUNCHOFT***S". The Chelsea and England left-back quickly issued a "unreserved apology" for his tweet through his solicitor.
In 2011 the FA had to deal with another racism case, this time handing Liverpool striker Luis Suarez an eight-match ban and a $63,000 fine after finding the Uruguayan guilty of racially abusing Manchester United defender Patrice Evra.
Suarez and Evra failed to shake hands before the start of an English Premier League game at Old Trafford last season after the Uruguayan had served his ban. However, when United beat Liverpool 2-1 at Anfield in September, the pair did shake hands.
Questions have been raised about UEFA's sanctioning policy. Denmark striker Nicklas Bendtner was fined $126,000 and banned from playing in his side's next competitive game for flashing his sponsored waistband promoting a bookmaker as he celebrated a goal against Portugal in Euro 2012. But that fine eclipsed the $52,000 fine that UEFA handed to the Bulgarian Football Union for its fans' racist abuse of England players during a Euro 2012 qualifier in Sofia in September 2011.
In November 2011, FIFA president Sepp Blatter told CNN that football did not have a problem with racism on the field and any incidents should be settled by a handshake.
The FA's Independent Regulatory Commission heard 473 cases between December 2010 and December 2011, but only two of them ended in "not guilty" verdicts.
Stoke City boss Tony Pulis wants the Football Association to punish Liverpool's Luis Suarez for diving. "It's an embarrassment," said the Stoke manager after a 0-0 draw at Anfield. "The FA should be looking at this."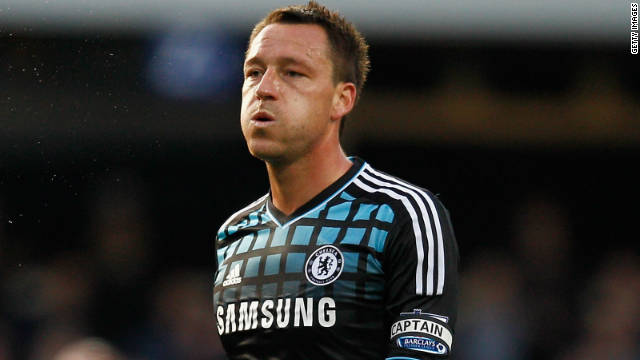 Crime and Punishment in sport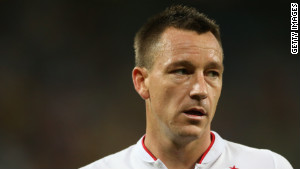 Collymore on John Terry quitting
"An appeal may be lodged against this decision within three days of the dispatch of the reasoned decision."
The incident took place under the gaze of UEFA President Michel Platini, who was at the goalless draw in north London.
But the fine will do little to silence Platini's critics, who insist he is not tough enough when punishing those who continue to perpetrate acts of racism.
UEFA charge England and Serbia
With the world now waiting with baited breath to see what punishment UEFA hands out to the Serbian Football Association following the ugly scenes in Krusevac on Tuesday, Platini is under increasing pressure to repair the body's reputation.
Back in February of last year, Platini gave Serbia a grave warning that its clubs could be banned from competing in European competition if they continued to cause trouble.
Racism row shines light on Serbian football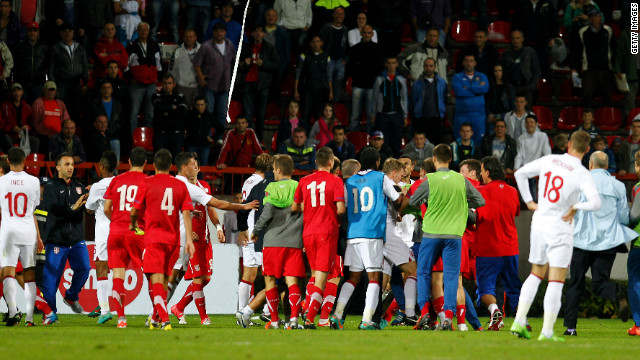 England midfielder Danny Rose claims he was subjected to monkey chants before, during and after the second-leg of their Under-21 Euro 2013 playoff match against Serbia on Tuesday, and had stones thrown at him by the crowd in Krusevac. Fans also ran on to the pitch and scuffles broke out after a 1-0 win secured England qualification for Euro 2013.
The Macedonia FA were fined $26,000 after fans racially abused England trio Ashley Cole, Sol Campbell and Emile Heskey during a qualifying game for Euro 2004.
In September 2011, Bulgaria were fined $55,000 after a small number of fans directed monkey chants at England's Ashley Young, Cole and Theo Walcott during a Euro 2012 qualifier in Sofia.
Russia was hit with a $38,000 punishment after supporters made monkey noises towards Czech Republic defender Theodor Gebre Selassie during Euro 2012
The Croatian FA were ordered to pay a $16,000 fine after their fans were found guilty of "displaying a racist banner and showing racist conduct during the Euro 2008 quarter-final tie against Turkey.
Russia were again in the news for the wrong reasons at Euro 2012 and were fined $39,00 for "the setting off and throwing of fireworks by Russia spectators, displaying of illicit banners and the invasion of the pitch by a supporter," during the Euro 2012 tie against Poland. Russia was also fined $155,000 after clashes between supporters and police during and after their game against the Czech Republic.
Denmark's Nicklas Bendtner was given a one-match ban and a $126,000 fine after he lifted his shirt to reveal a betting company's logo on his underwear while celebrating a goal against Portugal in a Euro 2012 group game.
Porto were hit by a $27,000 fine after their fans were found guilty of subjecting Manchester City forward Mario Balotelli to monkey chants during a Europa League game in February 2012. It took UEFA six weeks to finally hand out a punishment. But questions were raised after UEFA also fined City $40,000 after the club were found guilty of coming back out on to the field of play late after the halftime interval.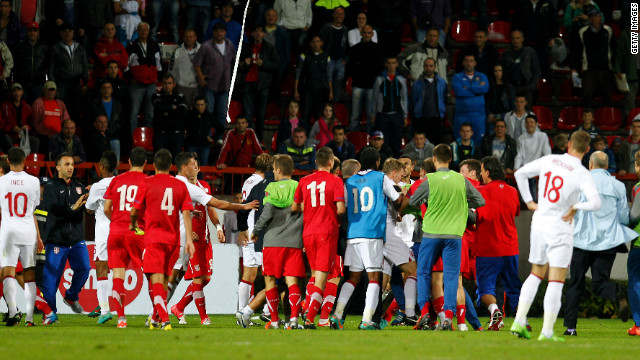 Soccer racism in Eastern Europe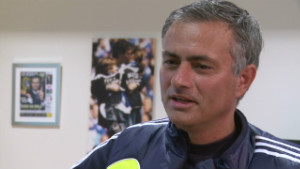 Mourinho on the enigma of Balotelli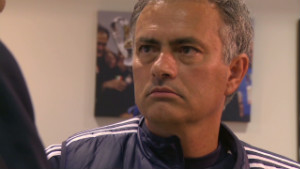 Mourinho: John Terry is not a racist
The Frenchman is now facing the pressure to back up his words by handing out severe punishments on the alleged abuse.
The likelihood of that remains somewhat open to question with UEFA even failing to mention the racist chanting by Serbian fans in the match report on its own website.
English player chief Carlisle calls for Serbia ban
Recent fines handed out by UEFA has also drawn criticism with offences which are perceived as less offensive than racism attracting higher financial penalties.
During Euro 2012, Denmark striker Nicklas Bendtner was handed a $125,800 fine for revealing a betting company's logo on his underwear after lifting his shirt while celebrating a goal.
UEFA sees red over Bendtner's underpants
UEFA also handed out a larger fine to Chelsea following its semifinal defeat by Barcelona in 2009 after Didier Drogba confronted referee Tom Ovrebo after his failure to award the London club several penalties.
When it comes to punishment for racism, UEFA has imposed relatively small fines, which has left the governing body open to extreme criticism.
Back in 2002, the Slovakian Football Association was hit with a $29,000 fine after fans abused England duo Ashley Cole and Emile Heskey.
A year later, Cole, Heskey and Sol Campbell were abused while on England duty in Macedonia with the host FA being forced to pay a fine of $27,000.
In June 2007, the Football Association of Serbia was punished with a $27,000 fine after its fans racially abused England players during the Under-21 Championship Finals in Holland.
Crime and punishment in sport: Laying down the law?
The Croatian FA was made to pay just $16,000 after its fans were found guilty of "displaying a racist banner and showing racist conduct" during the Euro 2008 quarterfinal tie with Turkey.
In 2011, Bulgaria's FA was hit with a $54,000 fine after England's Ashley Young, Ashley Cole and Theo Walcott were racially abused during a Euro 2012 qualifier in Sofia.
Porto was fined $27,000 after its fans racially abused Manchester City's Mario Balotelli during a Europa League game last April.
That decision came a full six weeks after the incident and was then frowned upon further, after UEFA fined City $40,000 for coming out late ahead of the second-half of their last-16 Europa League game at Sporting Lisbon.
Both Russia ($39,000) and Spain ($26,000) were fined at Euro 2012 following problems of racism, but neither country was hit as hard in the pocket as Denmark striker Bendtner.