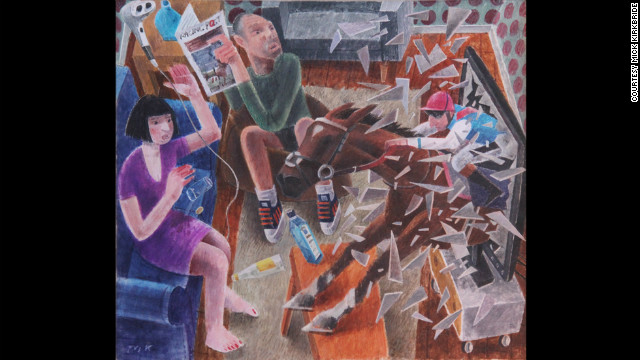 Artist Michael Kirkbride's painting, "Armchair Ride," was inspired by a poem about Frankel demolishing the field in last year's 2000 Guineas race.
Kirkbride painted the piece in egg tempura; a mixture of colored pigment and egg yolk which dates back to the 1st Century.
The British artist is perhaps best known for his paintings of English football scenes, including "Bar Kick," a surrealist look at sporting revelry in a pub.
British thoroughbred Frankel remained unbeaten in 14 consecutive races. The colt won his last ever race in the Champions Stakes at Ascot.
Leonardo da Vinci's 16th Century masterpiece "Mona Lisa," on display in Paris's Musee du Louvre, is one of the most visited artworks in the world. The famous portrait is thought to be of Lisa Gherardini, the wife of Francesco del Giocondo.
Pablo Picasso's 1937 painting "Weeping Woman" depicted long-time mistress Dora Maar. Their notoriously tempestuous relationship lasted nine years.
Frida Kahlo was the wife and muse of Mexican artist Diego Rivera. An acclaimed artist in her own right, today Frida is the more renowned of the pair, with actress Salma Hayek playing her in the 2002 biographical film "Frida."
Spanish artist Salvador Dali's wife Gala featured in many of his works, including 1949 painting "The Madonna of Port Lligat". She was also the muse of first husband, French poet Paul Eluard.
Andy Warhol catapulted model and actress Edie Sedgwick to "It Girl" status in his avant-garde films of the 1960s.
British artist Lucien Freud caused a stir with his 1995 painting of Job Centre supervisor Sue Tilley, called "Benefits Supervisor Sleeping." The naked woman weighed around 127kg at the time.
Fabulous Frankel
Artist in action
Special sporting moments
World's greatest race horse?
Mona Lisa's smile
Mistress turned masterpiece
Frida and Diego
Salvador Dali's darling
Swinging sixties
An unlikely muse
STORY HIGHLIGHTS
From Picasso's Dora Maar to Andy Warhol's Edie Sedgwick, muses inspire great artists
But muses aren't always beautiful women -- sometimes they're a horse
Champion thoroughbred Frankel inspires poem and painting ahead of last race
Arguably world's greatest race horse secured 14th win at Ascot's Champions Stakes
(CNN) -- Throughout history, the greatest artists have relied on their muses to inspire, enchant and satisfy them.
Pablo Picasso immortalized mistress Dora Maar in his 1937 painting Weeping Woman, Andy Warhol catapulted model Edie Sedgwick to "It Girl" status in his 1960s avant-garde films, while Leonardo da Vinci made the woman behind his "Mona Lisa" perhaps the most famous muse of all time.
But the elusive figure of the muse doesn't always have to be that of a beautiful woman.
The dark beauty with flowing locks and sinewy limbs depicted in artist Michael Kirkbride's latest painting isn't a luscious lady -- it's a horse.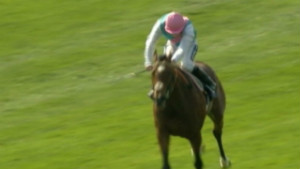 Is Frankel the greatest racehorse ever?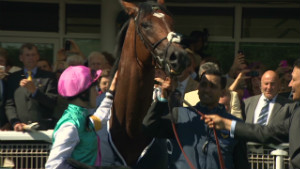 Fabulous Frankel wins again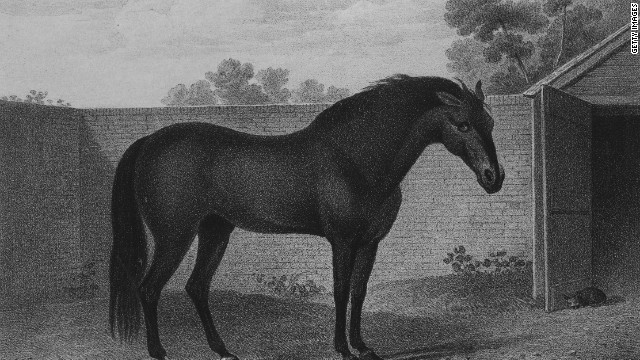 Every thoroughbred horse can be traced back to one of three stallions, and 95% of those go back to one -- the Godolphin Arabian, pictured. Named after his owner, Earl Francis Godolphin, the stallion lived from 1724-1753 and sired some of the greatest racehorses in history, with Seabiscuit and Man o' War just two of his direct descendants.
Sired by the Darley Arabian --one third of the thoroughbred stallion trifecta, along with the Godolphin Arabian and the Byerly Turk -- Flying Childers is often credited as the first true "great racehorse."He was retired to stud after winning all six of his races in the early 18th century. His British owner, the Duke of Devonshire, once reportedly received an offer to buy the stallion for the price of its weight in gold.
Grand foal of the Godolphin Arabian, Eclipse is perhaps the greatest thoroughbred ever to race. After 18 wins from 18 starts in only 17 months, Eclipse was retired to stud in 1771 due to lack of competition, as nobody would bet on the other horses. The Eclipse Stakes at England's Sandown Park are a testament to his legacy.
Potoooooooo (often spelled "Pot-8-Os") is responsible for a key element of horseracing -- that of abstract and often ludicrous naming. Sired by the great Eclipse, he was originally to be "Potatoes" but after a stableboy misspelled his name on a feedbin the horse's breeder -- the 4th Earl of Abingdon -- found the mistake so humorous he decided to keep it that way.
In 1878 Wilfrid Scawen Blunt, pictured, and his wife Lady Anne Blunt established what would become Britain's foremost thoroughbred stud farm. Crabbet Arabian Stud was founded after the Blunts decided -- while on holiday in Syria -- to bring back some of the best Arabian horses for breeding in England. Now, 90% of all Arabian horses can be traced back to Crabbet.
Persimmon, depicted here with his owner King Edward VI, is the first horse to be captured on film. The 1895 filming of the Epsom Derby fast became a worldwide cultural phenomenon, with thousands of people flocking to exhibitions to witness racing on film for the first time. Persimmon accumulated what would be $3.5 million in on-track prize money by modern standards.
American horse Man o' War won 20 of 21 races he started, raking in more than $7.5 million in today's equivalent prize money. For six races as a two-year-old, his handicap of 130 pounds was one of the heaviest ever carried.
Black Caviar, pictured, is the most successful sprinter in the world with a unbeaten record of 22 wins. There have been rumors the Australian mare has been promised to champion stallion Frankel, who has a record of 12 wins undefeated. If true, then their offspring could well be a racehorse with the genetic potential to be even better than Man o' War or Eclipse.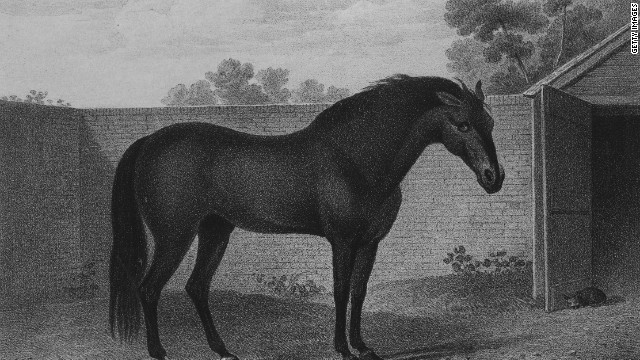 A history of the thoroughbred
Not just any horse, but arguably the greatest race horse of all time.
Read: Jockey who refused to stay in the kitchen
Since demolishing the field in his first major win at the Royal Lodge Stakes in 2010, an air of mystique has followed world champion thoroughbred Frankel.
The superstar colt, who even has its own twitter handle, has not just won all 14 of his races -- he has won them by staggering margins, destroying world-class fields,becoming by a distance the top-rated race horse on the planet.
In his last race, the thoroughbred won the Champion Stakes at Ascot, with a sell-out crowd of 32,000 catching a final glimpse of the now-celebrity horse as as he powered to a dramatic victory.
Read: The death of a race course? Funding cuts take toll
Writer Blaine Ward's personal "Frankel moment" came earlier in the horse's stellar career, an experience which later paved the way for artist Kirkbride to paint his unusual surrealist work.
"I had been watching last year's 2000 Guineas race on TV when Frankel just pounded the other horses into the ground," said Ward.
"He easily won by a good six lengths -- none of the others even came close.
"In my mind's eye I saw Frankel smashing through the screen into my living room; this powerful, beautiful, almost mythical beast."
A 51-year-old former solicitor from Sunderland in north-east England, Blaine was so moved by Frankel's win he wrote a poem about the centaur-like creature bursting into his suburban home in a blaze of glory. It read in part:
"Then a smell of burnt air mixed with horse-flesh
when the telly exploded in his face
as the Frankel centaur burst in
green and pink silk, fluid powerful grace."
It was a special sporting moment and had a profound effect on Ward, who described Frankel's win as akin to watching boxer Muhammad Ali or footballer Lionel Messi in action.
"It was one of those rare times when you get a sense you've just witnessed somebody or something at the very pinnacle of sporting prowess," he said.
"Mere words are never good enough to do it justice."
Read: Ascot vs l'Arc: The glitz and glamor of France's great race
Frankel smashed through the screen into my living room; this powerful, beautiful, almost mythical beast
Blaine Ward
And so Ward enlisted Kirkbride, a lecturer at the Royal Academy of Dramatic Art in London (RADA) to paint the champion horse powering into a suburban living room, knocking Ward and his wife from their chairs and spilling their afternoon gin and tonics to the floor.
"The result is a surreal cocktail of his words and my interpretation in art form," Kirkbride said.
"The modern domestic scene is shattered by the magisterial beast that is Frankel."
Read: Horse appeal: Why gray thoroughbreds are great
Kirkbride painted the work, called "Armchair Ride," in egg tempura; a mixture of colored pigment and egg yolk which dates back to the 1st Century.
The method, which gives a luminous quality, was later superseded by oil painting around the 15th Century.
"It has a kind of stained glass quality to it, like shining a light from behind," said Kirkbride. "The pinks and blues of Frankel's silks are quite strong and I thought they really lent themselves to the medium."
Kirkbride is perhaps best known for his paintings of English football scenes, such as "Chech Mates," which captures the unusual tradition of Chelsea fans throwing celery, or "Bar Kick," which portrays sporting revelry in a pub.
After Saturday though, and Kirkbride will be painting fabulous Frankel smashing not just a TV screen, but the record books all over again.