Syrian president tells envoy that support of 'terrorists' must stop
October 22, 2012 -- Updated 0205 GMT (1005 HKT)
STORY HIGHLIGHTS
NEW: An opposition group reports an "exchange of intense gunfire" between Jordan, Syria
At least 135 people were killed throughout Syria on Sunday
President Bashar al-Assad meets U.N.-Arab League envoy Lakhdar Brahimi
Brahimi hopes to broker a cease-fire before the Muslim holiday of Eid al-Adha
(CNN) -- Embattled Syrian President Bashar al-Assad told the United Nations-Arab League envoy on Sunday that countries must stop supporting, arming and providing protection to terrorists -- the government's term for rebels.
Lakhdar Brahimi was in Damascus to try to broker a cease-fire before the Muslim holiday of Eid al-Adha, which begins Friday.
The president "stressed that Syria supports the efforts of the U.N. envoy to Syria and is open to any sincere efforts seeking to find a political solution to the crisis based on respecting Syria's sovereignty and rejecting any foreign interference," the state-run Syrian Arab News Agency (SANA) reported.
He "clarified that any initiative or political process should be essentially based on the principle of halting terrorism and what is required in this regard from the countries involved in supporting, arming and harboring the terrorists in Syria (is) to halt such acts," it said.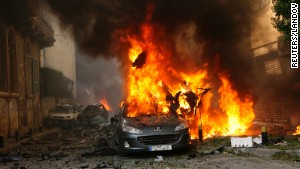 Syria under suspicion for Lebanon attack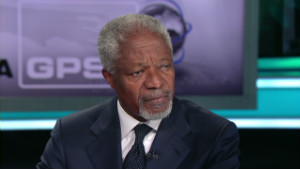 Kofi Annan on intervening in Syria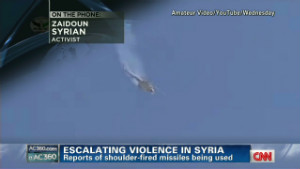 Former CIA agent: Take out Syrian regime
For his part, Brahimi told reporters that he had no agenda other than serving the Syrian people.
"I'll come back after the Eid. If there was calm during it, we would build on it, and even it there wasn't, we would work to realize calm," Brahimi said, according to SANA.
Given previous experiences, the odds of a cease-fire between Syrian government forces and rebels are stacked against Brahimi.
The man he replaced, Kofi Annan, made numerous trips to Damascus and was unable to halt the violence.
Opposition activists say more than 30,000 people have been killed since the Syrian crisis began in March 2011.
Even as Brahimi and al-Assad met, at least 135 people were killed across the country Sunday, including six children, according to the Local Coordination Committees (LCC) of Syria. Seventy of the deaths were reported in Damascus and its suburbs.
The opposition group also reported an "exchange of intense gunfire" between a Jordanian border patrol and Syrian security forces.
A car bomb went off in the Syrian capital, killing 13 people and wounding 29 on Sunday, SANA said. The report blamed the attack on terrorists.
Syrian forces "continued cleansing neighborhoods in Aleppo and its countryside of terrorists," SANA reported. And an explosive device in a Damascus suburb injured some bystanders, it said, again blaming terrorists.
Opinion: Syria's conflict threatens regional stability

Part of complete coverage on
Syrian crisis

There's more to the Syrian civil war than rebels versus the regime. Syria's neighbors in the Middle East also have a stake in the conflict.
May 9, 2013 -- Updated 2113 GMT (0513 HKT)

Israel is taking steps to defend itself against threatened retaliation from Syria after claims it launched airstrikes on Damascus.
May 14, 2013 -- Updated 1636 GMT (0036 HKT)

Domestic political will is a necessary for intervention and polls show Americans are reluctant to support military interventions in Syria.
May 6, 2013 -- Updated 1738 GMT (0138 HKT)

Syria's claim that Israel launched airstrikes presents a dangerous escalation of Israel's involvement in Syria's war, writes Fawaz Gerges.
May 7, 2013 -- Updated 0941 GMT (1741 HKT)

The U.N. says a Syrian rebel group may have used a nerve agent -- it would not be the first time the al-Qaeda-affiliated group used chemical weapons.
May 1, 2013 -- Updated 1800 GMT (0200 HKT)

Having willfully avoided direct military involvement in Syria for the past two years, Obama may not be so lucky anymore, writes Aaron David Miller.
May 10, 2013 -- Updated 0944 GMT (1744 HKT)

What began as a protest movement became an uprising that metastasized into a war, a vicious whirlpool dragging a whole region toward it.

A devout man prays. A fighter weeps over a slain comrade. These are a few faces of the Syrian conflict captured by photographer LeeHarper.
April 25, 2013 -- Updated 0859 GMT (1659 HKT)

A group of pro-Syrian regime hackers that has targeted major news organizations but its cyber attacks can have real-life impact.
March 7, 2013 -- Updated 2324 GMT (0724 HKT)

The role of women in Syrian uprising is little reported, but many have played a key part as activists and medics since the bloodshed began.

Are you in Syria? Share your stories, videos and photos with the world on CNN iReport, but please stay safe.
Today's five most popular stories