Syrian president tells envoy that support of 'terrorists' must stop
October 22, 2012 -- Updated 0205 GMT (1005 HKT)
STORY HIGHLIGHTS
NEW: An opposition group reports an "exchange of intense gunfire" between Jordan, Syria
At least 135 people were killed throughout Syria on Sunday
President Bashar al-Assad meets U.N.-Arab League envoy Lakhdar Brahimi
Brahimi hopes to broker a cease-fire before the Muslim holiday of Eid al-Adha
(CNN) -- Embattled Syrian President Bashar al-Assad told the United Nations-Arab League envoy on Sunday that countries must stop supporting, arming and providing protection to terrorists -- the government's term for rebels.
Lakhdar Brahimi was in Damascus to try to broker a cease-fire before the Muslim holiday of Eid al-Adha, which begins Friday.
The president "stressed that Syria supports the efforts of the U.N. envoy to Syria and is open to any sincere efforts seeking to find a political solution to the crisis based on respecting Syria's sovereignty and rejecting any foreign interference," the state-run Syrian Arab News Agency (SANA) reported.
He "clarified that any initiative or political process should be essentially based on the principle of halting terrorism and what is required in this regard from the countries involved in supporting, arming and harboring the terrorists in Syria (is) to halt such acts," it said.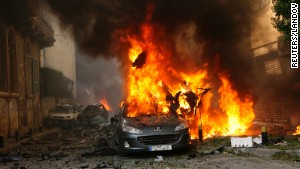 Syria under suspicion for Lebanon attack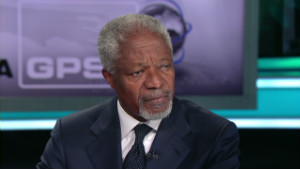 Kofi Annan on intervening in Syria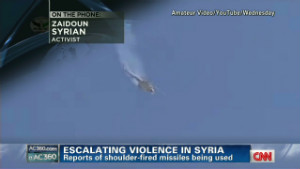 Former CIA agent: Take out Syrian regime
For his part, Brahimi told reporters that he had no agenda other than serving the Syrian people.
"I'll come back after the Eid. If there was calm during it, we would build on it, and even it there wasn't, we would work to realize calm," Brahimi said, according to SANA.
Given previous experiences, the odds of a cease-fire between Syrian government forces and rebels are stacked against Brahimi.
The man he replaced, Kofi Annan, made numerous trips to Damascus and was unable to halt the violence.
Opposition activists say more than 30,000 people have been killed since the Syrian crisis began in March 2011.
Even as Brahimi and al-Assad met, at least 135 people were killed across the country Sunday, including six children, according to the Local Coordination Committees (LCC) of Syria. Seventy of the deaths were reported in Damascus and its suburbs.
The opposition group also reported an "exchange of intense gunfire" between a Jordanian border patrol and Syrian security forces.
A car bomb went off in the Syrian capital, killing 13 people and wounding 29 on Sunday, SANA said. The report blamed the attack on terrorists.
Syrian forces "continued cleansing neighborhoods in Aleppo and its countryside of terrorists," SANA reported. And an explosive device in a Damascus suburb injured some bystanders, it said, again blaming terrorists.
Opinion: Syria's conflict threatens regional stability

Part of complete coverage on
Syrian crisis
March 4, 2014 -- Updated 1328 GMT (2128 HKT)

Syria has submitted a revised proposal "that aims to complete the removal of all chemicals" from the country before the end of April.
February 18, 2014 -- Updated 1032 GMT (1832 HKT)

CNN's Arwa Damon reports on ISIS defector who says destroying ISIS as critical as defeating regime.
February 18, 2014 -- Updated 0353 GMT (1153 HKT)

The U.S. wants a United Nations resolution that will, among other things, bring humanitarian aid for refugees in Syria.
February 17, 2014 -- Updated 1259 GMT (2059 HKT)

When the radical Islamist militia ISIS arrived in the Syrian town of Addana a year ago, many welcomed them. What followed changed their minds.
February 17, 2014 -- Updated 1449 GMT (2249 HKT)

CNN obtained video clips from Syrian activists documenting the atrocities committed by members of the Islamic State in Iraq and Syria, known as ISIS.
February 18, 2014 -- Updated 2017 GMT (0417 HKT)

On Crossfire, Danielle Pletka discusses what the U.S. needs to do to resolve the Syria crisis.
February 6, 2014 -- Updated 0101 GMT (0901 HKT)

Her almond-shaped brown eyes shine through her sunken face as a doctor lifts her sweater to reveal a tiny rib cage pushing against her skin.
February 4, 2014 -- Updated 1746 GMT (0146 HKT)

The Zaatari refugee camp in Jordan is home to around 100,000 Syrian refugees. CNN spent several days meeting the residents of the camp.
January 22, 2014 -- Updated 1959 GMT (0359 HKT)

Renowned war crimes prosecutors and forensic experts have found "direct evidence" of "torture and killing" by the Assad regime.

Traumatized children who have witnessed the horrors of war are being helped to read -- and rebuild a normal life. CNN's Becky Anderson reports.
January 23, 2014 -- Updated 1207 GMT (2007 HKT)

A battle zone tour organized by the Syrian government for CNN and several other media outlets Wednesday was more than bizarre.
January 22, 2014 -- Updated 1735 GMT (0135 HKT)

CNN's Atika Shubert meets with the family of a little girl who was wounded in Syria, now living in a refugee camp.
January 27, 2014 -- Updated 1456 GMT (2256 HKT)

110 year old, Jabari Alawali walked for over 10 hours to reach Jordan from Syria.
Today's five most popular stories