FIFA awards goal-line technology licenses
October 23, 2012 -- Updated 1645 GMT (0045 HKT)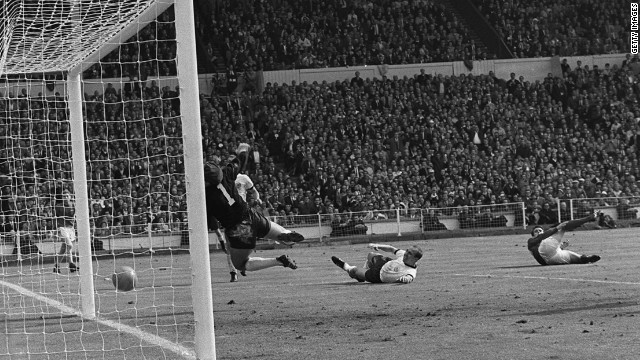 Deciding whether or not a shot has crossed the line has long been an issue in football. Arguably the most famous incident was in the 1966 World Cup final, when England's Geoff Hurst saw his shot in extra-time bounce down off the underside of the West Germany crossbar. A goal was awarded, giving England a 3-2 lead, with the hosts going on to win the match 4-2.
Hurst's goal was awarded after referee Gottfried Dienst consulted Azerbaijan linesman Tofik Bakhramov who judged the ball had bounced beyond the line. Azerbaijan's national stadium is named after folk hero Bakhramov, who even had a statue modelled in his honour.
England have been at the center of some of the most famous goal-line controversies. At the 2010 World Cup, England and Germany met again in the round of 16. With Germany leading 2-1, England's Frank Lampard hit a shot which struck the bar and landed well over the goal line, but no goal was awarded, and Germany won 4-1.
At the Euro 2012 tournament, England were involved in controversy for a third time. Co-hosts Ukraine needed to beat England to advance from the group stage, but fell behind to a Wayne Rooney header. Artim Milevskiy thought his shot had crossed the line before John Terry was able to hook it clear, but once again no goal was given and Ukraine crashed out.
Two months earlier Terry had been involved in another goal-line incident, this time for club team Chelsea. In an FA Cup semifinal with Tottenham Hotspur, Chelsea's Juan Mata hit a shot which was inadvertently blocked by Terry, but a goal was given and Chelsea won 5-1.
Hawkeye ball-tracking technology was first used in tennis in 2006, with players able to challenge calls by umpires and line judges. Each player is allowed three challenges in each set, but they do not lose a challenge if it the technology shows the umpire or line judge made the wrong call.
Other sports have embraced video technology. Cricket uses the Decision Referral System (DRS) to rule on leg before wicket (lbw) calls. Hawkeye ball-tracking software is used to see whether a delivery was in line to strike the stumps before hitting the batsman's leg.
Both rugby codes -- league and union -- use a video referee to rule on whether a try should be awarded. The video referee was first introduced at the rugby league Super League World Nines tournament in 1996 and the "Television Match Official" is widely used in possible point-scoring situations.
A legacy of controversies
Azerbaijan folk hero
History repeated
Ukraine unlucky
A Mata of inches
Hawkeye
Decision Referral System (DRS)
Television Match Official (TMO)
STORY HIGHLIGHTS
FIFA award licenses to goal-line technology developers GoalRef and Hawk-Eye
World soccer's lawmakers approved the use of goal-line technology in July
Hawk-Eye is already used in tennis and cricket; GoalRef developed by a German company
The technology will be used for the first time at the FIFA Club World Cup in Japan
(CNN) -- Football's global governing body FIFA has licensed two manufacturers to install goal-line technology in stadiums across the world.
FIFA announced in October it had approved the use of technology which would help officials decide whether or not a goal had been scored, with providers GoalRef and Hawk-Eye now licensed to produce their respective systems.
Both companies were tested between October 2011 and June 2012 and have been inspected in simulated and real-life match situations.
The technology will be used for the first time at the 2012 FIFA Club World Cup in December.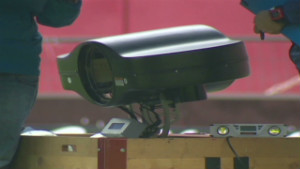 Goal-line technology approved by FIFA
British company Hawk-Eye is already well established within sport. The technology is already used in both tennis and cricket.
Read: Crime and punishment in sport: Laying down the law?
GoalRef has been developed by German research institute Fraunhofer and involves using magnetic strips inside the ball to detect whether or not it has crossed the goal line.
However, both GoalRef and Hawk-Eye's technology must now pass a stadium test before either system can be used in a match.
"Once a system has been installed in a stadium, the system undergoes a final inspection to check its functionality," read a statement on FIFA's website.
"This is carried out by an independent test institute, and the results of this so-called 'final installation test' must be successful. Only a positive final installation test qualifies a system to be used in official matches."
While other sports embraced goal-line technology, football dithered over its introduction.
FIFA chief Sepp Blatter was only finally convinced of the need to provide technological help for referees after England were not awarded a goal despite Frank Lampard's shot clearly bouncing inside the goal during a 4-1 defeat by Germany in the 2010 World Cup in South Africa.
However, Michel Platini, head of European football's lawmakers UEFA, remains a staunch opponent of the use of technology in football.
UEFA has confirmed goal-line technology will not be used in European competitions such as the Europa League and the Champions League.
Europe's continental competitions will instead persist with the use of extra officials behind the goal to inform the referee's decisions.
The English Football Association is a well-known advocate of goal-line technology, although Tuesday's announcement has come too late for either system to be used in this season's FA Cup.